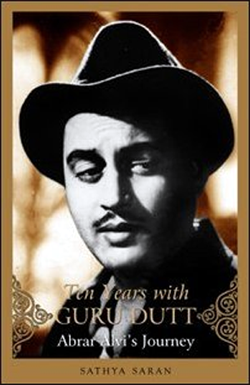 Here is another book for fans of the legendary Guru Dutt. Pages and pages have been written in film glossies about the Guru Dutt- Geeta Dutt-Waheeda Rehman love triangle. However, this book written by Sathya Saran (former editor of Femina) lays bare certain facts that were hitherto not known to us. Propelled by an interview with Abrar Alvi, the director of "Sahib Biwi Aur Ghulam" in Indian Express, Sathya informs us about the pains that she took to travel from her residence in South Mumbai to Andheri in the Western suburbs by local train to track down Abrar Alvi and pen down his memoirs over a period of 1 year.
The book is hugely successful in its attempt to blow away the myth that Abrar Alvi was only the front for Guru Dutt while directing – "Sahib Biwi Aur Ghulam". That should be reassuring for Abrar who was associated with Guru Dutt for close to 10 years. He has vividly described the efforts that he took in constructing the sets for the movie in a place called Dhanporia, 40 kms from Kolkata. He narrates the experience of directing consummate actors like Rehman, Meena Kumari, Sapru and Guru Dutt himself for the movie. The attempts at improving the lighting in the film, the frustrations of working with V K Murthy – Guru Dutt's cinematographer and the precious inputs received from Guru Dutt while filming the movie make for engaging reading.
The book is appropriately paced but anachronistic at times. The language is lucid and easy to read. All the chapters have been named after the lyrics of the songs in Guru Dutt movies. But, yes, the price appears to be a bit exorbitant considering the size of the book. But it cannot be denied that Satya Saran has put hear heart and soul to dispel the myth that Abrar Alvi was only the shadow director of 'Sahib Biwi Aur Ghulam'. This should provide some solace to the bitter and disgruntled Abrar who has lived all his life not getting the credit he deserved. Interestingly, though Abrar's career as a writer continued even after Guru Dutt's death, "Sahib Biwi Aur Ghulam" appears to be the only film that he worked as a director.
Abrar is honest to admit that he wasn't happy with casting Waheeda Rehman as 'Jaba' in the movie. He feels that Madhubala or Geeta Bali would have done greater justice to the role. I beg to differ, however. But there are enough instances in the book that Guru Dutt had a strong hand in influencing the direction of the movie. All songs in 'Sahib Biwi Aur Ghulam' were shot by Guru Dutt. So, there is some sort of ambivalence here. However, this gap is more than made up by the elaborate details given in the book about Abrar's tryst with direction.
Every chapter in the book alternates between a third person account and first person account. It adds to the charm of the book and makes the book eminently readable. That Raj Khosla, the famous director was in love with the legendary actress Nutan is described by Abrar in a lighter vein. The book also reaffirms that Bollywood has always taken inspiration from the West. Guru Dutt, it seems was no exception.

"Professor" (starring Shammi Kapoor) was inspired by the American movie "Bachelor Mother" starring Ginger Rogers. Guru Dutt's 1955 comedy – "Mr and Mrs 55" was loosely based on the James Stewart-Hedy Lamarr starrer – "Come, Live with Me".

On the flip side very little has been mentioned in the book about Abrar's personal life (his family, children).

We all know that Dilip Kumar was originally slated to play the poet in 'Pyaasa'. What we may not know is that Dilip wanted Mala Sinha to be replaced with Madhubala and the role of 'Gulabo', the streetwalker in 'Pyasa' (immortalized by Waheeda Rehman on screen) to be slashed to a negative role. Guru Dutt and Dilip Kumar had a fracas over the remuneration to be paid to the latter and this may be the reason why Guru Dutt had to don the mantle of an actor in 'Pyaasa'. It is another matter that, without Guru Dutt, 'Pyaasa' would not have been hailed as a 'classic' movie .
The movie 'Sahib Biwi Aur Ghulam' (1962) was a hit. Then, why did not Abrar get more offers for direction? Abrar answers it himself. He has cited instances where he has been very candid and forthright with his views. Driven by passion for his work, nothing else seemed to have mattered to him. The film world is a fickle world, dominated by sycophants. So, obviously, people like Abrar Alvi stood little chance considering the acerbic remarks they made with stars and stalwarts.

Examples – Abrar refusing to acknowledge Raj Kapoor and Rajendra Kumar on the sets, his terse response to Guru Dutt for not receiving him at the Airport during the Berlin film festival and his brushes with Guru Dutt, Raj Khosla, producers K K Kapoor and Atmaram (Guru Dutt's brother). Clearly, Abrar's passion overruled the need to have good public relations in the film industry.
The way in which the lighting was managed for the song 'Waqt Ne Kiya Kya Haseen Sitam' in the movie 'Kagaz Ke Phool' by the team of Guru Dutt and V K Murthy is really inspiring. It has been mentioned in vivid detail. Without doubt, Guru Dutt seems to have had a creative bent of mind in matters related to photography.
After finishing the book, you realize that Bollywood was as filthy in the 50's and 60's as it is today. Guru Dutt seems to have been a heavy drunkard and a smoker. You are aghast that during a shoot in Chennai, 'chicken' was the codeword used by Guru Dutt and his team for engaging the services of a call girl. I recall an interview years ago where one of Guru Dutt's sons had suspected that his father was murdered. However, Abrar manages to placate this statement with vivid details of the last day of Guru Dutt when he committed suicide. One is shocked to note that Geeta Dutt, despite getting a premonition about her husband's death, did not feel the need to visit her husband (they were presumably living separately).
Though the book is about Guru Dutt, the references to S D Burman, Mehmood, Johny Walker and Meena Kumari (during her final days) make for absorbing reading. You have to read the book to understand how gullible Burmanda was.
More than anything else, the book is worth reading for telling the inside story behind the Guru Dutt-Waheeda Rehman romance as it is. One really feels sorry for the legendary actress on realizing how callow she was in understanding the crooked ways of Bollywood. Guru was indeed torn between the love for his wife and the other woman. However, he couldn't take a stand and ended up dropping Waheeda Rehman from his life. Abrar claims that Waheeda considered him her elder brother and describes the events that led to the 'nikah' of Guru Dutt and Waheeda that never happened. We come to know that Waheeda had a brother-in-law Rauf who announced that Guru Dutt was converting to Islam to marry her. Eventually, Guru Dutt chickened out at the last moment without realizing that his marriage with Geeta Dutt was long over. In the end, it seems that he caused Waheeda such a grievous hurt from which only work and more work could provide solace to the talented actress-cum-dancer. Clearly, ditching Waheeda and his financial troubles seemed to have led him to take the extreme step of committing suicide. The extent to which relations soured between Guru Dutt and his protégé has to be read to be believed.
Friends, I always wonder. When Guru Dutt had such a close circle of friends like Abrar Alvi, Johny Walker, Dev Anand why did he never approach them for help? Why did he not confide in his mother or brother or sister? It seems his mother was in favor of Waheeda. Why did he have to take that extreme step on 10 October 1964? Was he plagued by guilt? Did he feel that he had reached a dead end? After reaching glorious heights, was it difficult to accept failure? What if he had ended up marrying Waheeda Rehman? Your guess is as good as mine. But sadly, we lost a great film-maker who could no longer handle the pressures of marital discord and financial debts.
After Guru Dutt's death at his Peddar Road residence, Abrar Alvi ended up remaining in oblivion. He worked as a writer in movies and informs us about the troubled times that he faced shooting Mala Sinha and Tanuja for 'Baharen Phir Bi Ayengi' the movie which Guru Dutt left incomplete. The movie was released in 1966 after great effort with Dharmendra stepping in place of Guru Dutt as the hero. The movie bombed at the box office. Abrar never wielded the megaphone again. Obviously, Guru Dutt, the great mentor that he was, left a void in Abrar's life that could never be filled.

Ten Years with Guru Dutt: Abrar Alvi's Journey by Sathya Saran
200 pages Rs. 499.00 - Penguin