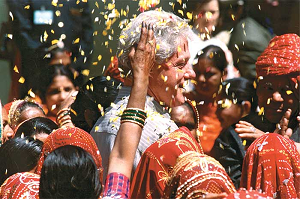 "Clinton Clinton Super Star" was the reverberating slogan last year in Holi when American President Bill Clinton visited Naila, an unpopular village in Rajasthan. The fact, however, that Clinton - leaving apart a number of other picturesque places in India - chose Rajasthan in his itinerary, gave this majestic state of India an additional mileage and boosted Rajasthan Tourism. Clinton's visit to New Delhi might be bearing a number of diplomatic missions, his stay in Rajasthan was truly homely.

Hospitality is the hallmark of this ancient land of India and Clinton really felt its depth. And yet the luxury that he enjoyed there, as he is accustomed to, always left him and his whole crew in such a stately state that a journalist of New York Times remarked in the guest book of Hotel Rajvilas: "Rajvilas is amongst the fanciest place the President and his advisors ever stayed during his Presidency".

The President saw many places far and wide in this princely province but his memorable sojourn was in Naila Village where he was not only extended an unforgettable traditional and hearty welcome but was also exposed to a close study of the life-style of the people who, while experiencing utmost harsh conditions of this desert state, endeavored to transform their village as an ideal village of Rajasthan. In Ranthambhor, Clinton also enjoyed an elephant ride and a close observation of the Safari tigers leaving him to remark that "seeing these tigers was pretty special and thrilling".

The Thar Desert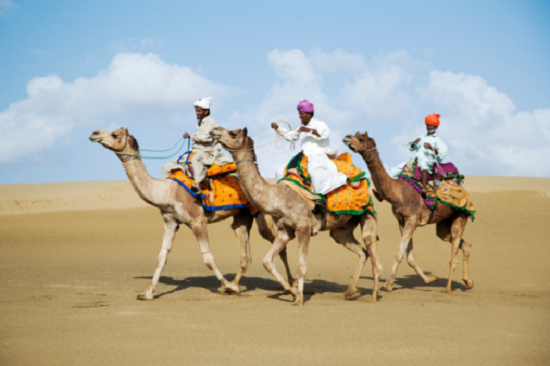 Bill Clinton's visit is, however, not the only reason of Rajasthan's fame in modern India. From this same sandy tract the world heard the bangs of India's nuclear test program - first during the regime of Mrs. Indira Gandhi and, quite recently, when Mr. Atal Behari Vajpayee joined as Prime Minister. The nuclear blast that caused a world-hauling polarization of leading nations, was made in an insipid belt of Rajasthan known as Pokhran. Also famous for its painted mud potteries, Pokhran has become the recent sanctorum of India associated with the pride of its people.

Such is Rajasthan, the land of Rajput warriors - bold and beauteous, simple and yet difficult, welcoming and yet self-conscious, full of valor and full of romance. In its diversity lie around the great Indian desert, mountain ranges, lakes, dense forests, lush green valleys, barren fields and attractive oases. Spread in a vast stretch of 342,214 sq. km Rajasthan is the second largest state of India with a population over 45 million and with Hindi as its main language. In most parts the climate is dry. The Aravali mountains stretching south-west across the state separates it into desert and semi-desert areas. The vast desert tract is known to all as Thar Desert. Thanks to God for creating camel, the 'ship of the desert', with all its saintly traits of survival. Camels are the most helpful creatures to the inhabitants of this part of globe. It is difficult to imagine living in Rajasthan without the camels. Camels are always attraction for children and it is always a fun for all age-groups to ride on them and traverse through the village of the Thar.

Welcoming People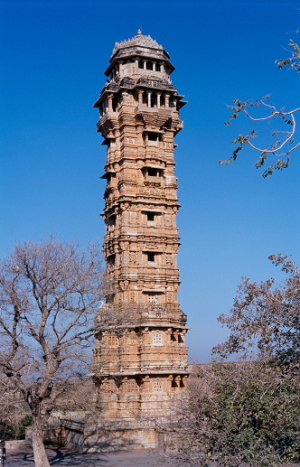 Traveling into Rajasthan is a thrilling experience but more abiding impression is of the people of Rajasthan. They are simple and happy people in spite of all the difficult conditions they are put to face. The dryness and insipidity of their surroundings has taught them the value of colors which they reflect in their costumes, in their paintings, in their handicrafts and even in their thoughts. It is not amazing therefore that Rajasthan has been the birth-place of many noted artistes of India including the internationally known Sitar maestro Pt. Ravi Shankar and renowned dancer Uday Shankar. Men wear on their heads turbans of dazzling bright colors and women have a special love for richly wrought ornaments and embroidered dresses. The beauty of Rajasthani women has left many told and untold stories in Indian history.
Many people know the story of Padmini, the queen of Chittaur, whose surpassing beauty led Alauddin Khilji, the Sultan of Delhi, to wage a ruthless war. The same beauteous women are also known in history for their "Jauhar" - an act they used to perform to save themselves from falling into impious hands. When their husbands died in the battles and enemies invaded their forts, they would enkindle wood fire and jump into it to join their husbands in the next world. In this same land of sacrifice, men of eminent valor were produced who lived and died for the sake of dignity. Here was born Rana Sanga, the great lion of the medieval India, who was alleged to have lost his one eye, one leg and one arm in the battles and had 80 wound marks on his body. Yet when he would enter the battle-field on his stallion, havoc was created in the Mughal army. And here was born Maharana Pratap of Chitaurgarh who lost his kingdom, suffered extreme hardships and exile with his family members but did not succumb to Akbar, the Mughal emperor, who wanted Chittaur to accept his sovereignty. Rajasthanies are wonderful soldiers and the pride of Indian army. In this same land of valor, one finds the diligent Marwaris, the Jews of India. Migrating from Marwar (Jodhpur) area of Rajasthan, they virtually made almost all the states of India their dwelling place. Their contribution in promoting and sustaining Indian economy has been matchless.

Royal Relics

Being a land of valor and struggle and cradle of so many Rajput kingdoms, almost the whole of Rajasthan seems teeming with palaces, royal monuments and, above all, picturesque forts. Forts are many and it is difficult for anyone to survey them all as one can find a number of forts even in deep jungles. Some of them which deserve special attention are Gagron Fort, Mehrangarh Fort of Jodhpur, Kumbhalgarh Fort, Amber Fort, Fort of Jaisalmer and, last but not the least, Chittaurgarh Fort. Chittaurgarh Fort, associated with Maharana Pratap, always bears a special significance as it stands for a warrior king's love and sacrifice for the freedom of his motherland. As the saying goes in Hindi:
Taal me Bhopal taal, aur sab talaiya hai
Garh me Chittaurgarh, aur sab garhaiya hai.
(Among all the water-pools, the pool of Bhopal is worth mention and all other pools are insignificant. Among all the forts, only Chittaurgarh is the real fort and all the rest are fakes.)
The Palace on Wheels

For those who believe in luxury and can afford it, the best way to explore Rajasthan is through "Palace on Wheels". Palace on Wheels (POW), a luxurious air-conditioned train service inaugurated in 1982 by Rajasthan Tourism Development Corporation in collaboration with the Indian Railways, provides a unique and memorable experience to the tourists visiting Rajasthan. It has 14 Saloons decorated with royal taste and equipped with bath and shower, lounge, library, music channel, bar and a sophisticated pantry providing traditional Indian, Continental and Chinese cuisine. In other words, POW offers almost all the comforts and luxuries foreign travelers are accustomed to. Palace on Wheels sets on a scheduled journey through Rajasthan which takes over a week and apart from visiting important places of Rajasthan, you are also taken to the Taj City, Agra, and New Delhi.
Interesting Places

Interesting places? It is really very difficult to answer. Rajasthan is just explorable - the whole of Rajasthan. There are scores of interesting places in Rajasthan. However, some of them deserve special note and are 'must visit' for all the travelers.

Ajmer
Ajmer is the 'Mini Kaba' of India and a most venerable spot for the Muslims. Not only for Muslims but even for the followers of other religions the sacred 'Dargaah' of Khwaja Moinuddin Chisti, the Sufi saint, is an object of adoration. It is believed that whatever is asked of with a sincere and longing heart and with due prayerfulness at this sacred spot, is granted. Not surprising, therefore, that thousands of people flock to Ajmer -- especially during the Urs celebrations, which is quite a joyous celebration with deep religious significance. In Ajmer, another famous place attracting visitors is the 'Hut of Two-and-a-half days", a peculiar name which might arouse curiosity. Actually, this name has derived from a historical fact. This place was originally a reputed oriental learning center of Sanskrit but in the 12th century was attacked by the Sultan of Delhi and converted into a mosque in just two-and-a-half days.

Bharatpur

Bharatpur is famous for its Iron Fort which is of its own kind in the whole of India. Like Sariska, Bharatpur also has a National Park, one of the world heritage sites, especially for migratory birds. Spoonbills, cormorants, egrets, herons, cranes, storks and kingfishers are some of the majestic birds dwelling in this beautiful natural resort. In fact, there are over 400 varieties of birds and their warble and twitter make Bharatpur one of the loveliest places in the world.

Bikaner

Famous for its 'bhunjia' (salted, crispy and spicy edibles), Bikaner is also 'salty' in its appeal and appearance - nice, crisp and alluring. The beautiful 'Havelis' (semi-royal mansions) are just imposing. And if the camel is the 'ship of the desert', Bikaner is the anchorage of these 'ships' as there is a National Camel Farm in Bikaner dedicated to study this unique creature of God which can live without food and water for several days. The Farm is also involved in improving the breed of this animal for use in defense and other services. Since Rajasthan borders with Pakistan and since all the important services including postal service depend on the use of camels, the Farm holds much importance. As for points of interest in Bikaner, Junagarh Fort must be mentioned first. The Lalgarh Palace, Anup Mahal and Badal Mahal are other interesting places. All these palaces are dazzlingly ornamented, polished and enriched with marvelous painting work.

Jaipur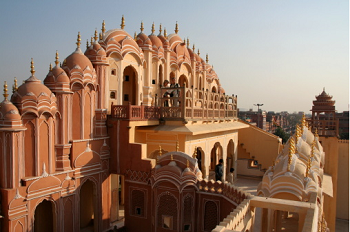 'Pink City' Jaipur, the capital of Rajasthan, is one of the most attractive cities of India intermingling the glory of the past and modern development. A beautifully planned city, Jaipur is also an important center of Indian economy as a flourishing metropolis. Since it leads in trades and crafts like jewelry, metalwork, stone carving, enameling, painting, etc., people are drawn to this city for employment and Jaipur is gradually becoming a complex city. But the hue of the past has not faded. The most visited site of Jaipur is Hawa Mahal (The Windy Palace). Tall, wide and shaped in the complicated form of a royal crown, this is amply ventilated (perhaps that's why it is called the windy palace) with hundred of niches and yet the interiors are just clandestine. From its within you can view the whole city but nobody can easily see you from outside. The Palace was built for royal ladies to observe the activities, scenery, fairs, etc.

Jaisalmer

If the enchanting myths and the virtual world of the Arabian Nights have ever bewitched you and you want to see a replica in India, visit Jaisalmer. The 'Beauty in Desert', Jaisalmer, really gives such blended reflections of splendor and tranquility, old and new. All the buildings in the city are uniformly made of yellow sandstone and hence Jaisalmar is also known as 'Golden City'.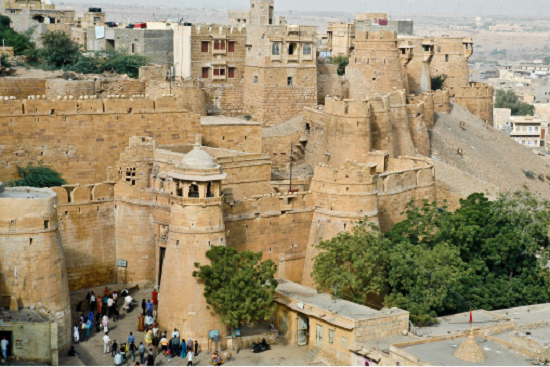 The Fort of Jaisalmer steeping out of the vast spread of barren sandy tract looks like a tower of survival in the land of inexistence. It is beautifully built of yellow sandstone - a color befittingly matching with the desert landscape. When the Sun shades its light on the bastions of the Fort, they radiate a golden hue. The history of Jaisalmer is full of ups and downs and the mystic 'Havelis' (semi-royal buildings of olden times) enshrine many told and untold stories the whispers of which can only be felt by seeing them. In addition, Jaisalmer bears a religious significance, too, especially for the followers of Jainism. Jaisalmer's Jain Temples are ancient and quite peaceful.

Jodhpur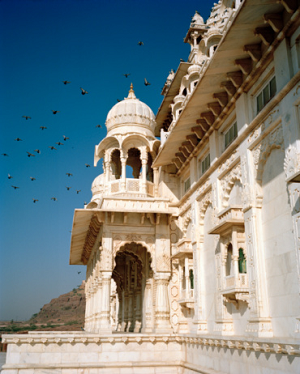 In olden times, Jodhpur was the capital of Marwar state founded by Jodha Rae. The city is surrounded all over by a high stone wall which has seven different inlets. The most visited sites of Jodhpur are Mehrangarh Fort and Umaid Palace. While the 5 kilometer long highly impressive fort of Mehrangarh offers a scenic view of Jodhpur city, the wonderful museum on the fort sends you down the ages through its valuable collections of a regal past. On the Fort, you are invited by the majesty of the Mehrangarh Palace which is rich with rare latticed work and well-ventilated balconies. And then it has Moti Mahal (the Pearl Palace) with incredible mirror-work and dazzling gold polish. If you verily see the palace, you will not be amazed to know that nearly 80 pounds of gold was used to accomplish the work. Umaid Palace, a beautiful sandstone edifice now partly occupied by a luxury hotel, is another marvel of architecture. On the Fort, you will also surely like to see the highly enriched Museum with several sections and each section fascinatingly taking you down the ages in history of valor and romance.

Kota

Kota is an evolving city of Rajasthan with a number of growing industries. This is an ancient city, too, reflecting the glory of its olden days through its wonderful Fort and the City Palace. Situated on the bank of Chambal river, Kota is famous for its painting work, unique of its kind has many beautiful temples and palaces relating stories of an age gone by. Jag Mandir, Brij Vilas Palace Gardens, Darra Wildlife Sanctuary, the ruins of the ancient city named Chandravati are the most enjoyable sites.

Mount Abu

Mount Abu is verily 'an oasis in the desert'. It is a nice place to break the sandy monotony of Rajasthan. It has all such things which you cannot ever imagine in a desert land - rivers, lakes, waterfalls and evergreen forests. The only hill station in Rajasthan, Mount Abu is full of aesthetic and spiritual essence. The most important sites which one must visit are the Jain temples of Dilwara and they are famous all over the world. Made out of marble and rock, the temples transport the incomers in a world of translucence. They are so finely built that in the opinion of experts in the field of architecture, they even surpass the workmanship of the famous Taj Mahal. Why not? The Taj Mahal was built at the behest of a powerful ruler but the Dilwara Temples were built by a whole generation of devoted lovers of arts and divinity. Spirituality is the hallmark of this hill station of Rajasthan and there are a number of religious centers including the most famous one of Prajapati Brahmakumari sect. Boating in Nakki Lake is another thrilling experience one can gain in Mount Abu. And if it is not sufficient, do visit the Fort of Achalgarh and have a glance over the beautiful scenery around. Or just step in the wildlife sanctuary to spend some time with sloth bears. Or .. even more .. go to the Sunset Point and see for yourself how the golden hues touch the breast of the hills and .. slowly and slowly .. slip in dark slumber with dreamful thoughts of a mystic union!

Pushkar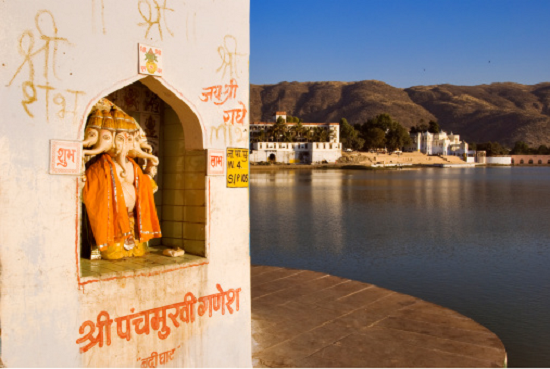 The social philosophy of 'unity in diversity' of India gives itself a wonderful expression in Rajasthan. If Jaisalmer and Nakoda enshrine the essence of Jainism and if Ajmer is a sacred spot for the Mohammedans, Rajasthan has also a very sanctified place for the Hindus and that is Pushkar. Pushkar is situated on the bank of a vast and beautiful lake which, as devotees say, was created by Brahma (the Creator). Devotees also believe that no pilgrimage is complete without a visit to Pushkar. Being such an important pilgrimage of the Hindus, Pushkar teems with hundreds of beautiful temples. There are more than 500 temples including some most visited temples such as the temples of Brahma, Shiva and the 'Varah' incarnation of Vishnu. The temples of Gayatri and Savitri are also unique. However, the most popular temple of Pushkar is that of Badri Narayan dedicated to Vishnu. Pushkar is also famous for its Annual Camel Fair, painted textile and silver jewelry.

Sariska

The wildlife sanctuary of Sariska is worth visiting. Animals such as tigers, boars, leopards, sambhars, chinkaras, cheetahs etc., and birds of various kinds including nightingales are kept in natural surroundings. Sariska is quite a peaceful place, away from urban din and clamor, and no wonder if many top leaders of India have chosen Sariska to spend their holidays and retreat.

Udaipur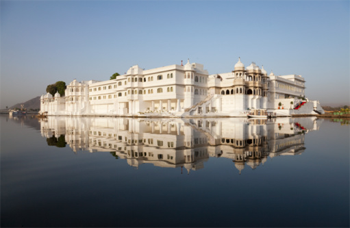 Udaipur, with its serpentine streets, has ever been a city with tint of some aesthetic sense and those who love natural taste and beauty must visit this City of Lakes amidst the Aravalli Mountains. The Lake Palace of Udaipur is one of the important landscapes of India. The Palace now also houses a luxurious hotel and gives a beautiful view of the Lake. Fateh Prakash Palace is also wonderful where you can see crystalline glass furniture of Belgium. This section is known as Crystal Gallery. If you are, however, interested in folk items, Bhartiya Lok Kala Mandal Museum will be the right place to go. Udaipur has dazzling market places and some of the typical items sold are painting works, enameled jewelry, folk toys, stylish swords and terracotta.

These are only some places of Rajasthan and only a brief description is given to you. In a nutshell, Rajasthan is the "historical pilgrim" of India where every atom has a story to relate. Even a full volume of a prudently written book will miss something out. Rajasthan is vast with much to explore, so much inviting and so full of essence!