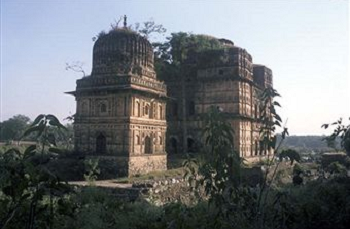 The very word 'Orchha' means 'hidden' and, verily, the small town of Orchha in Madhya Pradesh (India) stands for it. It is a hidden archaeological legacy of medieval India, it is a hidden 'throb' of romance and emotional rupture, it is a hidden face of history, a hidden treasure of spiritual tranquility, a hidden poetry written on stones! Hidden .. because very few tourists traveling to India are troubled to visit such small places as Orchha. But really if you are the one who is not swayed away by the urbane dazzling of Agra, Mumbai, Delhi, Varanasi, Manali, Goa and other similar sorts of hi-fi tourist places and if you are the one who is endowed with inner aesthetic sense, you must come to Orchha and experience its melodious lull and transcendence.

The Legacy of Bundelas - 'The Blood Givers'

Blood, war and sacrifice are the keywords to describe the Rajput Bundela dynasty that ruled over Orchha for over two centuries beginning from 1531 A.D.. This developed as a stronghold of Rajput power in India and as a symbol of love and valor. It is said that there was a Rajput prince who intended to offer himself as a sacrifice to Vindhyavasini ' the goddess of the Vindhya hills. The goddess was glad with his devotional attitude and named him 'Bundela' which means 'the offerer of the drops (of blood)'. However true or untrue this story be, it is true that 'sacrifice' is the very essence of a Bundela life and the Rajput history of India amply testifies this fact. Orchha has witnessed lots of ups and downs of time. Up to 18th Century it was a powerful Rajput kingdom. The notable king of Bundela dynasty, Bir Singh Ju Deo was a favored commander of Jehangir, the Mughal Emperor, and Jehangir's regime (1605-1627) proved to be the golden age of Orchha. But neither Shah Jehan (the successor of Jehangir) nor Aurangzeb could cast that very glance of love and justice for which Jehangir is known in history. They invaded Orchha almost ruining this beautiful Bundela kingdom.

Scenic Spots on the Banks of Betwa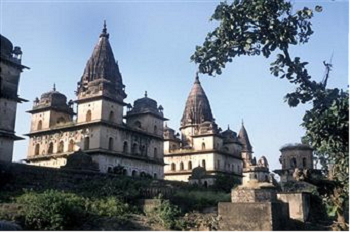 Orchha is believed to be founded in the 16th century by a Bundela Rajput chief named Rudra Pratap. The beautiful stretch of Betwa river gave this place an added beauty and value as the capital of the Bundelas, the dynasty which gave India a number of worthy rulers the most notable among them being Raja Bir Singh Ju Deo. A number of beautiful temples and 'Chhatris' are built on the bank of this serene river and whether in the crimson light of dawn or in the dusky twilight, it is great to see their reflection in the river water. There are altogether 14 chhatris arrayed on the banks of this historical river and their images in the river ' best viewed from a nearby bridge ' imprint a lingering impact on every visitor. Most of the 'chhatris' bear a Mughal style of architecture except for the famous Chhatri of Madhukar Shah.

Another picturesque structure visible from that bridge is the huge Sheesh Mahal (Glass Palace).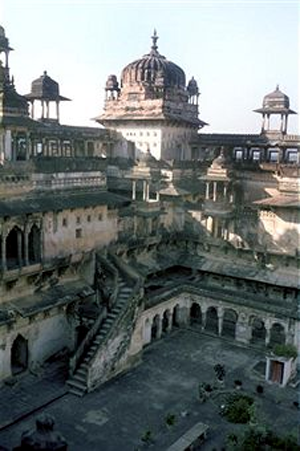 Jehangir Palace is also one of the most attractive monuments of Orchha crowned by graceful chhatris. A contrasting feature of this majestic palace is the interior painting work which is a rare expression of the Bundela school of painting - a unique type of ornamental paintings of India. The Bundela architecture is a blended mixture of Rajasthani, Jain and Mughal architecture and this 'blending' gives the monuments of Orchha a unique value as well as a distinctive aesthetic expression. Laxminarayan Temple, Chaturbhuj and Raj Mahal are at least three more outstanding buildings the interiors of which richly depict wonderful religious themes. Hosts of temples, chhatris and shrines reflect an archaeologically rich legacy of time referred to by some historians as 'medieval legacy in stone'.

The Royal Romance

Jehangir visited Orchha in the first half of the 17th Century and the Jehangir Palace was, in fact, built to commemorate his visit. Not as majestic or spacious as the Jehangir Palace but no less important than that is the Palace of Raj Parveen surrounded by a beautiful garden. Here Orchha takes you down in a romantic depth with the Mughal King Jehangir and Raj Perveen, the wife of Raja Indramani. Perveen was a beautiful lady of her time with great artistic taste and abilities. She was a superb dancer as well as a singer. The dales of Orchha ring with the stories of Jehangir's romance with her. Jehangir loved her deeply and wanted to marry her - an offer which she refused. The Palace of Raj Perveen is, thus, not only a monument of romance but also of an Indian queen's faithfulness to her husband. Another important monument of romance is the Palace of Hardaul, the son of Bir Singh Ju Deo. Hardaul was suspected to have fallen in love with his brother's wife and as the rumors of this love spread far and wide, Hardaul put himself to death to prove that he was innocent.

Where is Orchha?

As these brief, initial notes might have been tempting, you are likely to ask now: where this Orchha is on the earth? Well, this is situated in Madhya Pradesh - some 120 kilometers from Gwalior (the well known capital of the Scindias) and some 16 kilometers south to Jhansi, the cradle of Maharani Laxmibai, the Joan of Arc of India. An important station of Central Railway, Jhansi is well-connected by railways on Delhi-Mumbai route. Trains also arrive here from Kanpur and Allahabad. However, for most of the tourists, it may be easy to catch the Shatabdi Express leaving New Delhi for Bhopal early in the morning. For Shatabdi, India's fastest train, it takes four and a half hours to reach Jhansi from where you can go to Orchha using local conveyance. The upcoming winter season is the right time to travel. On way back, you can visit some places even in Jhansi and Gwalior provided you stay an additional night. Otherwise, the same Shatabdi Express, leaving Jhansi in the evening of the same day, can take you back to Delhi. The famous Khajuraho temples are even not far from Orchha. So, by any reason, it is always possible to include Orchha in your itinerary if you are planning to visit this part of India.