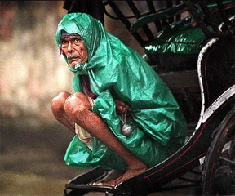 The rains came again. Again, the sky was dark and ominous.

"Wonder what's going to happen this time?!"

"You already know."

"No, no, I don't think so. Look! Its ominous. Its hinting at change."

They stood in the middle of a well manicured garden. Flowers were bent over from the weight of the rain. Everything seemed to be the same as before. They looked synchronously toward the female statue in the middle of the fountain.

She turned....

"Make all of this stop!" came in a whisper that creeped from her mouth to their minds.

"Wait! I get it! This is my dream, so all of this is up to me in some way or another. So, I'm doing this (pointing up to the sky and then all around.) This is just a perception of my situations."

The realization brought about concentration and determination.

"Hey, where are you?! Don't leave me here alone! Come on, don't get any ideas."


"Now its all clearing up. I understand your role in this dream, in my life, in my mind."

"What?! What are you talking about?"

The skies began to clear up. Streaks of sunlight shone through the quickly dissipating clouds. A smile graced the face on the statue in the fountain. The roses perked up eagerly at the sun.

"And as for you......"

"As for me!!! You can't erase me! I am forever a part of you!"

Then there were two.

"Thank you."

"Thank you."

A Kodak moment as the two stared into the sun. Everything was perfect.

It is called "A simple Wish".