Karishma in Benegal's Rainiya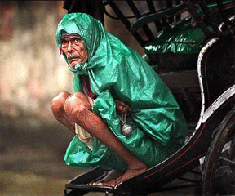 Karishma Kapoor admits freely that this time around none is going to stand in her way of getting an Oscar. For best actress as well as the best disguised. 'You bet they'll add on that category once they see my new film 'Rainiya'." She boasts to me. Curled up on a plush red velvet couch, her hair tumbling across her shoulders and mine (I sit very close to her), she slurps her Java endearingly albeit noisily. "Who would have guessed I could look like an old Ricksha Wala Rainiya Baba," she queries " I had people come up to me during the shoot asking to hire my services" A trilling musical laugh. " My perfume, Gucci Rush, by the way, threw them off totally. I mean what Rick puller smells as good as me?"

'Rainiya Baba' or 'Rains' as the industry insiders call it is the love child of the Merchant Ivory duo and our own Shyam Benegal. Based on the best selling critically acclaimed Booker nominated novel by Shobha De, the film potrays the daily struggles in a Rickshaw puller's life vis a vis fashion, social acceptance and fending off starvation.

"Shyam Ji told while we were shooting for Zubaida that he thought I was ideal for the title role of Rainiya baba. He said something about my cheek bones being perfect" she giggles. "I spent four hours every day getting that make up on and it took us fourteen months to complete the shoot" she shudders but brightens up soon after." But look at the results, all that pain was worth it. Iam virtually unrecognisable in this pic am I not?Also, Igot so used to looking in the mirror and seeing the old man that I sort of miss that now'if you know what I mean , don't you just love those knees?" I nod sagely though I can't for the life of me understand why anyone would want to look that wet and cold.

"That particular shot was taken by the famous American photogragher Herb (Ritts) ji, who also happens to be a big fan. Mama (Babs) was so taken by him she had him do a whole portfolio for her. She is , by the way acting in Night Shamalan's next Pseudo Erotic horror film"

The much awaited film 'Rainiya" will hit the theatres come January 2001. A new year, a new century, a new look. Karishma sure has come a long way.
14-Dec-2000
More by : Chitra Parayath
---