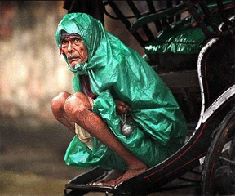 It is a rare Friday evening when I have chosen to spend a quiet evening away from the weekend distractions, contemplating over turning another chapter of my life- my 31st. I was musing over my accomplishments in the year that brought forth the new millennia, and wondering how best to measure them. My short list ended with a sigh, and I turned my next thoughts to what I should aim for in the next uninspiring year. I turned my wandering thoughts to ponder over my true passions in life that motivate me at the deepest level and the hope to someday accidentally tumble upon my mission in life which should have been revealed to me by now.

I thought about my childhood and how passionate I was about reading and finding philosophical answers to everyday, seemingly mundane, routine life. I remembered the strange desire that lacked courage to do charitable work- to reach out and help the less fortunate around you. I remembered the wonderful folktales of the "Panchatantra" and the inspiring stories they told. And as though by a hand unbeknownst to me, I reached out to my all-knowing fried- the Internet. What was revealed was a wealth of delightful information and I soon stumbled upon this website "Boloji". After about 2 hours of scouring over every bit of information I could allow myself, through the luxury of my one-line phone, I was done. Just as I flipped back to the Home page to bookmark the site, I saw this face - shrouded in green. For a split second, my hand hesitated from clicking the page away- could it be Sai Baba? Stranger things have happened I suppose and I can't even claim to be an ardent believer in anything too mystical or beyond rational human explanation. Out of curiosity I scrolled down to see whose picture it was. There were no answers to be found.

I looked again. On second glance, I noticed the crouched up man on the rickshaw. There was something about him- his face- a display of sad despair. I wondered if it was even perhaps a grim acceptance of the stranger taking his picture. Perhaps even a reluctant puzzlement or amusement over what possibly anyone might want to capture in this un-glorious way of living, perhaps even sleeping with a two-wheeling, human bondage of a rickshaw. It must have just stopped raining. A long day come to a close; itself escaping from a cold, chilly night. The man's uncovered legs and bare feet- a grim reminder of the everyday reality at home - a technologically advancing nation with more than just a few million poor, shelter-less destitute. The man's face had the carvings of a long, tiring life that he but clutched in this little gray drawstring purse in one hand. Few more runs through the busy streets and he can allow himself to retire for the night, maybe spend a night with his family under the tattered shards of what used to be a blanket.

The possibilities are endless…what is, what might have been- are all predictions. I feel the need to write. Somehow in this maze of speculation, I find more perspective for my own life. The years behind me have not been that bad after all. I can't even complain about the unfairness of anything anymore. Life has actually been a blessing- great family, and friends, steady job, good pay, and recognition for what I probably do well. Maybe this is not exactly my childhood fantasy and maybe my purpose in life is still not even remotely exposed- however I can in the meantime, choose to find true meaning in life by counting my blessings and giving back to those not as lucky as I, while whispering thanks at the end of each day for the "unfair" abundance in my little life and all the years ahead.