"In thy dance, Divine Dancer,
freedom finds its image and dreams their forms.
Its cadence weaves the threads of things and unwinds them for ages;
Charms the atom's rebellion into beauty,
gives rhythm to the symphony of the stars; thrills life with pain,
And churns up existence into surging joys and sorrows"
- Rabindranath Tagore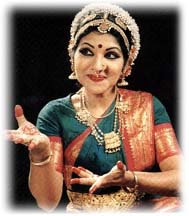 There has always been something mystical about Indian dance, adding to its allure and beauty, and captivating the hearts of audiences all over the world. It is this mysticism that attracted the attention of western dancers Ruth St.Denis and Ted Shawn, of Anna Pavlova, Isadora Duncan and Maurice Bejart, and influenced their choreography. But it was Uday Shankar and Ram Gopal, two innovative exponents of Indian dance, who took the western world by storm with their combination of good looks and artistic talents, and gave Indian dance a permanent place in the western hemisphere.

Today, Indian dance has become so popular that schools have mushroomed in cities all over Europe and the U.S., catering to the artistic needs of steadily growing Indian communities in the areas. In the U.K., organizations like the Bharatiya Vidya Bhavan, Academy of Indian Fine Arts, and Sampad, have taken on the responsibility of lobbying for and promoting Indian fine arts among western audiences, and acquiring funding for Indian dancers.

It is heartening to know that Indian dance has become an integral part of the school curriculum in England. Besides dancers of Indian origin teaching and propagating the art, many non-Indians have dedicated years of their life studying various styles of Indian classical dance and have made a name for themselves in the field. Ileana Citaristi of Italy, Ramli Ibrahim of Malaysia, and Sharon Lowen of the U.S. have specialized in the Odissi style, Sasskia Kersenboom of Holland, Malavika of France, Leda of Greece, and Anne Marie Gaston of Canada, and male dancers Mavin Khoo of Malaysia and Nala Najan of the U.S., to name a few, have taken up Bharatanatyam, and Veronique Azan of France and Janaki Patrik of the U.S. are excellent Kathak dancers.

Though Europe took to Indian dance quicker and earlier than the U.S., recent times have seen a lot of artistic activity on the part of Indian dancers who have established dance institutions in North America. Many of them have received repeated funding from the National Endowment for the Arts and from local Arts agencies, proving that their work has been recognized and appreciated. Such recognitions have put Indian dancers in this country on a par with their western counterparts in the field, and have given a fillip to Indian dance itself. Today, Indian dance is not only a part of the entertainment at every Indian event, but it has also entered mainstream entertainment, and is here to stay. Take Houston, for instance. No Houston International Festival or Asian American Festival is complete without several Indian dance segments. The Museum of Fine Arts, the Museum of Natural Science and the DeMenil Museum have often staged performances of various styles of Indian classical dance by local as well as visiting artists. During May, which is the Asian/Pacific/American Heritage Month, numerous requests are made by schools in various districts for lectures, demonstrations, and performances of Indian dance, for educational purposes.

As an art educator, a teaching artist for the Texas Institute for Arts in Education, and the Young Audiences of Houston and Southeast Texas, I have had the opportunity to share my art and my cultural heritage with hundreds of school children all over the city. As a dance exponent, I have had the good fortune to travel the world, presenting the ancient art of Indian classical dance to audiences comprising the cognoscenti and the uninformed. As a dance teacher and choreographer, I have been fortunate to receive several grants from the Texas Commission on the Arts and the Cultural Arts Council of Houston/Harris County, to continue my artistic pursuits. All this only goes to show that Indian dance is not for Indians alone; that it has universal appeal, and that it need not always be esoteric. More than ever before, Indian dance is enjoying great popularity at this time, and as a result, two International Dance Conferences have been slated for this year. Houston will play host to North America's first such conference September 1-3, organized by SAMSKRITI. The second will be held the following weekend in Chicago, under the auspices of the Natya Dance Theater.

I am reminded here of a verse from the Upanishads - "You are what your deep driving desire is. As your desire is, so is your will. As your will is, so is your deed. As your deed is, so is your destiny".

For all of us dancers who have chosen to make this country our home, and the propagation of dance our vocation in life, we pass on this great art to posterity, in the hope that it will continue to live on, to enliven and enlighten, for generations to come.

Rathna Kumar is Director of Anjali, Center for Indian Performing Arts, Houston, Texas, USA and Artistic Director, the Anjali Dance Company besides being the Artistic Director, SAMSKRITI Society for Indian Performing Arts (a nonprofit organization).