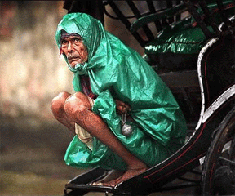 He is Balaram Bhai, Bhai (or brother) for all generations. Even my 6 year old nephew calls him Balaram Bhai. I heard my father call him Balaram Bhai too. The 'Truing Truing' of the advent of his rickshaw, was an omnipresent sound of our Central Calcutta neighborhood. Rain or shine, hot or cold; Balaram was always been at our service.
Balaram Yadav, obviously no relation to Laloo Prasad Yadav; came to Calcutta in mid 60's. He did not know his age, and the only clue he had was that his elder brother was 6 years elder to him. If someone asked him how old his brother was, he might again fall into his own confusing loop of heredity and family life cycle. The only thing he knew specifically was his village in the Chapra district of Bihar. His rickshaw did not have a number. His answer to this was "Hamar Ricksa ek number hai. Kabhi dhokha diya kya?" (My Rickshaw is number one. Have it ever troubled you?) That clever disguise of an answer however did not mask the fact that his rickshaw is unauthorised. No nameplate, no license.
He made an average of Rs. 800 to 900 per week which is barely $20 in the western parlance. His major expenses were not food, nor neither shelter nor medical expense. The only fees he knew and that can let him ply on the streets was his weekly "hafta" or fast money for the police. His survival lied in the Rs. 200 hafta he paid to the Muchipara police station sub-inspector Mukul babu. Also let's not forget ocassional bookings for the one-way violations he was forced to undertake, due to passenger's illogical requests.
Neighborhood rumors said that Balaram had two wives, and had two sons from both of them. Further investigations brought forth-outright denial. "Ek bibi samalah nahi jata, dusra kaise pale?" (It is tough to maintain one wife, how to maintain a second one?) At least once in two years, Balaram went to his native village to visit his family. And mostly every time a postcard arrives that his wife is pregnant. You must imagine how many children his wives have given birth in all these years. He once told the local laundry man that in his village, daughters are not allowed to survive. They are given over doses of salt and killed even before they can see the first ray of light. But he has always shied away from personal comments on his family. A diplomatic Balaram at his best.
I had not seen Balaram for the last few months. The last time I saw him was during the Durga pujas in Calcutta. I had taken my nephew to the local Durga Puja pandal. My nephew Arijit, a camera prodigy in his own rights, had clicked his photo infront of the Muchipara police station. His Rickshaw has seized and he was waiting for Mukul babu to bail him out. Incidentally Mukul babu had gone out of office to visit the local pandals on duty with his wife and sister-in-law. It was raining and Balaram was half drenched with his raincoat made of green tarpaulin sheet.
The photo Arijit clicked grew important yesterday as someone from Balaram's village, came to our local club looking for Balaram. He had told that Balaram did not send any money to her wife for the past three months. According to mercenary, Balaram was suffering from malnutrition and tuberculosis. He also had stomach problems as do most of the rickshaw pullers in the city. Ninety percent of them do not have access to safe drinking water,and most of them sleep on the streets with no covering on the top. Now I wondered why I did not see Balaram for the past few months.
Who know where Balaram Bhai is today as I write? I hope where ever he is, he is safe and sound. All our neighborhood people are anxious to hear the 'Truing Truing' of his bell. If anyone knows where Balaram Bhai is, please do drop me a line. Let's all hope Balaram Bhai is not lost in his quest for survival. If you do not find Balaram anywhere, look for other Balaram's in other nooks and corners of this world. Take a genuine interest in them so that at least when they are not around, you could tell your friends his story. At least keep a photograph. Who knows it might be his last photograph!