Each year, as many as 27 million women give birth in India. Of these, some 136,000 die because of complications in their pregnancy and delivery. But Tamil Nadu's new initiative - Comprehensive Emergency Obstetric and Newborn Care Centres (CEmONC) - could not only help India come closer to its 2015 Millennium Development Goal of reducing maternal mortality, it also sets an example for other states.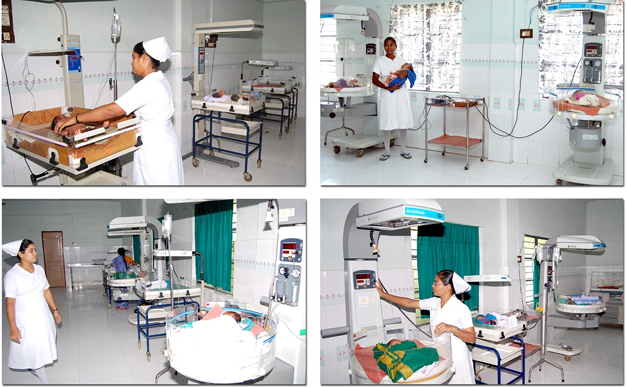 CEmONCs are changing the face of mother and child care in public health institutions in the southern state. According to S. Vijayakumar, Special Secretary to the Tamil Nadu Health and Family Welfare Department and Project Director of Tamil Nadu Health Systems Project (TNHSP), "Bridging the gaps in service delivery is crucial to saving the lives of mothers, newborns and the very young. You may set up a health centre in every village, you may have the best equipment in the district hospitals, but if you cannot make the essential services easily accessible and available within the golden hour (the critical time period that can save a life), all the efforts can go waste. A pregnant woman may be able to reach a Primary Health Centre (PHC) but the nurse may be missing, there may not be adequate blood availability, there may not be transport available to take her to a bigger hospital. These are the gaps that need to be urgently filled to save lives."

These in fact are the critical service gaps CEmONC is fulfilling with efficiency. Sponsored by the World Bank, CEmONC is an initiative of the TNHSP in its third phase of implementation. Under CEmONC, district and sub-district hospitals are now being staffed with experts like obstetricians, gynaecologists, paediatricians, anaesthetists and general surgeons. Nearly 500 doctors and nurses provide referral emergency obstetric and newborn care services round the clock, seven days a week. Each CEmONC is equipped with an operation theatre, a blood bank and a diagnostic laboratory. In addition, an emergency ambulance service is also just a phone call away.

CEmONC services are presently available at 80 government district hospitals and there are plans to extend it over the coming months to many more sub-district hospitals and private health institutions in the rural areas. The TNHSP has also connected remote tribal villages to CEmONCs in the Kolli Hills, Kothagiri, Gudalur and other remote areas.

"In the past five years, the TNHSP has helped address 400,000 pregnancy-related complications and 100,000 neo-natal complications through the CEmONC," says Vijayakumar. The state in-charge of the CEmONC programme M. Kuppulakshmi feels that "ensuring that every link in the maternity service chain is actively present has made a crucial difference."

Today, 1,539 PHCs across the state have 24x7 facilities to assist would-be mother. A special emergency ambulance service has been made available to take women to CEmONCs. People from anywhere in the state can dial a single common telephone number – monitored by a computer-based central control room - to request for an ambulance, which has a response time of a maximum of 30 minutes. The GPS-fitted ambulances are equipped with a ventilator and trained manpower is present to handle any emergency.

As per D. Gurusamy, the CEO of the 108 Emergency Ambulance Service, "Our 18 months of experience in providing the service has shown that 26 per cent of usage of the 108 toll-free service is for transporting pregnant women to hospitals. Each and every mother-to-be should have this service available to her." Presently, there are 400 vehicles in the service and an additional 200 are being added. "Our records show that we have been able to assist 113,119 maternity cases. Of course, there is greater scope for linking up the 108 service to PHCs and secondary referral centres," he adds.

Apart from the emergency ambulance service, the on-site blood banks at CEmONC have proved vital in saving lives. "A blood bank is a must at the referral centre. Normally, 60 per cent of the pregnant women are anaemic and there is blood loss of at least 500 ml in normal deliveries. If there is a 24-hour transfusion facility, it considerably increases the chance of survival," explains Kuppulakshmi.

A concerted effort has also been made to upgrade the skills of staff nurses by providing training in better birthing practices, the proper use of Misoprostol (a non-steroid anti-inflammatory drug) to prevent postpartum haemorrhage, and maternal administration of magnesium sulphate.

"We are now able to bring down the maternal mortality. We are also being able to detect cases of pregnancy-related complications. More of such cases are being detected at the PHC-level and then referred to the secondary-level referral hospitals. This helps in timely intervention and reduces the risk of mothers and babies dying," says Kuppulakshmi.

In Tamil Nadu, the PHCs reported 160,000 normal deliveries in 2008-09; in 2009-10 this number rose to 250,000, indicating an increase in institutional deliveries. "Now there is 99.5 per cent institutional deliveries in the state of Tamil Nadu," reveals Kuppulakshmi. As a result, infant mortality has fallen from 11.9/100 complicated neonatal admissions to 5.7/100 such admissions. Maternal deaths were 74 for 161,000 live births in 2009-10.

Besides the CEmONC, another state-sponsored initiative for expectant women is the Muthulakshmi Reddy Maternity Benefit Scheme under which a cash assistance of Rs 6,000 (US$1=Rs 46.6) is given to pregnant women living Below Poverty Line (BPL) to compensate the wage loss during pregnancy and enable them to get nutritional food and give birth to healthier babies. Since 2006, Rs 10.64 billion has been spent to benefit more than two million women in the state.

India accounts for more than 20 per cent of the global burden of maternal mortality and has the largest number of maternal deaths for any country. National Family Health Surveys (NFHS) show that most of these deaths are caused by haemorrhage (29 per cent - before or after delivery), naemia (19 per cent), sepsis(16 per cent), obstructed labour (10 per cent), unsafe abortion (9 per cent - infections) and hypertensive disorders of pregnancy (8 per cent).

Some of these causes can be contained by ensuring that the services of Skilled Birth Attendants (SBAs) are made available, especially in the villages. Even the World Health Organization (WHO) has said that SBAs are critical for reducing maternal mortality in developing countries. WHO defines a SBA as "accredited health professional(s) – such as a midwife, doctor or nurse – who has been trained to proficiency in the skills needed to manage normal (uncomplicated) pregnancies, childbirth and the immediate postnatal period, and in the identification, management and referral of complications in women and newborns". In India, only 46.6 per cent of births are attended by an SBA and the presence of skilled attendants in rural areas is as low as 33.5 per cent (Sources: WHO/NFHS).

Here again, Tamil Nadu has taken the lead to rectify this situation. The state has filled 24,064 vacancies in the last four years, including more than 7,000 hospital nurses and 3,000 village nurses and another 3,000 hospital workers and 6,000 paramedics.

Finally, it is all about administrative will. "It is team effort that is slowly changing the picture in Tamil Nadu," says Kuppulakshmi. And if their team approach is replicated, the situation can change for the better elsewhere in India too, believes the CEmONC team.
IImage: Comprehensive Emergency Obstetric and Newborn Care Centres set up across Tamil Nadu are changing the face of mother and child care in public health institutions in the southern state. (Courtesy: TNHSPWFS)
By arrangement with
WFS