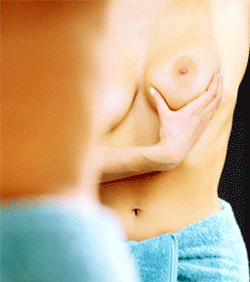 Breast cancer is the most common cancer in Indian metropolitan cities. As many as 900,000 fresh cases are reported every year. Of these, 100,000 are of breast cancer. The All India Institute of Medical Sciences (AIIMS) in Delhi gets 15,000 new cancer cases every year. Almost half of these are of breast cancer. Yet, women continue to suffer in silence for fear of stigma, lack of finances or unpleasant personal circumstances where they are anyway leading a life of neglect.

Dr P.K. Jhulka, Professor, Department of Radiotherapy and Oncology, AIIMS, says that women should examine their breasts regularly just as they examine their teeth for oral activity. "The most important symptom is a painless lump. The American Cancer Society guidelines recommend regular mammogram after the age of 40 and yearly mammogram for women with a family history of breast cancer," he says.

Concerned about the worrying statistics of breast cancer cases - in one in every 27 women - the Forum for Breast Cancer Protection, a Delhi-based non-government organisation recently organised a breast cancer awareness campaign along with an all-women car rally from Delhi to Jaipur. During the rally, oncologists halted en route at Dharuhera and Alwar (Rajasthan) to address rural women on breast cancer.

"We want all women to know that breast cancer is the most common cancer in metros. It is overtaking cervical cancer, which was the most common cancer five years ago. It will continue to rise in the coming years," says Dr Ramesh Sarin, Senior Consultant Cancer Surgery at Delhi's Indraprastha Apollo Hospital and Chairperson of the Forum.

In her clinical practice spanning nearly half-a-century, Sarin has come across cases where women from literate backgrounds ignored unsightly symptoms, concealed their problem, delayed medical consultation for one reason or another and lived in misery.

One such case was that of a 50-year-old working lady, whose distant relative had survived breast cancer. But the fact that her relative was doing fine did not motivate her to seek medical advice well in time. Sarin says that the patient came to her two years back. "She had been living with the tumour in the right breast for three years. The tumour was 15 cm by 15 cm but she allowed it to ulcerate and develop maggots. When we examined her, we found that the skin had burst and the tumour was all over the breast. My colleague would use turpentine solution to repulse the maggots, and wash the ulcer with water and sterile. It was a painful process. The patient would cry and howl but she needed dressing twice a day. We could not give her anaesthesia twice and had to admit her. After a week of cleaning, we gave her six cycles of chemotherapy spread over four-and-a-half months. The tumour regressed and she was able to rejoin office. But she had come to us at an advanced stage when the cancer had spread to the liver and the bones. When a patient is in the fourth stage, no cure is possible. She died within two years. The family could never give reasons why she did not come for treatment earlier," she recalls.

In another case, a Gurgaon-based lady in her mid-fifties came to Sarin with a rotting tumour in the right breast. "The tumour had burst through the skin and was emitting a foul smell but she concealed the condition from her family. She had no dearth of money as her children were well settled abroad. The treatment cost her Rs 1,50,000 (US$1=Rs 45) every three weeks but they never complained. She took chemotherapy followed by surgery and the medication prolonged her life by a year-and-a-half. She even went back to Australia after treatment but could never justify reasons for delaying treatment. The children later recalled that when she was visiting them, they complained of an offensive odour but could never identify the source. They checked the plumbing and even looked for a dead rat in the house. Little did they know that their mother was suffering," she says.

Oncologists feel helpless in such situations, more so when caregivers look up to them as demi-gods and implore them to save the lives of their loved ones. Sarin says, "Life is so sweet. When you come to the crossroads, you want to live every minute."

In most cases, patients delay a visit to a doctor as they feel that cancers will not visit them. There are others who don't have the courage to deal with the diagnosis of a life-threatening disease and the dreaded removal of a breast, the pain of chemotherapy or temporary hair loss after chemotherapy.

Apart from the doctor's dilemma, caregivers also have to pay a price for an avoidable delay in screening and diagnosis. Not everybody can afford high cost medication and hospital stay at an advanced stage of cancer. Sarin, who set up the breast cancer clinic at AIIMS in 1980 after a fellowship at the Memorial Slone Kettering Cancer Centre in New York, says that women should make the most of the advances in screening methods and breast cancer treatment. "The overall cure rate in Stage I and II is 75 to 80 per cent. Forty years ago, there was nothing called breast-saving surgery. Now, more than half the patients can save their breasts."

In an advanced stage of breast cancer, the cost of treatment may be from Rs 500,000 to as high as Rs 40,00,000. "Even after spending Rs 30,00,000, we are not sure that the cancer will not come back. Surgery and radiation in stage one of cancer can cost up to Rs 1,00,000, with chemotherapy hiking the costs three times over. If a patient comes for treatment after the second stage, the minimum she has to spend is Rs 5,00,000. What women need to understand is that they have a 90 per cent cure rate after an early diagnosis as against 10 per cent at an advanced stage. The breast can be saved with timely medical intervention and the cost of treatment would be negligible compared to Rs 40,00,000 otherwise," explains Sarin.

There are families who are willing to do whatever it takes to buy extra time for their loved ones. Sarin recalls the case of a 60-year-old Delhi-based woman whose sons sold off their land to prolong her life. "Her treatment cost Rs 30,000 to 40,000 a month as the breast cancer had spread to the brain and the liver. Chemotherapy does not pass through the blood brain barrier. She needed treatment by cyber knife to target only the lesions. This was available only at Apollo, Chennai, and cost Rs 4,00,000. But the sons did not think twice and she has survived to experience the joy of becoming a grandmother and seeing her second son married."

Although insurance companies cover cancer treatment, most patients don't have insurance as they feel that there is no way they would ever get cancer. Most of them can't afford treatment that costs over Rs 5,00,000. Therefore, women could save themselves a lot of money and anxiety if they were to keep in mind risk factors such late menopause, no history of breast feeding, a sedentary lifestyle, intake of junk food and family history.

By paying heed to the aphorism 'A stitch in time saves nine', women can fight breast cancer and emerge winners.