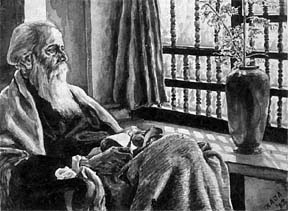 Bharatnatyam is a complete dance. Because all elements of this art form are strictly followed as per the Natya Sastra from beginning to end. But for any dance form to retain its appeal it cannot afford to be simply struck in grooves as it were. It must evolve, innovate of course within the four walls of the basic discipline of each dance form. To limit ourselves to the age- old format of Alaripu, Jatiswaran, Sabdam, Varnam, Padam and the Tillana could and indeed has been found not un-often to be boring. It somehow seems all too predictable and stagnant. That is where innovation comes in.

All the lyrics of Bharatnatyam are in the languages of Tamil, Telegu and Kanada of south India. Sanskrit is also in vogue as the South has been able to preserve in its pristine purity. But though the idiom has gained universal appreciation it has not been able to transcend the barriers of language to make it intelligible to all regions East, West and North. While dancing in different parts of the country I realized this thing. what northerners appreciate in Bharatnatyam is the dance elements and Abhinaya. After all dance has its own language and lyrics are there only to embellish it.

Unfortunately Bengal was not able to evolve a Classical Dance Form of its own. Though recently last one year we the dancers started trying on research work of Vishnupur Temple where lot of examples have been found of Classical Dances from different posses and mudras of broken idols. Gurudeb Rabindranath Tagore did usher in a new era by evolving a simple dance form in Santiniketan style of graceful movements based on a combination of Manipur, Kathakali of Kenol and other folk elements of India. But that style could not boast of any stylized grammar or footwork based on the rhythmic intricacies and Tagore indeed personally thought it is necessary since his idea seemed to be that everyone should be able to dance in Joyous ecstasy.

At this point I started thinking why not take the lyrics of Tagore and interpret them in Bharatnatyam idiom? Because I wanted to communicate the appeal of this great Art Form so that they can understand easily. Immediately I started making a Research work I found that some of the Tagore's songs are identical to the same ragas of Carnatic songs of Mutthuswamy Dikshitar and Tharaja. This inspired me very much to go ahead with the project Bharatnatyam to blend with Rabindranath Tagore's composition within the grammatical frame work of Bharatnatyam.

In the first instance I tried to compose Dance on Bharatnatyam with Tagore's composition on those songs which are identical in spirit of Carnatic songs used in various items. i.e. Padam, Varnam, Slokam and Tillana etc. Purpose was to make the Dance enjoyable and understandable to the people of Bengal. Afterwards I thought that the compositions of Bharatnatyam Dance is based only on mythological themes and that too in regional language of south India. The background of such themes are very much dependent in mythological stories enacted through expressions and body movements. In Tagore such conceptions or expressions are also evident but based on philosophical concepts. So instead of reading a story as usually narrated at the beginning of dance, I thought that if the expression of human feelings i.e. Love, Passion are taken into consideration as prime be more acceptable to all parts of the country and abroad. Besides language in various parts of India may be different but expressions of human feelings and sentiments are not different whether it is Tamil or Hindi or Bengali they are very much alike and the appeal is perhaps universal. For this work, I made this Research through the traditional dance of South i.e. Bharatnatyam keeping Tagore's vast and enriched compositions in mind.

Apart from the above concept such attempt to interpret Bharatnatyam with Tagore's songs will help to make a Cultural Bridge between South and East which will be a clear and distinct expression of National Integration. I think that at present National Integration is the need of the hour and my such experimental Research work will definitely contribute to some extent to keep the counters united., I personally believe that the Artistes whether She or He is a singer or an instrumentalist or a Dancer can contribute much by blending the arts of different region in order to cultivate National Integration. My whole idea, philosophy attempts me to promote National Integration by interpreting Bharatnatyam with Tagore's Songs.