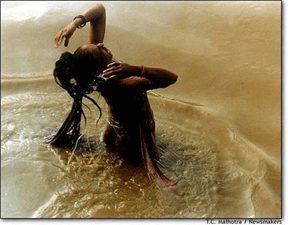 "O Lord, grant me immortality, give me the strength to survive all the hardships of our lives. O Lord, Grant peace to the world and let people live amongst peace and harmony. O Lord, grant me wisdom so that I may enlighten the world with your vision, your forgiveness, your kindness and your love. O Lord, Grant me your Amrita."

"O Lord, all my life I have spent at Prayag, Haridwar, Ujjain and Nasik in search of 'Amrita', your Nectar of Immortality. In my childhood, my mother used to narrate me the story of Sagar Manthan from the Puranas. She told me that the Devatas and the Asuras, got together to churn the ocean to find the nectar of immortality. Mandar Parvat was used to churn the oceans. The elephant Iyravat came out, the horse Ucchesrava came up, but at the end Dhanvantari came with the pot of Amrita on his head and the book of Auyrveda in his hand. The Asuras quickly stole the pot and ran off. In their haste, they dropped four droplets of Amrita in four places, and hence your Kumbha mela. O Lord, where is your Amrita?"

"O Lord, Today is April 14, 2010. Maha Kumbha mela. Vrihaspati (Jupiter) is on the Kumbha rasi (Aquarius) and Surya (Sun) is on Mesh rasi (Aries). Here at Prayag, at the confluence of Ganga, Jamuna and Saraswati, thousands of devotees have come here to seek your blessing. Many are diseased, may have lost their near and dear ones, many have come here to shun away their sins, many have come here to uplift their economic conditions, many have come here just for business, many have come here just to be happy. O Lord, is there enough Amrita?"

"O Lord, look at the condition of your waters. Dirt, filth, pollution, chemicals are all around. Look at us seeking Amrita amongst polluted waters. We bathe here and ultimately we also drink this too. O Lord, free the world from pollution, terrorism, war, disease, global warming and hypocrisy. O Lord, is there truly any Amrita?"

"O Lord, today I am languishing with AIDS, a fatal disease and maybe my candle would fizzle out soon. With everyday, my end is becoming nearer and I am becoming weaker. I am afraid that sometimes soon, the sunshine of my life would never welcome the dawn. O Lord, for the last time, I request you to give me a drop of Amrita, a drop of Amrita."