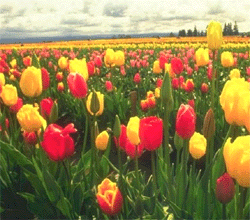 The flowers are blooming, the birds are chirping, the grasses and the trees are lush green, the sky is blue, the mist is on every leaf, the roads are damp. It's the first dawn of spring. Hold on to your breaths! We have now upon us a time for which the world has been waiting. Every year the earth prepares for a new birthing. Her own birthing into a new dimension. A dimension those earthlings call spring. Rejoice during this period as the valuable energies of the cosmos keep flowing around the fragrant breeze of a spring morning.

We the people are the co-creators of the World. The place we live in is a fusion of certainty and uncertainty. What we experience in our lives on a day to day basis is all because of our deeds. We are born each day and die each day. The deeds of the day are what we cherish and the next day is another new beginning. The cosmos has quite a similar set of rules. The earth is born again and again each year during the spring. It enthuses passion and love in every living being on earth.

Why do we at all wait for spring? Is it because after dark we always search for light? Is it because we wait for the swirl of the change? Every dawn we pray that the day would behold something different. All waits. All watches. Sometimes changes occur, sometimes it doesn't. The change of season is more drastic, more radical. We all feel on hold. We have all known change was coming and we have been listening and begging for answers so that we knew what to do in this time that was in sync and in harmony with the world and what Mother Earth was doing at this time.

We have all been watching the chill of the winter wind outgrow itself into a cool spring breeze. Trees transforming into mere twigs find their lost beauty. Birds who had flown elsewhere to beat the winter chill, migrating back to their roots. Poets finding their lost words. Brush strokes of the painter finding new meanings and adding new color to an erstwhile mundane existence. Musicians singing to the glory of the rejuvenated world. Children rolling on the lust-green fields. Farmers sowing dreams of the harvest ahead. Butterflies beholding the season of passion and love.

We all start feeling like ourselves, we are finally getting clarity on all those issues we have struggled with for so long. We will feel like we are finally doing what we came to earth for. We will feel like finally all the "on Hold" we have been feeling has been released and we can move full steam ahead knowing clearly what is to happen and what you are to do to make it come to pass. We will feel like we are in control of our own life. What we are to do in these times; to play the role that we came for and agreed to play at this time, for our earth as she creates herself and as we co-create ourselves with her in synchronicity. Actually playing out together the Oneness we know clearly what we are doing and what the ramifications will be as we develop together a whole new plane of existence.

This is the starting point. This is the jumping off point. This is the point of no return. This is the point today at which, each one of us need to stop and re-evaluate what we are - who we are - what we are thinking - what we are doing - what we are becoming - what we have and what we want to have. Every one of us are well aware time is collapsing.

Your wait for your love might be finally over. Spring is the season of love, of care, of compassion, of truth, of benevolence, of peace. Your long lost love would learn to value you, cherish you. This season rejoice, have faith and choose to move forward, releasing all that has gone before that you no longer need or that does not further your growth. Look to your growth. Look to your possibility. Remember your dreams and head for them knowing now you are capable of allowing them to come true for you. Expand, expand, expand into who you have always had the possibility of being and understand that now time has collapsed and you are about to make history. History those generations ahead would be proud of. Rejoice for this is SPRING!