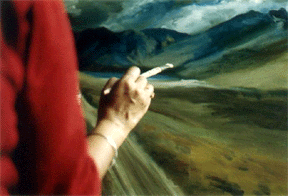 Art? What exactly is art? Does Art imitate life? Does Life imitate art? Is the beauty in the eye of the beholder? Or is it in the eyes of the creator? These questions rattle around in my head every waking moment. They run rapidly through my veins at every attempt to create.

Art is Art. It is a means of self-expression; it can be constructed, arranged, or created from anything. This does not limit me to paint, wood, plaster, stone, metal, linoleum, charcoal, pastels, a camera, or a keyboard and mouse. As I start to branch out into these new and exciting mediums, a hurdle appears. This hurdle is the constant battle of trying to balance the technical aspects with the content and psychological parts of my work. There are so many new toys to play with that it gets easy to lose sight of things. As more canned special effects and specialized equipment find their way into my studio, it becomes increasingly difficult to arrive at a unique personal signature. In order to keep from getting absorbed completely by the idiosyncratic vision of certain applications and social filtration, I must follow my visions and not those embedded in my head through social influences.

This is just the beginning of my artistic endeavors. I consider myself an artist, and I create art for one reason "satisfaction." First, the satisfaction I have in my heart, soul and mind after the accomplishment of a piece. This exhilarating feeling is one of the best sensations a human being could possibly experience. I could never explain this phenomenon in words but if I attempted to illustrate the actual physical properties, it would be as follows. It begins with a tingle around the nape. It slowly crawls down the spine until it hits the small of my back and then it EXPLODES'reaching every sinew and orifice of my body. Eventually an invisible beam of energy releases out of my fingertips and eyes.

Secondly, a certain level of satisfaction is reached when there is social interaction between my piece and the rest of the world. An outsider coming to look at my piece and almost reaching an equivalent state of mind as I did, that is satisfaction. The windows of my soul extend beyond my eyes and into my art. I consider my work as a reflection of what I am. The life that the work embodies is a personification of my personality, my emotions, my beliefs, my creativity, and my vision.

Life is art, and art is life.