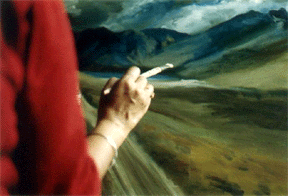 Vibha is an artist. A famous artist. Every one knows her. She is extremely beautiful with sharp features. Last month she painted a portrait of an old lady, from then on she got famous. Now she is 35, and still alone. Completely alone with her paintings. Surrounded by sad paintings. Vibha loves to paint sad paintings. But she always looks happy with a fresh smile on her face. A sweet smile. Vibha's smile is mysterious. She used to laugh and read a joke daily. This was her daily routine. She is also a good cook. When she feels that she is not tired, then she cooks food for herself. Vibha has an assistant. His name is Vibhoor. He is more than her assistant. He loves her. Vibha also knows that. But she never let him know that she also loves him. This is her secret.

Many times Vibhoor has asked her why she always paints sad paintings? After listening to this, she always laughs and then simply tells him that no one loves to watch happy paintings. Every person wants to decorate their homes with sad paintings, because they know that they are also sad, deep in their hearts. No one in this world wants happiness and joy. They are decaying and going to die. They can't afford to see joyful paintings. Vibhoor today asked her again. Vibha didn't reply. She fall on her easy chair and a lighted cigarette. She laughed. She laughed mysteriously. Vibhoor couldn't understand why she was laughing? He thought that she is going mad or she is sad. Completely sad.

"Are you going mad Vibha?" He shouted.

"Dear I'm not. You are going to be mad. Why do you always keep asking me this stupid question?" She took a puff.

"I know Vibha that you are pretending. You keep smiling always, but you are sad. Why you are doing this? Why you are living two lives?" He also lighted a cigarette.

"You want to know. Then listen. I'm alone. I have no friend. No one loves me. Cigarette

and wine are my friends. They are my true friends. They never leave me alone. I love them." She was almost going to cry.

There was a silence between them. The smoke was going to capture the room. Vibha lighted another cigarette. Vibhoor was watching her. He felt as if he is losing something. He made a drink for Vibha and said,

"Can you become my friend?"

"Why? We are just sex partners and nothing. We are enjoying each other. You know that I'm growing old and after a couple of years you will also leave me alone. You can't become my friend. You are just saying to console me. Thanks for that. I'm not interested in you. Why should you ruin your life for me?" She drank the wine.

"I love you." He smiled.

"What? Do you know what it means? You are stupid. Don't say any thing without thinking." Vibha laughed.

"I'm not joking Vibha. I'm serious. I love you. I want to tell you that I fell in love when I saw you in your wedding reception. I love you. I love your sad paintings." He said desperately. There was soft music in the background. Vibhoor glanced at his watch. They still hadn't burned out their conversation. They knew they could never finish in one evening. Vibhoor said he had to leave. He arose. He felt himself unbalanced. He had too much to drink.

"You can stay here." She said.

"Why should I? You are not my..." Again he glanced his watch.

"Ok. As you like. But if you are going, then don't come to meet me again. I..." She wanted to express her feelings, but withheld them.

Vibha lost was in her past days. It was at her wedding reception that Vibha first met Vibhoor, her husband's boss. It was a very brief encounter but it left an indelible impression on her- for Vibhoor was a man one could not forgot in a hurry. He was easily the most distinguished looking man at the gathering. Vibha was absolutely bowled over by his rugged good looks and his natural charm. But what was most striking about him were his eyes-turquoise green in color, they mirrored Vibhoor's determination to get done whatever he wanted to do, at any cost. Vibha noticed that Vibhoor had an uncanny knack of making every women feel special.

"I have never seen a more beautiful bride, Vibha," He said in his usual quiet voice.

" Shiv is a very fortunate man. How I wish I had met you earlier than Shiv did." To Shiv he said,

" All the best, Shiv. I am sure your married life will be full of pleasure and prosperity."

When Vibha told Shiv that she had liked his boss, he was delighted. Shiv hero-worshipped Vibhoor and was simply fascinated by Vibhoor's legendary rags to riches story. Son of a primary school teacher in Chandigarh, Vibhoor had exactly five thousand rupees on him when he came to Mumbai with a degree in English literature. And within a matter of fifteen years he had built a vast publishing empire by sheer hard work and iron strong determination. Shiv was Vibhoor's blue-eyed boy. Vibhoor had made it clean on many an occasion that it was Shiv who would succeed him. Shiv could not have asked for more-a beautiful and loving wife, a satisfying job, a doting boss, Vibha was eager to meet Vibhoor. She had met him after her reception day. They often thought of calling him over for dinner but Vibhoor was busy. The second time that Vibha met Vibhoor was on the thirteenth day after Shiv's death. His death came as a shock to everyone. Vibhas's life had been shattered. Shiv's death had been so sudden, so tragic! He had gone for his usual morning walk on a rainy day never to come back again. His corpse was recovered near the Bandra sea face. He had fallen into the Arabian Sea and drowned, and everyone agreed that it was extremely foolhardy on Shiv's part to go for a walk on the unsafe Bandra sea face especially when the tide was high. For Vibha. Shiv's death barely six months after their marriage was totally catastrophic. It was like the end of the world. She was oblivious to everything around her and had drawn herself into a shell of grief. She ate because her mother-in-law told her to do so; she drank because she was told to. Sometimes she cried the whole day. At other times she stared vacantly into nothingness.

It was in such a state of no subsistence and vacuity that Vibha met Vibhoor. Had Shiv been alive, the prospect of another meeting with Vibhoor would have sent Vibha into a flurry of activity-visiting the parlor, shopping for a sari, endless discussion with the cook so that the menu was just right. But Shiv was dead and it mattered not to Vibha what happened around her. Vibhoor came with a bunch of white roses. He gently told Vibha that he was in Delhi finalizing a deal when he heard the stunning news...

" I have lost my best executive," he said softly," but my loss is nothing when compared to yours."

" May God give you the courage to bear this." Vibha simply nodded biting her lower lip as she tried her best to fight back the steady stream of tears.

" Take care," Vibhoor said as he patted Vibha bowed her head with affection. Then he left.

Vibhoor became a regular visitor at Vibha's flat. His dignified presence had a soothing effect On Vibha. She had even managed a thin smile once. Vibhoor was always very considerate, sometimes almost affectionate but he never crossed his limits. Whenever he touched her it was with parental concern; even though he was nearly five years younger than her. Vibha had also developed a filial affection towards him. But much to her horror Vibha soon realized that she was attracted to Vibhoor! She found herself waiting for him. Vibha knew this was all wrong. Only six months back she had lost the man she loved so dearly. And now she found herself in love with the same man's boss!

" I must stop seeing him," Vibha vowed. She even instructed the maid likewise.

But Vibhoor did not turn up that day. There was no sign of him the next day or the day after that. Vibha kept telling herself that this was a good omen. His absence should help her forgot him. But deep inside her she was disappointed. Ten days had slowly gone by and still there was no sign of Vibhoor. Vibha became desperate. She had once again lost her mind she kept telling her that his sudden disappearance had been a blessing in disguise.

Her heart thought otherwise. At that times she thought to do something so that she could forget him. She started painting. She planed an exhibition and from there she got famous. When Vibhoor saw this, he congratulate her and said that he want to become her junior. He wanted to paint. He felt that colors are true in this world. He had lot of money, then why was he not living a peaceful life? At-last he joined her and became her assistant.

" Are you hungry?" Vibhoor's voice brought her into the present. Vibhoor served dinner. A burning candle made light for the table.

" Why you are sad? Anything wrong with you? Let's enjoy!" He played a soft music.

Vibha was glancing at the food. She felt that she was not hungry. She put rice in her plate. Rice was sticking in her throat. She was not comfortable. She left the rice and started watching out of the window.

"What are you watching Vibha?" Vibhoor asked.

"Stars. They are sweet as you. Bright like you. They are not sad like you...But I don't know why I'm sad? I want to paint a picture of happiness. But I can't. I think that I had lost my colors and brush. My hand is not moving." She cried. Deeply cried. She couldn't decide what to do. She was now in the sea of sorrow. She was helpless. She felt that she was going to drown. She wanted to come out of that deadly sea of sorrow. She felt that she was alone in the sea cyclone. She wanted to escape. She wanted to live. She needed a happy life with colors. Bright colors. She badly needs a lighthouse. A big light houses; a lighthouse, which could show her the way to live a colorful life. She wanted to paint happiness and joy. She sat for a while and then took her colors and brush. She went to her studio to paint joy. She was now in the front of blank canvas. She was afraid of the blank canvas. Vibha felt as if she was going to melt on blank canvas or blank canvas would kill her. She took her brush to start but her hands were shivering. She didn't know from where to start. She always painted a sad painting then how could she paint joy?

"Vibha what are you doing?"

"Just leave me alone. Don't disturb me. I'm going to paint joy. I want to live." She was shivering with excitement.

"Do you want a drink or a cigarette?" Vibhoor asked gently.

"Both. But just leave me alone."

Whole night she kept on painting. In the morning Vibhoor came to her room. She was sleeping on easy chair. She was calm.

"Vibha...there is your bed tea. Good morning."

Vibha arched her fingers and opened her eyes for a while.

"Good morning..."

"Can I see what you had painted last night?" He smiled.

Vibha got up and went to the canvas.

"Yes! This is my best painting." She smiled after a long time.

"Great...It's a light house...What do you want to express Vibha I couldn't understand." Vibhoor said with excitement.

"Light house shows way to ships in the sea. I'm also like a lost ship in this sea-world. I don't know where to go. I don't know my destination. I'm a lost ship. But this lighthouse will help me to get out of this world. I want to live. A life full of colors."

She sat down on the bed.

"Yes you should live a colorful life. I'm with you. We will paint the colorful paintings. The real one. Painting of joy and happiness." Vibhoor embraced her.

"Yes you are my lighthouse." Vibha's heart was full.