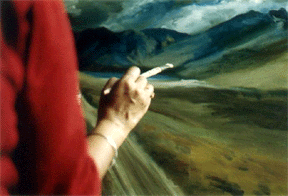 Where the tip of a mountain was, Jenny thought to herself, existed an unending kiss. The earth, all against its nature, was rising to meet its companion sky. Theirs was perhaps the longest association she knew. Through all the while the earth had cradled the many kinds of phenomena that had shot off on it- civilizations, societies, lives, deaths, peace, war, utter love, utter hatred ' the sky had been unfailing witness. Their sight so, warmed Jenny's heart as she applied more green over her present canvas. Every color soaked stroke was letting flow out the feeling rising in her heart and collecting into an uneasy puddle in the palm of her hand.

She became aware now though, that not all things she had experienced were available to her as image she could put down as painting or even as abstraction she could be sure of, give name to, talk about.....give it a visible place in her life. Like one gives, for instance, to Time.

This occurred more than an year and a half ago, when Jenny had been resting for a few weeks she had had to spare '

The place was a large secluded land, circled with low rounded hills and trees of one predominant kind all over. There seemed several skies when one looked around from a slight altitude, every string of three or four hills, juxtaposed against the others, marked a new one. And in the evenings, each took on a different hue. The furthermost ones would diffuse through to the very ground, and the entire 'hill string' would take on the color of its sky. (In Jenny's poetic vocabulary, which back then, she wanted to completely discard, the sky had, in its turn, bend down to meet the earth.) Jenny had not been a very happy person that time in life. The more she had looked for beauty the more she had been disappointed, the more sorely... Between not letting go her precious desire and the disappointments she seemed to inevitably run into, her mind was in a constant state of flux. It strained to look but saw nothing.

One evening walk, feeling more tired than usual she lay the length of herself on the concrete at the top of the hill that she used to climb up for vantage. Her numb mind had said nothing for days on end. Every time she came to the top of the hill she would sit for a while, look at the several skies and their hills, and return. Today she was desperate, and it was 'she' who decided to speak and wait no more for her mind to sort itself. It didn't matter if there was only the sky in front of her. Blue, with one or two light clouds over it, she felt it was all ears. She knew this wasn't her poetry feeding its own pride. It was a real presence, she felt it in the attention that the sky held her in. She quickly dipped inside her, to get what she wanted to say. However, only tears came. She felt instantly sorry that this was all she had..... but in the sky's presence it was easy to accept.

The sky was still there. She looked on and said, "Heal me, then". It didn't matter somehow and she didn't particularly care whether the sky heard her...or what its presence practically meant..or what exactly was going on. She was liking being there with it. Some time must have passed. She got up then, sat facing the valley again for a moment, then tread back down the hill.

Down at the hutment, there was no electricity, and everyone was searching for something to make some light. Darkness had descended early that evening. A lantern hung at the verandah, swung gently to the breeze. Jenny went into her room and busied herself with looking for her torch, digging into her suitcase for it, then washing her feet and hands, thinking of dinner....she wanted to 'come back to life' . While speaking to her companions she swiftly pushed back the self that she had been at the top of the hill, and even wondered how she had turned strange. Just then, a deep resonant roar filled the atmosphere and it began to pour . Thick darts of rain filled all the space. The red mud, black road, green leaves of the coconut and the jackfruit and the mango and the jasmine , all were rain soaked... a new smell was in the air. Jenny loved rain. Ah, what good luck in these humid hot times, she quickly commented to herself. She kept her focus, and didn't loose herself, as she was wont to, into secretly relishing the nourishment the earth gets when it rains.

The kitchen was a few yards away from the house. Jenny didn't want to wait and rushed through the darts. Food was being served at the hall way itself. As she hungrily ate the dinner, Mr. Sheshadri who sat next to her, commented how strange it was to have rained so suddenly. Jenny said yes in a way to suggest that the strange was also matter of fact. Mr. Sheshadri was not satisfied, and repeated his observation again, specifically to Jenny, who stopped focusing. She remembered the sky and her tears, and for a few moments in front of Mr. Sheshadri who she regularly thought of as unrealistic and moody, she floated in the connection just made, and let the delight already waiting in her heart to fill her whole being...that felt subtle, light as a silk scarf. In the darkness, Jenny felt encouraged to dwell in her delight. (She couldn't locate her mind.) That moment Mr. Sheshadri was an unseen sky booming out its 'hi' to her. "You here too!?" she heard herself say in disbelief, looking hard into the dark to find some hint of
color, or light, or shape...There was nothing her eyes could see, except the contours of a familiar face, but she Was seeing of course.

Remembering herself and this incident, Jenny thought that it was ok to feel things she couldn't talk about, to dwell on them, to go swimming in uncharted waters. It was ok because it brought her to her delight. It was ok because it ended her seeking and made everything the stuff of beauty.