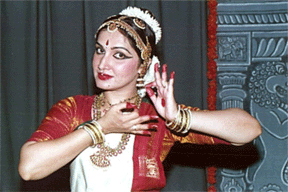 Ancient literary works like the Natya Sastra, Gathasaptasati, and Nritta Ratnavali trace the history of dance styles prevalent in the Andhra region. Like Tamilnadu, Andhra Pradesh also had classical dance styles which were performed by dancers attached to temples and royal courts. These were distinct from folk dances like the Perani and Prenkhani,which were performed in open arenas.

In the 15th century, a saint called Siddhendra Yogi, codified the movements and enriched the repertoire of the Kuchipudi dance form, which was named after Kuchelapuram - the village of its origin. Entire families in this village dedicated themselves to learning and performing this dance, although it is interesting to note that it was practiced solely by men. They formed troupes and traveled to neighboring villages, performing plays that had underlying moral and religious themes.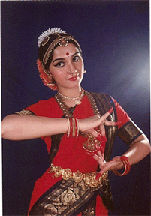 While its close cousin, Bharatanatyam achieved recognition and international fame, Kuchipudi was lagging behind and was confined to its village setting. In the forties, a few teachers ventured into big cities like Madras and Hyderabad, and started training female students as well as directing dance sequences for the cinema. New dance pieces were added to the existing repertoire and soon Kuchipudi gained popularity. It is now considered one of the six major dance styles of India. Some of the front-ranking dancers are Yamini Krishnamurthi, Swapnasundari, Raja and Radha Reddy, and Sobha Naidu.

The technique of Kuchipudi closely follows the tenets laid down in the Natya Shastra. There is some mingling of the folk idiom, which makes it highly appealing to a wide spectrum of viewers. The training takes about four to seven years, and includes two sets of adugulu or basic steps, the jatis or combination of movements, and a detailed study of the Natyashashtra (theoretical aspects of dance).

The student then goes on to learn the individual numbers like Poorvarangam(worship and preparation of the stage), Swarajathis and Tillanas (pure dance items), Sabdams, Tarangams and Keertanams (combination of pure and expressional dance), and finally Padams, Javalis and Slokams (mime only). The highlight of Kuchipudi is the thrilling dance on the rims of a brass plate. This item is sometimes made even more challenging by performing it while balancing a pot of water on the head or holding lamps in each hand.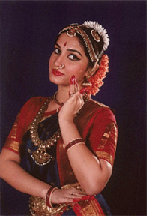 The charm of Kuchipudi lies in its fast and intricate footwork, sinuous grace, and the use of the eyes to express moods and feelings. While fast becoming a solo presentation, Kuchipudi still has strong ties to the dance-drama tradition. Audiences in the United States have greatly enjoyed dance-dramas likeSrinivasa Kalyanam, Rukmini Kalyanam, Sakuntalam, Hara Vilasam, Ardhanareeswaram and others performed by my renowned guru, Dr. Vempati Chinna Satyam and his troupe.

Kuchipudi music is based on the Carnatic system of Indian music and the orchestra consists of the Nattuvanar (conductor) with his hand-held cymbals, the vocalist, mridangam (drum), violin, flute and veena (a stringed instrument).

Having performed Kuchipudi in several parts of the world, I find that it always makes a direct and immediate impact on audiences. Through performances, classes, collaborative stage ventures, and research, I hope to do my share in helping Kuchipudi get wider exposure on the world dance map. The responsibility now rests on the younger generation of Kuchipudi dancers to take this art form to a new higher level.

About Shoba Natrajan
A consummate artist, hoba Natarajan has the unique distinction of acclaimed excellence in two classical dance styles of India - Bharatanatyam and Kuchipudi. Shoba has played an active and important role in popularizing Kuchipudi and Bharatanatyam around the world. In addition to many prestigious performances all over India, Shoba has toured the United States, Europe, and Southeast Asia. She had the rare privilege of being the first Kuchipudi dancer to tour the former Soviet Union.

"A true daughter of her nation, the music and dance of her country are in her blood and that's why the language of her dance is so striking and impressive ... we had a meeting with high, genuine art." - Georgia (USSR) Times.
Shoba's delineation of the two styles is characterized by meticulous adherence to their diverse traditions. Her dance is distinguished for its exquisite abhinaya (mime), flawless sense of rhythm, refined technique, and impeccable grace. Her performances are unforgettable for their spiritual depth, emotional range, sensitivity, and classical purity.
Her work and accomplishments have led to numerous honors, dance awards, grants, and fellowships. These include the prestigious "Artists Fellowship" from the Illinois Arts Council, Chicago for the year 2000. Shoba is the founder and artistic director of Samskriti Foundation, an academy of dance, music, yoga, and allied arts in Chicago, IL.
Contact information:
Shoba Natarajan
3463 Parliament Lane
Naperville, IL 60564 (USA). Phone: (630) 527-1498
Email: shoba@aol.com Web: www.samskriti.com