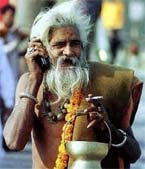 "Don't you want to meet my guru," asked my sister.

My sister had gone through hell and come back. It was thanks to this Gurujee. She lost her husband in a car crash and with him was her only son. It was a nerve wrecking time for all of us. Suddenly she seemed more at peace more composed and she then she called up that she had moved to Varanasi. She had found a Guru and he had given her the solace she was looking for.

What a turn around I thought. My sister who was really a skeptical person had become such a believer. The sadhu was apparently quiet erudite and had brought lot of peace to my sister. She had found a house at the Ghats of Assi and lived there. I had gone to meet her there. More than anything I was impressed with the Ghats. They were so beautiful.

I finally saw the great gurujee. He was a sadhu with matted hair a saffron robe and a white unkempt beard. And he did not utter a word. He looked as old as the Ganges. This is the sadhu who has given so much peace to my sister I thought. Sitting in didi,s Spartan room I kept glancing at the sadhujee whom my didi called Panditjee so reverentially. Didi kept talking. It was as if a dam had burst loose. I had Never heard didi talking so much and the sadhu kept smiling and listening. Suddenly didi, said "Don't you know him"? I looked at the sadhu and said, "No, I do not think so."

I thought and thought and remembered yet I could not place him.
"Remember Deepak." Deepak I was horrified, the guy who never came second, a creep of the first order we hated him because he was so brilliant and so humorless. And this sadhu he looked as old as the hills. Deepak must be 40 years. Yes something about the eyes it was Deepak all right.
Deepak smiled and said "It was the works for me IIT IIM Ahemdabad. And then a job with a multinational. I married the most coveted beauty of Delhi. I partied, loved life, was doing very well. I was smart I was really versatile at the games people play. I knew was going to be chairman of my company. Once I was traveling by road and the car broke down. It was near a god-forsaken ashram. My driver and I went there. The sadhu who lived there looking after a run down Mandir looked at me and smiled. He said you know the caretaker of this Mandir never dies. I am old and I am waiting for you Deepak and I knew you would come."
Deepak said, "I was suddenly filled with so much peace. I had never felt like this before. It was like casting my old skin. I knew I was born for this. My guru gave up life and here I am looking after the Mandir, helping souls practicing yoga and praying to the almighty."

"What about your wife", I asked curiously.
"She is doing well she is remarried."
And while talking to me a cell-phone materialized in his hands and there was a cigarette in the other hand. "Hey where did you get that from", I asked. Just a couple of tricks for my self, he smiled "Old habits die hard I love SMSing messages and I cannot smoke dope in a chillum. I need the cigarette"