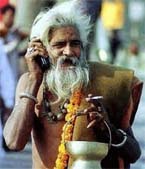 "Hello! Hello! Who is calling?……a reporter? From which magazine?…..Oh! yes. I know it. It is an international one, isn't it?……You want an appointment with me?…..I'm very busy, you know. Can't spare a minute for the next 3 months…….You want me to speak to you right now?…..
OK. Shoot your questions fast, Mr. Reporter……My mission? To spread Hindutva. You remember Swami Vivekananda? The saint who spoke loud and clear about our supreme Hindu religion in America for all the world to hear? I follow his footsteps. The pulse of Hindutva, the life beat of the nation, throbbing from Kashmir to Kanyakumari is now facing a period of glory and pride. We, swamijis are on our feet to keep the kindled fire bright and sparkling……
You think I'm very old? Ha! Ha! Ha! Be not deceived by my white hair, Mr. Reporter. Look at my body! Finely toned and perfectly healthy! I have more stamina than the most agile athlete of young age. Years of penance on the icy peaks of the Himalayas, the holy waters of Ganges and my passion for the salvation of the people of the world keep my body fit as a fiddle. Did not Swami Vivekananda ask the youth of India to be men with steel-like bones and muscles?……
How do I fulfill my needs? What needs an ascetic who has renounced worldly pleasures can have? I lead a simple life. You see how scantily I'm clothed. I feel no cold or heat. Forget my cheroot – we sanyasis do have our own weaknesses……..
Oh! It is the family men who are weighed down by worries of providing food and lodging for the family. Poor creatures! We do not lead a life of misery – no cares, no responsibilities, no ills and no medical bills. We are a class of free birds!…..
Where do I get the money from? Oh! What an ignorant child you are to ask such a senseless question! What do I need money for? All my needs are looked after by my disciples and devotees……I don't touch money. Don't make me a sinner! My beloved devotees shower on me gifts of all sorts, like the cell-phone I'm talking to you with. You see, we keep in pace with the fast moving technology. We need to maintain a wide network to monitor and direct the stream of human fervor…..
Who are my devotees? Oh! They belong to all classes, the ruling and the ruled, the deceiving and the deceived, the old and the young, the rich and the poor – in fact, an ocean of humanity is behind me to do what I bid – to learn, to earn or to burn…….
Oh! yes, Mr. Reporter, we wield the nation – the politicians are at our beck and call. We decide the great national events – elections and demolitions, resolutions and dissolutions etc,……You see, when it is a question of our ancient heritage, the loss of a few lives is nothing to save it……..Yes, Mr. Reporter, we save it at all costs…….Call it not violence. No, no. It is the true Hinduism or patriotism which is one and the same…….
To hell with all the blah-blah about secularism! It is the pastime of imbeciles and cowards………Come and see me lead a dance of mirth and wrath singing the praise of my Holy Lord……..Oh! yes! It is frenzy! It is hypnotic! Why not? It serves our purpose to keep the masses drugged with the opium of religion……..What? The world thinks differently? We don't care a hang if our "sacrifices" are called atrocities. We kill to resurrect, we burn to purify, we riot to fulfill our intent.
The divine will shall be carried out…….Yes, the holy mission invigorates me, nay, inebriates me!
OK, enough for the present. I have a lot of things to do. Bye, Mr. Reporter. Thanks for calling. It was nice talking to you.