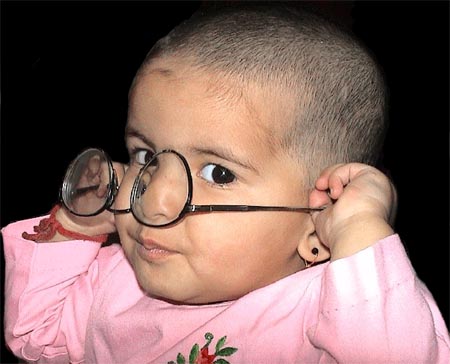 Mona looked at the baby girl trying out spectacles in the spectacle shop. She smiled to herself. It was like her daughter trying to wear her specs. Actually her daughter would have spectacles because her husband and she both wore spectacles. The little girl was wearing an embroidered frock.

"If it was my daughter, thought Mona, "I would only make her wear cute skirts and frilly tops."

The girl's mother was somewhere in the shop.

Mona stopped to talk to the girl. She just looked at her and said "sushi"
"Sushi"she asked questioningly?
The girl's mother came and smiled "her name is Kushi and so she calls himself Sushi."
She laughed and looked at her daughter adoringly, "She is very bright for his age .We just got her Mundan done but you should have seen her before that, she was so cute. She had such a mop of thick curly hair. I hope her hair grows the same way."

The mother rambled on.

Mona did not listen to her. She was lost in her own thoughts. She had done everything possible, she had been to all kinds of pilgrimages all kind of doctors and still she had not conceived. She remembered the last prescription, which said "Adoption, advised." She had been married for seven years now. There seemed to be no rainbow at the end of the horizon, only dark clouds. She sighed.

She remembered her first visit to the fertility clinic six months ago. She and another person were lying in the same room. Mona at least had age on her side she was 30 but the lady on the other bed was at least 40.That was the lady's third attempt at IVF .She was lying in bed hoping her periods would not come. Her husband was working in the other town. She had no visitor. She would lie the whole day on her back. Sometimes she would talk. It was all depressing talk about life marriage and how she had failed at both the counts. The woman's periods came, another fertility attempt had come to naught. Her husband had come to take her. She did not even say bye to Mona. Mona understood. It is very difficult to say anything when one is hurting so much inside.

Mona went through a lot of introspection. Her first fertility attempt had failed. She had prayed to every deity possible. Her Gods had not answered. She wondered if she should go in for adoption or try another attempt. The pain the humiliation if it did not materialize. She remembered the excitement in her husband's eyes and the subsequent despair. She thought of adoption but she knew she wanted someone of her flesh and blood. Someone with long curly eyelashes like her husband and her straight hair. Totally confused she went to bed with a prayer in her heart. She knew God would show her the way. And there would be a rainbow and a pot of gold at the end of the rainbow. Tomorrow would be another day.