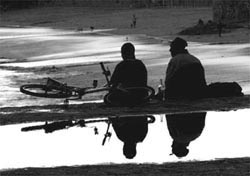 The scenic beauty looks like shades of black and white. Now, it's a distorted village. Who dreamed that "villages are pillars to golden development of India" an aspiration of past, It's a false evidence in present situation. Nowadays poverty is bags under the eyes of village. The poverty became curse to the village people because they are illiterate. They are unable to deceive others. But, they are deceiving by others on different modes. Even they are bearing their losses and growing lands giving life to others and remaining as a suicidal item in news. But, now one remembers his sacrifices and his solemn work. Soldier cast an eye over enemy on borders. Farmer thinking about our hunger, and gives for each one a morsel of his nerves of perspiration.
In modern society we are forgetting our morals. Present education system producing manner less savages. They are only simple or political machines in a tooth and nail way manufacturing production of gain and loss without peace of mind. The personalities pride their work and they think of praising of others. In an adopted culture, aesthetically pleasing at that hour. A delicious dish when you taste it's so good and you enjoy yourself. In same manner, the personality who is delightful and his prosperous achievements he may satisfy himself. But his behavior and expression doesn't make any surgery.
Corporate culture seminars and information technology cannot fulfill their middle class needs. Even you think over foreign policies and rendering to implement in our rural areas. It's a fancy, without education and terminology the globalization issues doesn't greet with open arms.
The village people are veiled with famine, bogus seeds and pesticides, and concessions and budget minifying day by day. The villagers are migrating to towns to earn and alive in their own manner as a worker. Now, he became subordinate in the hands of modern development. Some are remaining beggars. Some are attempting to suicide in an innovative growth. Our mastermind personalities were brain drain to distant lands for their bright career.
In between lines of both categories who is winner and who is runner? Can any one guess? The society holds up distinguished personalities. They will never remain basement; before their eyes, structure is so beautiful it gives flavor of an enjoyment.
In deserted villages the persons who remains as a statues. They have positive emotions and customs over their motherland. They are unable to live to live it as an orphan. But, they have a dream the villages will be ripe fields as a green river. Sounds of grazing cattle, and folk make melodious sounds.
Satirical politics may be vanished and Gandhi dreams flew in flying colors.