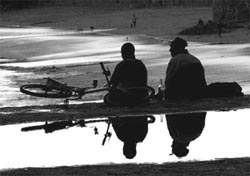 It is amazing how for years the stuff that lies unclaimed in our homes suddenly attain paramount importance when it is time to discard them. Recycling and creativity is given a new meaning. The procedure takes place at my home, annually, usually on the eve of a festival, a new year and occasionally when I am idle to the point of becoming extinct. First, I begin to unload material from my own cupboard, drawer and suitcases kept high up on the attic sometime last year. Like a treasure chest containing different types of gems, I unearth old greeting cards, letters written by friends who are now in some part of the world, knick-knacks, neatly folded gift wrappers, buttons, ribbons, bank statements, and other paraphernalia. I stumble in delight at things that I thought I had lost, found now in a corner of a bag. Oh! here is the cheque book which I had kept for safe keeping, and which my absent mindedness made me forget just where I had kept it, so safe. Here is that stamp collection, from my yearly changing hobby.
The forgotten photographs of my spinster-days, the earrings which Amma bought from the money the raddiwala gave her in exchange for old newspapers, the dupattas of all salwars that I hated to wear, (much to the chagrin of my grandmother, who then proceeded to lecture me on the importance of being womanly!). Do I have to really throw all these away? After all, these few non-descriptive mementos are what makes life. I tear the blank pages from old diaries and notebooks, (after all, in this age of environment consciousness, why should we waste paper?), cut out the pictures from the greeting cards (I can make bookmarks, or better still a collage!), keep the bank statements (what if they ask me suddenly for tax purposes?), and Amma's earrings, no way can I discard them (they are her memories!). Back they go, into the places they came from.
These old dupattas can be made creatively into pillow covers, sofa covers or if I just do a little fabric painting on them, may even turn out to be a modern day wall hanging. And I can certainly use these gift wrappers again (The coming months have a few birthdays coming up), and the college text books too can be given to some poor soul unable to afford them! Like sediment, I am left with some used papers, torn files, broken glassware (which after a while of pondering decide I cannot do anything creative with them), identity cards of college and report cards from schools. The last item I decide to retain, just to show them to my children. The used books and glassware can go to the raddiwala.
It takes me a major part of the day, this cleaning act of mine. Atleast the drawers are a bit less heavy, the cupboard though still a bit stuffed have some place now for something new and the cases are sent back to the attic. I rest my tired feet, with a smug of satisfaction. Who knows what I will find next year?