Diversity of Life
Negating Darwin's Theory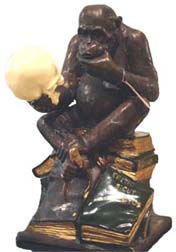 Mr. Darwin " A human" proposed the theory of evolution and concluded that Human's have evolved from Apes, in due process Humans lost the tail and their size of the brain increased, which means they can think better than Apes...am I right?
If so how humans can loose the most important function of Brain "Judgement" & " Responsibility" I mean commonsense, which we Apes pretty much kept it alive...Lack of common sense is leading to destruction of Mother Earth and Humans don't show any kind of respect to their beloved ancestors, Apes (If they believe in Darwin's theory). For his materialistic benefits man exploits forests and uses us and many other friends of mine for his own gain. We are not Ginny Pigs. We are Ginny Apes for his so called Medical achievements.
So, I sincerely Condemn Darwin's theory of Evolution.....Oh I am sorry I forgot that Darwin was also a Human and that he made a mistake.

" To Err is in Human, To forgive is Ape"

Thank you,
Sincerely,
For Mother Earth
Ape – Representing the Animal/ Plant Kingdom
10-Aug-2005
More by : Bhaskar Kolluri
---
---
Materialism destroying our planet is despicable, I agree.

We are not descended from apes, however, but from a common ancestor that the apes share with us.

I also agree with you that every other species on this planet is doing things right, and that we humans have forgotten how to live simply and in harmony with Nature.
---