To Do or Not To Do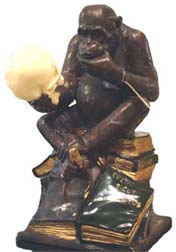 What is this I have got in my hand? What has my master given me today? No fruit. No nut. Nothing nutritive or stomach-filling. But definitely something pleasurable to the palate.

Clean bowled am I with this latest gift from my master. A cotton candy! So soft and fluffy. So sweet and yummy. What am I to make of it? Has my master grown fond of me as a child? Has he forgotten I am a monkey? Has he lost his wits? Gone nuts?

No, I don't think so. My master is a kind, old man full of knowledge and wisdom. A philosopher he is with a scientific inclination.

I find him poring over these old books well past midnight, discussing about his learnings with his friends in the mornings, sharing his garnerings with young scholars in the evenings.

They debate upon theories of realism and surrealism, of egotism and existentialism. Instincts, impulses and behavioral patterns are their topics. Long excursions are taken into the deep realms of psychology and sociology.

My master's hoary white hair reflects the amount of thinking that has gone inside his old head. He keeps stroking his scraggly beard absent-mindedly while lost in profound contemplations.

His students have often exclaimed aloud about his cleverness. But most of what they speak passes over my bald pate. Poor foolish me! I am too stupid to understand anything that is written in the volumes on which I am perched.

My master loves these old books very dearly. They are his most beloved companions day and night. But they are all Greek and Latin to me. I only wonder what engrossing matter was buried in them for him to take such an untiring interest in them.

His actions, though, never fail to baffle me. He told his friends that he is conducting an experiment with me. What experiment that is I am completely clueless about.

He has tied a string to a ring clamped on my wrist. That doth restrict my movements. I can jump about within a limited space only.

At times my natural instincts are aroused uncontrollably. Nostalgic thoughts about my green hills and brown rocks often create an unspeakable restlessness in me making me ache for freedom.

Then comes my master and plants a banana in my hand. All my urge is then drained. I am happy and content.

When I am beginning to feel disturbed again my master brings me some peanuts. That satisfies me immensely. No more dreams of forest domains to roam about.

Inevitably the urge surges up again. Sensing it my master has brought me this candy. A cheap, light, trifling thing fit to pacify a child. Am I a child in his eyes? What treat is this I ask myself with bewilderment.

Whenever these feasts are presented to me I relinquish the cutting- pliers to my paws and pause in my toying with it. It is lying an idle tool while I relish my treat.

It was very long ago when all his friends were assembled around me that my master lectured about motivation and means to attain freedom. I could not make heads or tails of it and was quite surprised when he finally presented me with this cutting- pliers.

I found the toy rather interesting. I spend my time trying what monkey business I can do with it whenever I feel bored and tired of being put up in this cramped place.

Just then my master comes in with some goodies for me to eat and I stop playing with my toy. There ends also my longing for emancipation and exploration.

A lurking suspicion hovers in my mind about the cutting-pliers' power to snap the string binding me to the hook. But my love for the sweetmeats my master brings in is blinding to all possibilities of escape. The baits thoroughly defeat the throb beating inside my heart. There is no denying the fact.

I am confused. I am enticed. My palate rules over my pate. Why do I refuse to try, to desire for freedom, for real joy? Why does the vigor of my attempts at salvation recedes at the sight of food?

Is this my master's experiment? Our Master's experiment?
11-Aug-2005
More by : Pavalamani Pragasam
---