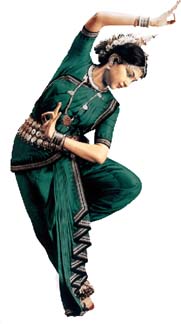 Down the ages religion has played an important role in influencing our art and culture. The art scene experiences change and shapes itself differently according to the philosophy, doctrine and feeling of the religion. While dance is considered as an offering to the divine, religions used this as a medium to express its philosophy. Religion and dance are complimentary to each other.

Though we see a definite influence of Vaishnavism in Odissi dance, it is natural that the dance of Orissa must have under gone the cults like Shaivasim, Buddhism and Jainism. Because the kings of Orissa were staunch followers of Shiva, Buddha and Mahavir at passage of time.

During 5th and 6th century the cult of Bauddha, Shaiva, Shakta and Tantra dharma surfaced in Orissa. Some people opine that the Bauddha Tantra Dharma evolved from the medium path of Nagarjuna. It evolved through Mahajana, Brojajana, and Kalachakrajana and finally took the shape of Shahajia Dharma. Similarly Shaiva /Shakta Tantra dharma evolved through Pashupata, Kapalika and Kalamukha sects and emerged as Tantra dharma. Both Bauddha Tantra and Shaiva/ Shakta Tantra moved parallel to each other and finally merged to form Tantra Dharma.

Evolved out of this strong influence of Tantra Dharma, Sabda Nritya is in the verge of extinction. But fortunately still practiced by few artistes at Kumbhari Gaan, Barapali. Research scholar Sri Dhiren Patnaik has traced its origin and discussed about this dance under the caption Sabda Swarapata in his book Odissi Dance. Late guru Debaprasad Das has used this style to make it popular.

This dance form demands tremendous physical fitness but also lays equal emphasis on sensitive facial expression more on the swatika bhava. A sloka in praise of a deity is recited rhythmically with synonymous and similar pattern of bols on percussion. The movements are so vigorous that it makes the dancer emotional, tired and exhausted. He falls in to a trance or becomes senseless at the end of the performance. So this style of dance maintains a perfect balance between physical, mental and spiritual aspects of dance. Chatura Damodara and Sri Pandarika Vitthal have also described about this dance in their treatise Sangeet Darpana and Nartana Nirnaya.

Sabdas are syllables in praise of a deity describing hisher valour, beauty and deeds, which are intercepted by musical notes (swara) and synonymous ukutas (pata). This is performed to receive the benediction of the deity.

Example
Chaha chaha Chanda, Chanda Besha Chanda munda Binashini
Chaturbhuja- Ugrachanda-Charachara nibashini.
Jhang jhang Jhankari, Tang tang Tankari
Dig Dig Dig Dig
Dhola Sabda Probodhini
Dha gidi gidi Jhe tak jham tak ta
The Dharanis of Tantrik Bauddhas though mystic and difficult to decipher are written more or less in the similar pattern. It was a common practice to throw this type of Dharanis in the chaita to attain salvation

Example
Dhara dhara! Har hara! Prahara prahara! Mahabodhi chitta dhare
Ma shama ! Prasama prasama sarba papa prashamane! Sarba
Falling in to a trance after the performance can be believed as an influence of Tantra Dharma. The word Mudra is said to be brought from the Tantrik cult.

The ancient authors of the music treatise opine Prabandha has six angas. In the latter years the scholars like Krishna Das Badajena, also the author of Geeta Prakash accepted four angas for Prabandha.

They are
Bakya : the words that narrates the story
Swara : the sapta swara or the seven musical notes
Pata : syllables like dha dhug dhug - gidi gidi- jhe jham etc.
Tenaka : auspicious words like nom, tom etc.
Sabda Swara Pata as the name implies has three limbs of Prabandha and can be considered as a Pabini type of Prabandha. Incidentally in Manipuri dance Prabandha Nritya is performed to the accompaniment of Prabandha Geeta.They also have mukhobol, which can be compared with our sabda swara pata. In Kathak dance, rhythmic rendition of Kavit with synonymous bols is prevalent where as the Kuchupudi dancers perform to the accompaniment of sloka sung rhythmically along with similar patterns played on the mridanga in the item Tarangam, when they dance on the brass plate. Sabda Nritya is also a prominent item in Kuchupudi repertoire.

To-days Odissi dance is mostly influenced by Vaishnavism. The addition of Sabda Nritya to the Odissi repertoire will definitely give it a new dimension and help in the process of innovation as well as keep the tradition alive. Though the dance Sabda Swara Pata has lost its glory and the true technique, it can be revived and polished.

Everything undergoes changes with time. This also happens to the art scene. The ancient forms undergo much metamorphosis and evolved as contemporary which again leads the way to nascent modernism. This cycle continues the past becomes present, which gives birth to the future. By these processes of alteration, modification metamorphosis and evolution the primitive, simple, pristine indigenous arts become contemporary, complex, polished and sophisticated. But sometimes it is also lost in the horizon, when the character of this art form can only be imagined, remembered but becomes difficult to witness. Fortunately for us the tradition of Sabda Nritya is still alive. Researchers are flocking the village Kumbhari Gaan to get valuable information about this dance form. Many musicians & dancers have already started to utilize this treasure in their performances & productions.

I have tried to bring back this forgotten member to the Odissi repertoire. The production Mahavidya is replete with the Sabdas composed by Ramahari Das.