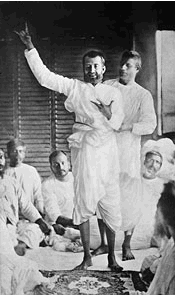 The other day I was invited for a get-together at a friend's house. No sooner had the post-dinner singing started, my friend's 2-year old daughter, Pavani, left all her toys, and began spontaneously dancing to the rhythm of this song. She was so completely absorbed - the delight on her face was heavenly. In that joyous state, I felt a thrill of this little goddess' angelic blessing enveloping me. That's dance in a nutshell!

Dance is not just about technique or style; the clothes, the training, the discipline and tutelage, only take you that far. In the final analysis, dance is all about us, at last, meeting and connecting with our jubilant self. Whether it is in Rumi's whirling tradition, Kabir's flight into the infinite, Ramana Maharishi's innocent smiling shambhavi mudra, or Ramakrishna's ecstatic trance - the essence of dance indeed comes alive for all of us to experience in no uncertain terms.

The above picture of the Great Swan (Paramahamsa) vividly reveals this pulsating rhythm of creation called dance - what my words can never describe. Imagine his experience! It brings tears to my eyes and somewhere within me, my spirit thirsts for this joy like nothing else. I feel the oozing, uncontrollable bliss of the serpentine dance unfold inside me to the drum beat of the Anahat Naad, as I feel Kabir gently holding me and singing:
The Swan Will Fly Away All Alone,
Spectacle of the World Will Be a Mere Fair
As the Leaf Falls from the Tree
Is Difficult to Find
Who Knows Where it Will Fall
Once it is Struck with a Gust Of Wind
When Life Span is Complete
Then Listening to Orders,
Following Others, Will Be Over
The Messengers of Yama are Very Strong
It's an Entanglement with the Yama
Servant Kabir Praises the Attributes of the Lord
He Finds the Lord Soon
Guru Will Go According to His Doings
The Disciple According to His
The eagle of death lands only to find that the swan has flown away, dancing to the eternal tune of the infinite. A solo dance that nobody saw, nobody heard; No teaching, no learning, no stage, no seating, no performer, no audience, no theme, no story, no composition, no start, no intermission, no finish, no music, no accompaniments, and no signs of a performance either. Those who know still grasp it, soaring and rejoicing with this dance of life!