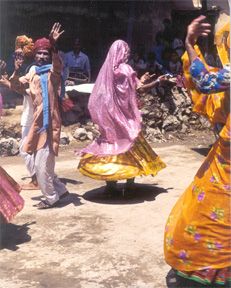 He? She? Or it? No, they are not transvestites, but theatre artistes for whom a childhood passion has become their bread and butter. Nanuram Hekadiya and his party dress up as women and perform a very feminine folk dance-drama form, 'Swang', that is popular in the Malwa region of Madhya Pradesh.

Looking at Hekadiya, a tall, gracefully ageing patriarch with his thick hair, snow-white moustache, broad shoulders and erect posture it is difficult to visualize him enacting female roles. But appearances can be deceptive. After the make-up and change of dress, a sudden transformation occurs; and Hekadiya and the other members of his troupe start looking and behaving like women. And during the performance, nobody recognizes the actors dressed as women. The only one who is recognized is Hekadiya, whose moustache gives him away.

The change which overcomes these men during the performance is truly amazing. Their manliness vanishes - shed with their male garb. Everyone of them behaves as if they were born as women and would eventually die as women.

As is the case with Hindu traditions, the first item during the 'Swang' performance seeks the blessings of Lord Ganesha. But in keeping with the nature of the 'Swang', even God is at the receiving end of satire and Lord Ganesha is not spared the laughter of the villagers, both young and old, men and women.

'Swang' has its roots in the genesis of the Indian theatre tradition. Since women did not participate in the dance-drama form, men enacted their roles. But the women in 'Swang' are slightly different - they are not docile. Instead, they have sharp tongues and have some element of control over their husbands.

As a dance-drama form, 'Swang' also incorporates suitable theatrics and 'nakal' (mimicry) accompanied by song and dialogue. As is the case with any folk performing art of India, 'Swang', too, is dialogue-oriented rather than movement-oriented. And judging from the raucous laughter it evokes, the uninhibited and loud dialogue is much appreciated.

Talking to Hekadiya is interesting. He is full of mischief and fun and his eyes grow wide with excitement when he speaks. He says that he is better known as Nanuram Nakalchi (Mimic Nanuram) because of his special ability to imitate anyone. His father used to call him a eunuch. According to Hekadiya, he was interested in singing and dancing from childhood and would often go miles away from his home to see dancers perform. At times he would even sing and dance with them.

The main element of 'Swang', explains Hekadiya is 'nakal' or mimicry. In the earlier days, dramas in the 'Swang' form enacted plays drawn from the epics, like 'Ramdevji Ki Katha' (stories from the life of Lord Rama), 'Nanibai Ki Mahiro' and 'Veer Tyagj Ki Katha' (stories of local heroes). All ended with the victory of good over evil.

With the advent of British rule in India, 'Swang' also acquired the dimension of social comment. Increasingly the life of the villagers and also self-contained rural institutions were exposed to people and situations they found difficult to comprehend. At the same time, the British also started undermining their position.Thanedars (policemen), thekedars (contractors) and chowkidars (watchmen) became synonymous with people who bossed over them and hence became targets of their wit, mimicry and mime in 'Swang'. The villagers also started using 'Swang' as a means of giving vent to their frustrations.

'Swang' has changed once again in the recent past to incorporate more relevant themes as its subjects. The popularity and influence of this art form on the general public has led the Indore district administration to introduce development themes like health and hygiene, literacy, AIDS awareness and women's empowerment into 'Swang'. The performers of 'Swang' too have responded well to this and have come up with interesting story lines and novel skits to present the challenges India faces at the dawn of the new century.