The Value of Arangetram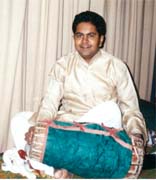 An Arangetram is the first formal presentation of a student to the audience by her teacher. This takes place after the student has completed the basic training. It is only a small stepping stone in the study of this art form. After this is accomplished the student continues to pursue her study of dance. On the day of the Arangetram the student offers her knowledge of this art form at the feet of here Guru, and to Lord Shiva Nataraja. On this auspicious occasion the artist ascends the stage with hopes to display her talent while growing closer to god.

The monuments of Bali testify to the dissemination of India's culture and the value given to its advanced art forms in ancient times. Now, in the Internet age, that value has a continuing vitality and recognition among the many NRIs in far-flung corners of the world.

I am a Mridangam player living in New York who accompanies many dancers and Arangetramperformers throughout the United States. Although I left India permanently when I was 7 years old and have only been back for a few short visits in the past 30 years, I was extremely fortunate to have a father who is a professional level Mridangamplayer and a mother who is a Bharatanatyam teacher. I was fortunate because they instilled in me and my sister a value and appreciation for Indian music and dance and trained us as performers.

In accompanying Arangetram students in the USA, most of whom were born here and most of whom do not visit India on a regular basis, and because of my perspective as a person who grew up outside India, I have come to realize the valuable role that Bharatanatyam plays in helping these youngsters to assimilate while preserving their identity. These students, whether they like it or not, and whether they realize it or not, imbibe the mythology, religion, music and history that is so integral to each item in the Bharatanatyam repertoire. They also become aware of India's societal norms and traditions such as givingNamaskarams to elders and to the gods. And, the best part is that all this learning is painless and requires no effort in addition to the effort of going to dance classes and practicing at home. At the Arangetram, the student confirms for herself and shows her relatives and friends that she is at ease with the culture of India.

For the above reasons, I applaud every parent who takes the time and effort to provide their child with the opportunity to learn an Indian art form. Your child may not ever perform on a stage after her Arangetram, but the training, discipline and sense of achievement in completing this course of study will never leave her.

06-Mar-2001
More by : Murali Balachandran
---
---
| | | |
| --- | --- | --- |
| | i want to perform in newyork or teach students in newyork...can you help...i stay in Mumbai - India | |
---