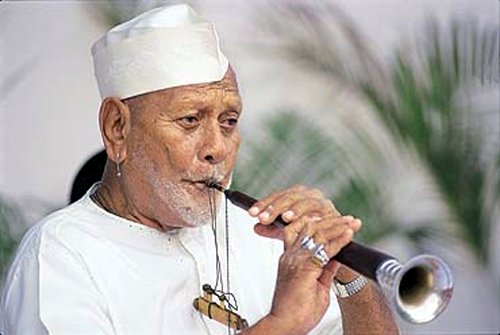 My earliest impressions of Ustad Bismillah Khan are from the early eighties, when television was still making its foray into our drawing rooms. We had recently got our first idiot box - a black & white Dyanora TV with sliding doors and we thought that was cool. There were no 24-hour channels; in fact, those were still one-channel-for-one-nation days. And you can well imagine with what enthusiasm we would switch it on towards the evening, to catch any which program we could before we hit the sack.

In those early years of television, there were also days when you would switch the television on and be treated to plaintive notes of the shehnai; you would see Ustad Bismillah Khan on the screen, and you knew immediately India had lost one of its national leaders. When I dig into the depths of my memory this is indeed my first introduction to the shehnai maestro - as kids we hated him; if not for him, we would have actually been watching some 'good' show.

As years went by and I grew older, I moved away from the idiot box and developed a deep appreciation for music, especially classical. And very soon the Ustad's concert recordings began to adorn my collection of cassettes. I also began to revalue those melancholic notes I heard on Doordarshan ' the shehnai is an instrument of celebration, yet it has overtones of melancholy in it. And those days the music would blow gently through the television, carrying with it the sorrow of the nation. Since then I haven't heard any musical instrument speak so well for the dispirited nation's grief.

And today when the nation is aggrieved by the maestro's death, there is none to capture the nation's heartache in the musical genre Ustad Bismillah Khan was synonymous with.

Bismillah Khan was born on March 21, 1916, the second son of Paigambar Khan and Mitthan. He was christened Qamaruddin initially, before his grandfather uttered Bismillah after looking at the newborn. His ancestors were court musicians in the princely state of Dumraon in Bihar, India. He received his training under his uncle, the late Ali Baksh 'Vilayatu', a shehnai player attached to Varanasi's Vishwanath Temple.

Even before he came to be known as Ustad, Bismillah Khan gave a new meaning to this aerophonic instrument. Long considered an auspicious instrument, shehnai (or nadaswaram, its close relative in South India) was very popularly used in marriages and other religious functions in India. But the credit to making it a famous classical instrument will certainly go to Khan Sahib. If it were not for Shiv Kumar Sharma, people opine, the santoor would be reverberating only in the hills and valleys of Kashmir ' unknown to many around the world. Had it not been for the Ustad's godly devotion to music the shehnai also would have been confined to being played at marriages and religious gatherings.

The Ustad was indeed instrumental in making the shehnai one of the most popular instruments of classical music. He breathed life into it, producing magic notes that hypnotized listeners, the sound from it filling the atmosphere with soothing sweetness and sublime peace.

People were drawn to Khan Sahib not just because of his musical genius ' his greatness was also marked by his humility, simplicity and above all, his generosity. Tales abound about how his house in Benaras was often referred to as 'Bismillah Hotel', a place that served food for every hungry soul. Tales also abound about how the Ustad, despite his name and fame, continued to live a simple life ' in an almost dilapidated house traveling around in a rickshaw. Stories are often told about how he refused five-star accommodation when on his concert tours, and about his nominal concert fees. To him, his music was the soul of his life, the 'sakhi' or companion who lay next to him after his wife's death. And as long as he was alive, he played.

Ustad Bismillah Khan also had a brief association with movies. He played shehnai for Dr. Rajkumar's role of Appanna in the movie Sanaadi Appanna (later remade into Telugu as Sannayi Appanna, said to be based on his own life). He acted in Jalsaghar, a movie by Satyajit Ray and provided sound of shehnai in the 1959 movie, Goonj Uthi Shehnai. Noted director Goutam Ghose directed Sange Meel Se Mulaqat, a documentary on life of Ustad himself.

Controversies dogged Khan Sahib when he was alive and the most well-known was his request to the government to sanction a gas agency to his grandson. This simple request incurred immense criticism, especially from Pandit Bhimsen Joshi, who was 'disgusted', and said that such an appeal was unbecoming of a maestro of Khan Sahib's stature. Ustad was accused of nepotism. Sadly though, even Pandit Joshi failed to see that the world of art is not really devoid of favoritism ' Pandit Ravi Shankar's favorite pupil is his daughter, while inheritors of Amjad Ali Khan's legacy are his sons. Pandit Jasraj's daughter and Pandit Shiv Kumar Sharma's sons have already embarked on a musical career of their own. Are all of them stars because of their talent? Then, is it really surprising that there are no obvious inheritors to the Ustad's mantle? At this moment of immense grief, it just might be appropriate to ponder over this.

About a decade back when I was a journalist I had the good fortune of attending Khan Sahib's concert as well interviewing him later. I was already familiar with Khan Sahib's repertoire, having listened to his cassettes over and over again. But that day when I sat through his concert and looked at him play I realized this ' as with M S Subbalakshmi ' divinity flowed from his music.

After the concert, even though it was quite late in the night and Khan Sahib was rather tired from playing music for couple of hours, he still took time out to speak to me. I realized then that it was indeed difficult not to be touched by his simplicity and childlike charm (he was 80-plus then). He spoke to me about his life, about what his music means to him and also about his disillusionment with his own family and the world around him. A pious Shia Muslim and a devotee of Mother Saraswati - others see contradiction in Khan Sahib's religion and music, but he saw this as divine unity. What came through during the course of the interview was also his concern for others - since it was pretty late, he started to eat while speaking to me. And since it was late for me too, he kept urging me to take something as well. He was rather generous with photographs, and obliged me when I wanted a photograph with him. To me, this is indeed one of the most cherished "encounters" of my journalist days.

We have indeed lost a great soul and musician, and India (and more importantly, Varanasi) is left much poorer by the loss.

To me, much more than his music, Bismillah Khan will always represent this - the most appropriate metaphor to define India's diversity and culture - where else will you find residents of the "most holy Hindu city" waking up to the musical notes of a devout Muslim?