The most difficult in the world is to appreciate
what we have - until we lose it.
It is said that art and architecture of a place is the barometer of its culture. It reflects the tradition, values and perception of the people. What we have in Kashmir is on the verge of extinction or destruction. We seem to be losing our heritage and ignoring our history. This photo-feature is a humble attempt to revive the past glory by remembering our historical monuments. This photo-essay has been compiled, conceptualized and written by Naira Yaqoob, a freelance writer. The sites have been visited and photographed by Asma Khan, a freelance architect.
Shankaracharya Temple, Dalgate, Srinagar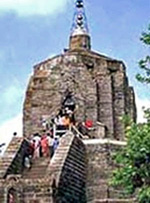 It is located 4 km (2.5 miles) from the Srinagar city, about 1100 ft above its surface level, on the south-east side. The temple, earlier known as Jyeshthegvara, was built by Raja Gopaditya in 371 BC and is built atop a hill, once called Gopadri. Its first religious edifice was built by Jaluka, the son of Ashoka, around 220 BC. The temple was later restored by Gopadatta in 78 AD, to be later repaired by King Lalitaditya in the 8th century AD. The third repair was done during the governorship of Sheikh Mohi-ud-Din, when the temple was named as Shankaracharya. According to one source, this temple is dated to the middle of the 7th century and supposed to have been built by Sadiman. This place was believed to have been visited by King Soloman during 2629-2564 BC, giving the name Takht-e-Sulaiman (Throne of Solomon) to the hill. Abul Fazal called this hill as Koh-e-Suleman which later became Takht. A weak theory suggests that the temple was built in the reign of Jahangir by some Hindu, dedicated to Shiva around A.D. 1659. During the time of Shah Jahan, a pavilion was built in front of the temple, the remains of which can still be seen. Dogra ruler, Maharaja Gulab Singh constructed the stone stairs up to it.
Loduv Temple, Loduv, Pulwama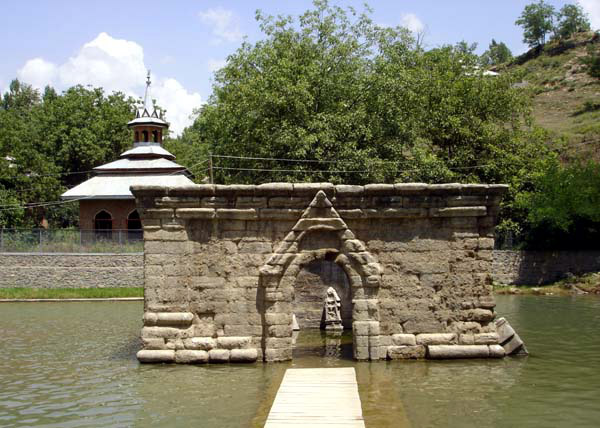 It lies at a distance of 16 miles from Srinagar, on the national highway between Pampore and Khrew, in the Loduv village. This temple is situated near Pandrethan and stands in the middle of a shallow tank of water, which is fed by a spring to its north-east. This temple was built in the 6th or 7th century and seems to be the oldest example of Kashmiri Medieval architecture. It shows signs of fire inside. There is a water drain on the side used for temple services. In the past, a tank was placed in the centre of the temple.
Payer Temple, Payer, Pulwama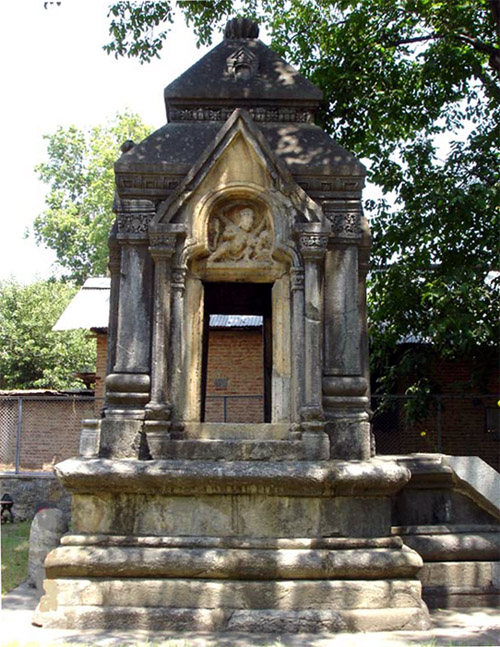 It lies about 3 km toward the south of Pulwama district headquarters in the Payer village. This village is situated 18 km from Pampore and 18 km N-E of Shopian. Some travelers called it Payech temple, and is 6.30 m high. Its architecture matches that of Pandrethan Temple, this being the best preserved mediaeval Kashmiri shrine. The shrine is open on all 4 sides and consists of a single flight of steps. The crowning feature of this temple is a conventionalized water-pot.
Martand Temple, Mattan, Islamabad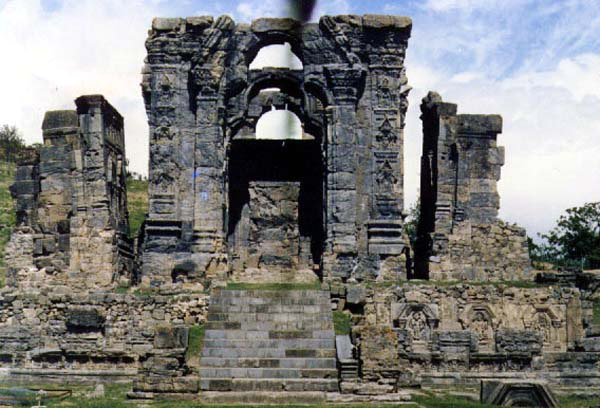 This Sun temple lies 6 miles north of Islamabad, 39 miles (or 64 km) from Srinagar. It was built in the middle of the 8th century by King Lalitaditya Mukhtapida of Karkota Dynasty and is commonly called as the 'House of the Pandus'. This temple is situated on the highest part of the lofty plateau karewa, overlooking the Mattan village.
Mattan derives its name from the presiding deity Martanda (sun).
There is a controversy regarding the date of the construction of this temple. Cunningham attributes the central edifice to King Ranaditya and the colonnade to Lalityaditya. According to him, these structures were built between 370 to 500 AD. The excavation of this temple brought to light an interesting finding; that previous to the construction of the present temple there existed another temple of smaller dimensions. Probably, this smaller temple was built by King Ranaditya. The image of Martanda was worshipped till the end of 14th century AD, when it was destroyed by Sultan Sikander (Butshikan).
This is the largest example of its kind in the Kashmir Valley, being the best preserved stone temple. There are various shrines built around the temple. Like most mediaeval temples of Kashmir, Martand consists of a courtyard with the principal shrine in the middle. The main temple contains 3 distinct chambers, of which the outermost is named ardkamandapa or 'half temple'; the middle one is called antarala or 'mid temple' and the innermost is named garbhagriha, or 'womb of the edifice'.
Awantisvami Temple, Awantipora, Pulwama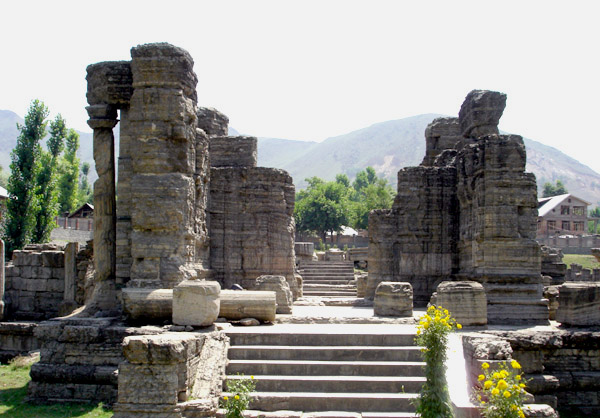 This temple is situated on the Srinagar-Jammu National Highway, on the bank of River Jhelum at a distance of 29 km S-E of Srinagar (13 miles above Srinagar). It is located at the foot of mountain Bastarwan. This monument was constructed by Raja Awantiverma of Utpala Dynasty before ascending the throne, probably between 852-54 AD. It is a Vishnu temple, though some believe it to be a Buddhist or a Shiva temple. Avantisvami temple was occasionally subjected to sacrilegious treatment even in Hindu times. In the 14th century Sultan Sikandar completed the destruction which had already begun. It belongs to the vimana type of temples, supposed to have just one entrance and stair. Many antiquities have been unearthed during the excavation of this temple.
Awantisvara Temple, Awantipora, Pulwama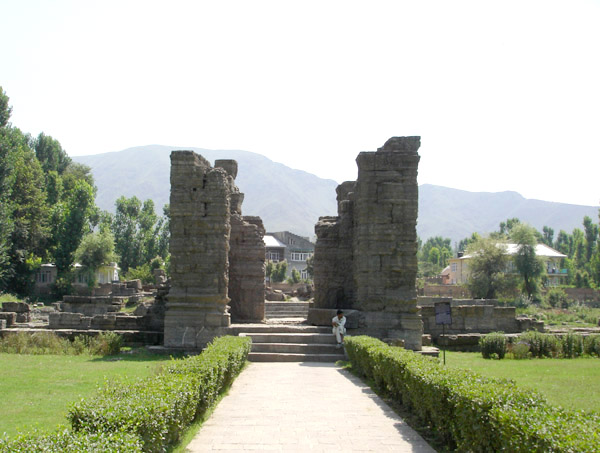 It is located at the foot of mountain Bastarwan, 1 km to the N-W of Awantisvami temple, half a mile below Awantipur. The village of Avantipur is situated at a distance of 18 miles from Srinagar, and represents the town of Avantipora, founded by King Avantiverma (855 to 883 AD) of Utpala Dynasty. He erected this magnificent temple, dedicated to Lord Shiva after obtaining sovereignty. There is a large assortment of architectural fragments strewn about in the courtyard.
Shankara Gaurisvara Temple, Patan, Baramulla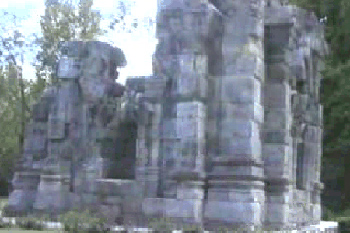 It is situated in Patan, 17 miles from Srinagar in the district Baramulla. Patan was earlier known as S'ankarapurapattana, after the name of its founder, King Shankaravarman (A.D. 883-902), son of Awantivarman.

This Shiva temple was built by Shankaraverman and his queen Sugandha at the end of 11th century. It is believed that there was a peristyle around the temple which got covered due to flooding of the temple premises. Its carving is in a better state of preservation.
Bulbul Shah Mosque, Bulbul Lanker, Srinagar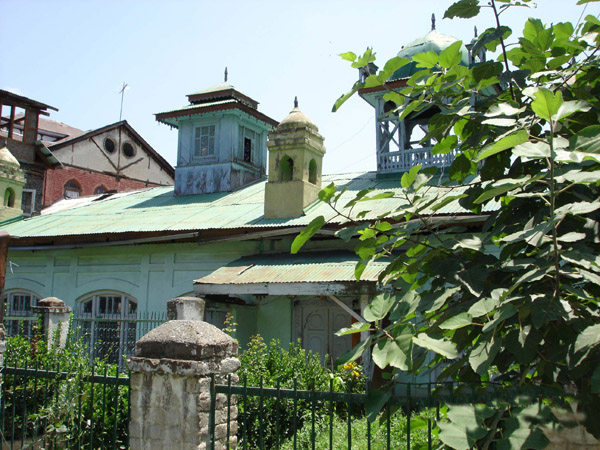 It is situated on the right bank of Jhelum, 200 yards below Aali Kadal. In the true sense, this 3-storeyed wooden building was the first khanqah or mosque of Kashmir built by a Ladakhi ruler, Rinchen (Sultan Sadr-ud-Din) at the desire of Bilal alias Bulbul Shah. This place was earlier known as Rinchenpora, and was regarded as a gathering place for converts to Islam.
Khanqah of Shah Hamdan, Zainakadal, Srinagar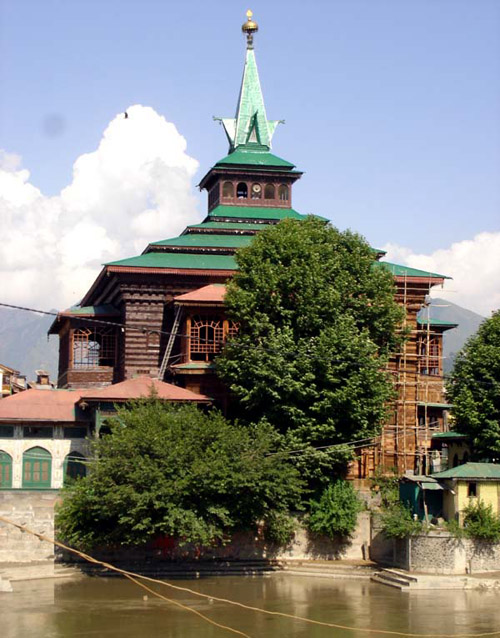 This mosque is situated on the right bank of River Jhelum in Zainakadal (earlier known as Alauddinpora) and can be approached through the road as well as the river. It is also known as Khanqah-e-Moula. It was constructed by Sultan Sikandar (1389-1413 AD) in memory of the preacher Mir Syed Ali Hamdani, commonly known as Shah Hamdan, Amir-e-Kabir, and Ali Sa'ani. However, it is believed that Shah Hamdan's son, Mir Mohammad actually built the shrine. In 1480 AD, the shrine was destroyed due to fire. The then ruler, Sultan Hassan Shah, expanded its premises and rebuilt it. In 1731 AD, the Khanqah was again destroyed by fire and then rebuilt by Abdul Barkat Khan. According to some literature, Qutab-ud-Din demolished the temple of Kalleshwari and built the present mosque with its material. A spring dedicated to Kali is still believed to be inside the mosque. Also, it houses the reputed walking stick of Christ, which is exhibited on rare occasions. The chamber in the north-west corner of the mosque's hall contains the tomb of the saint.
Aali Masjid, Eidgah, Srinagar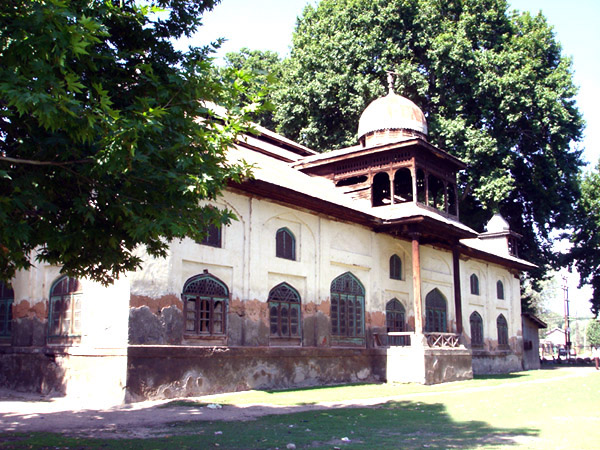 This ancient mosque was built by Sultan Ali Shah, brother of Zain-ul-Abideen, in 1395 (or 1397) AD. The foundation of this mosque was laid by his father, Sultan Sikander, and later completed by Ali Shah.
Shah Hamdan Mosque, Pampore, Pulwama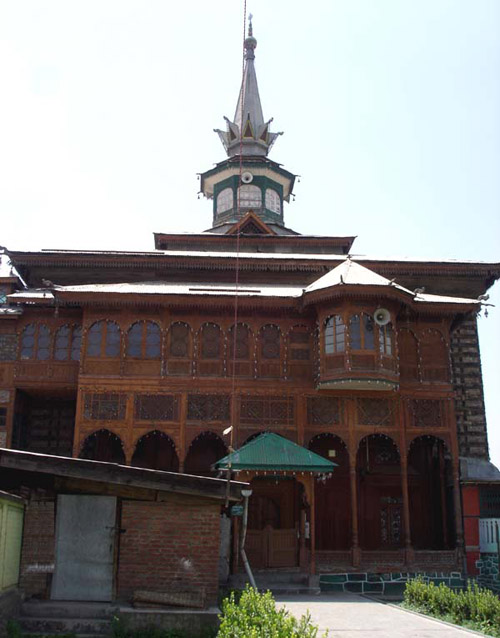 This mosque is also known as Khanqah, being an imitation of the Shah Hamdan shrine in Srinagar. It is believed to be built by Mir Syed Ali Hamdani. People in large numbers throng this shrine on an annual festival associated with the saint. This town was founded in the beginning of the 9th century A.D. by Padma and thus was known as Padmapura.
Jamia Masjid, Nowhatta, Srinagar
This mosque was built by Sultan Sikander, its foundation being laid in A.D. 1398. It was later expanded by his successor and son, Zain-ul-Abideen. He also established an Islamic school near it. In 1479 AD, the mosque got damaged and the then reigning king, Sultan Hassan Shah, set about its reconstruction. This mosque got damaged by fire many times. The final restoration was done by Mughal Emperor, Aurangzeb. From his time down to 1914, the mosque witnessed steady deterioration. There were repairs made by the Afghan governors, closure in the Sikh regime, unsuccessful repairs in the Dogra times. Its principal features are the 4 minars, covered by pyramidal roofs. The compound is divided by two paths, similar to the pattern of Mughal gardens.
Budshahun Dumat, Zainakadal, Srinagar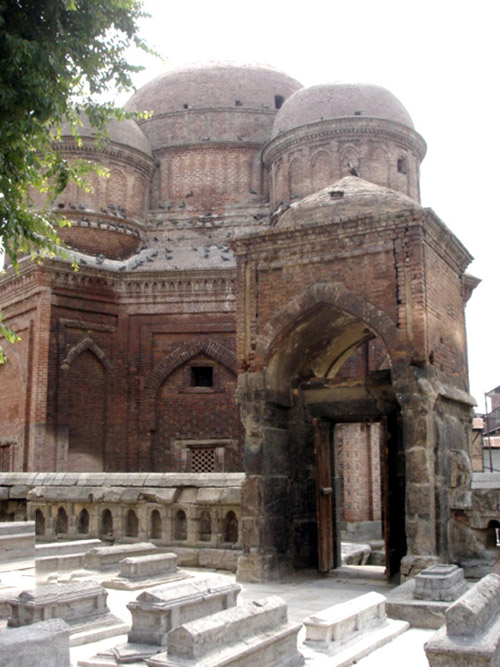 This 15th century monument is situated on the right bank of River Jhelum near Zainakadal in Srinagar. It is the tomb of Sultan Zain-ul-Abideen's mother, Miradevi. The Sultan (1420-1470), known as 'Budshah' or the Great King, constructed it in 1465 AD. He was the first person to introduce the love of art into the valley. Some believe it was constructed by Miradevi's husband, Sikander (But Shikan). From the central dome hangs an iron chain which created a misconception among the Hindus that the structure was originally a temple. To its north, the tomb has a burial ground called Mazar-e-Salateen, where King Zain-ul-Abideen, his mother, Sultan Sikander, and Mirza Hyder Dughlat are buried. It is a remarkable example of Shahmiri architecture.
Charar-i-Sharief, Chrar, Budgam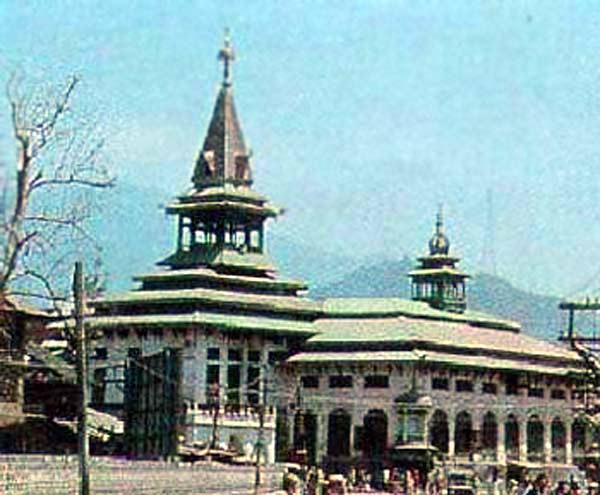 It lies at about 28 kms S-W of Srinagar in the Chrar village on the road to Yusmarg. It is the shrine or 'ziarat' of the famous saint of Kashmir, Sheikh Noor-ud-Din Reshi, popularly known as Nund Reshi, Sheikh-ul-Alam and Alamdar-e-Kashmir. This land belonged to Sangram Dar, a disciple of the Sheikh who had constructed a mosque here. Legend says that after the death of Sheikh, his coffin, after flying some distance, descended on the ground at the site of the shrine. King Zain-ul-Abideen (1420-70 AD) constructed this shrine on this burial site. Ruler Yaqoob Chak ordered its repair, while the Afghan Governor, Atta Mohammad Khan, reconstructed the shrine in the 19th century. The shrine was gutted in a fire in 1995 that converted the town into a heap of rubble.
Madani Mosque, Botakadal, Srinagar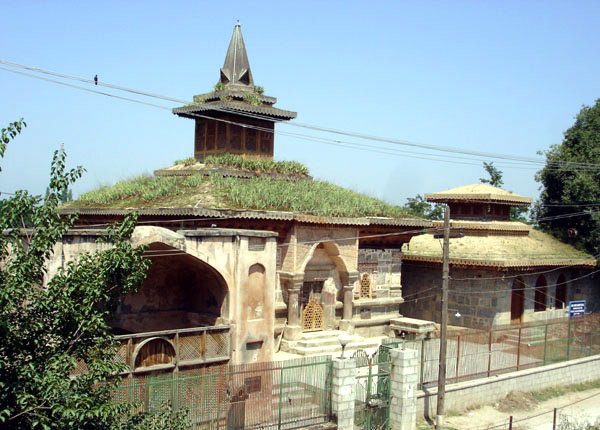 It is the tomb of Syed Mohammed Madani, near Botakadal in Srinagar. He was a foreign envoy and a great scholar who lived in Kashmir during the reign of Sultan Sikander. However, he died during Budshah's rule, who built this tomb in his memory. It is an example of the pre-Mughal masonry style of Kashmiri architecture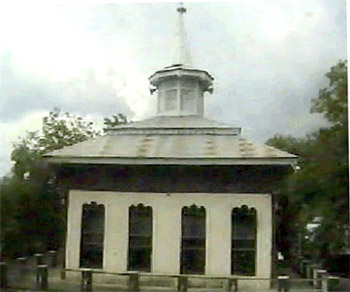 Khan Sahab Shrine, Budgam
It is associated with a famous saint Hazrat Syed Saleh Khan. He came to Kashmir in the 16th century from Pakistani village Pakhla, along with his father Islam Sahab. Saleh Khan took spiritual guidance for 13 years from Baba Naseem-ud-Din Gazi, a well-known saint of Kashmir.

In the Islamic month of Zeeqad, a week long Urs festival is held at this shrine.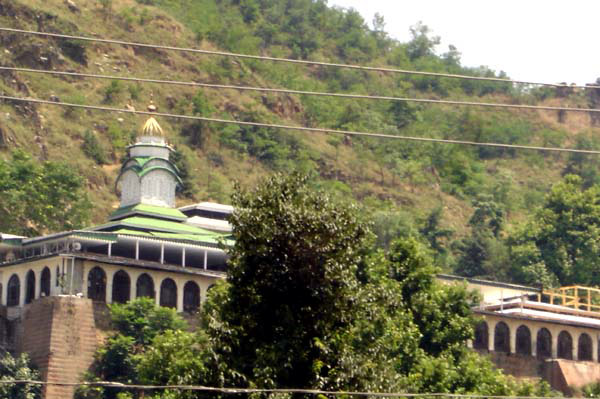 Ziarat Makhdoom Sahab,
Gojwara, Srinagar
It lies on the southern side of the Koh-e-Maraan in Srinagar. This is a 16th century shrine of saint Sheikh Sultan Humza, known as Makhdoom Sahib.

The stone stairs leading to the shrine were built in 1936.
Verinag Spring, Islamabad
It is situated 26 km from Islamabad and 50 miles from Srinagar. The Mughal emperor Jehangir constructed it in 1029 Hijri.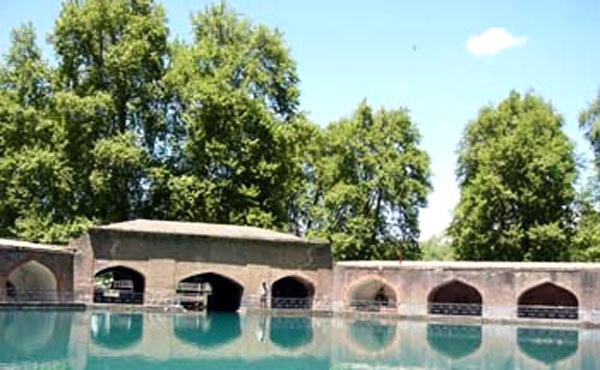 Ver is the name of the district, nag means a spring and hence the name. This spring is the reputed source of the River Vitasta. Earlier, it was known as the Nilanaga, being sacred to the snake-deity of that name. This is one of the largest springs in India and is considered to be the original source of River Jhelum. In 1620 AD, Jehangir changed the shape of the spring from circular to an octagonal basin, which was later completed in the time of Shah Jehan. Two large chambers on the sides of the octagon contain staircases leading to the upper storey. Further to the east, lie the remains of the pavilion and baths built during the Mughal Period. The surplus spring water was discharged by an underground conduit that passed under the buildings and carried the water to the royal bathrooms. Just outside the enclosure, there is a temple which is dedicated to Shiva.
Hazratbal Mosque, Hazratbal, Srinagar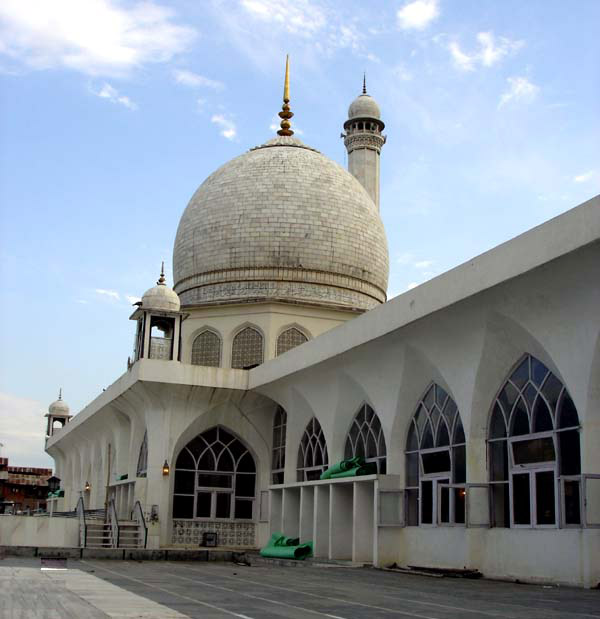 It lies 7 km from the Srinagar city, situated on the Western shore of Dal Lake, opposite Nishat Bagh. Back in 17th century, Mughal Emperor Shah Jehan's subedar, Sadiq Khan, laid a garden here and constructed a palace, Ishrat Mahal (Pleasure House) in 1623. Hence, Hazratbal was earlier known as Sadiqabad. It was later converted to a prayer house. This mosque is supposed to house the holy relic, i.e.; a hair, of Prophet Mohammad (PBUH), called Moi-e-Muqqadas. It is believed to have been brought to Kashmir from Medina (Saudi Arabia) by Syed Abdullah in 1111 AD. However, some believe that this relic was brought here by Khwaja Noor-ud-Din in 1699 AD from Bijapur, India. This shrine is also known as Assar-e-Sharief, Madinat-us-Sani, Dargah Sharief and Dargah. The present marble structure was constructed by Sheikh Abdullah in 1968.
Pathar Masjid, Zainakadal, Srinagar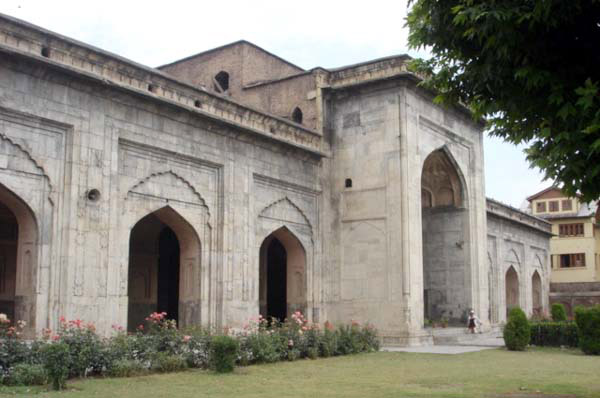 This mosque is said to have been built in A.D. 1623 by the Empress Noor Jehan. According to a tradition, she was questioned about the cost of its construction. In answer, she pointed to her jeweled slippers and replied, "as much as that". This was regarded as sacrilegious and thus, the mosque was deemed unfit for religious use. Hence, this mosque has never been used for praying. This 'Stone Mosque' is an example of a distinct architecture exhibited by the Mughals.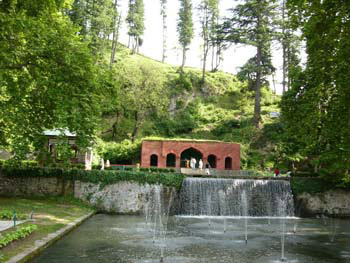 Acchabal Garden, Islamabad
It is 17 miles or 8 km from Anantnag. The old name of Achhabal was Akshvala, founded by King Aksha (486-426 BC). A garden was laid here in AD 1640 by Mughal ruler Shah-e-Jehan's daughter. However, some believe that the upper portion of the garden, known as 'Bagh-e-Begum Abad' was laid out by Noor Jehan in 1620 AD. There were ruins of an old hammam on the western side of the garden. It is believed that some investigators opened the hammam and found inside a candle burning for centuries under a big iron pan. The candle got extinguished and it was impossible to light it again. This garden contains a fountain of water gushing out of a mountain side. The water of the spring is turned into 3 canals which flows over 3 terraces. The original building at Achhabal was replaced by a building in Kashmiri style during the reign of Maharaja Ranbir Singh. A doorway built in the time of the Maharaja gives admittance to the second terrace of the garden. There is a mosque also, supposed to be built by Mughal Prince, Dara Shikoh.
Babaghazi, Bijbehara, Islamabad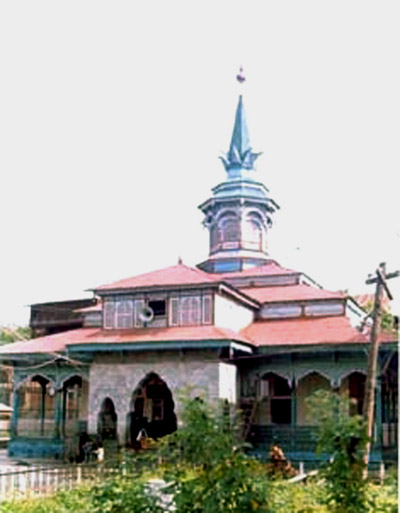 It is the shrine of Baba Naseem-ud-Din Ghazi, a well-known saint of Kashmir.

Ghazi Nag, Kralpora, Kupwara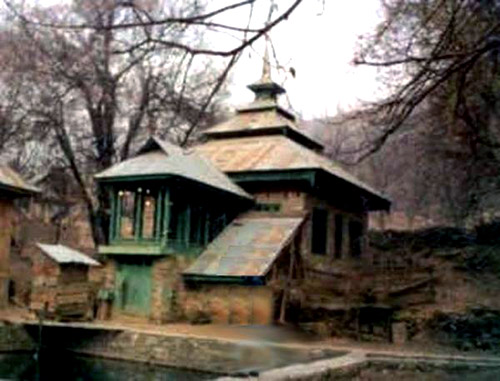 This spring is situated in Gazrial, about 20 km from the town of Kupwara. There is also a shrine of Baba Abdullah Gazi, a disciple of Baba Naseem-ud-Din Ghazi
Hari Parbat Fort, Nowhatta, Srinagar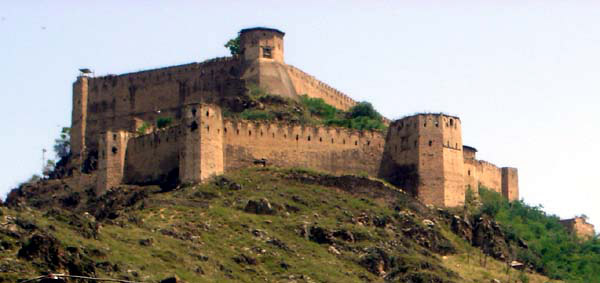 It lies at a distance of 5 km from Srinagar city, situated on the Sarika Hill (or Hari Parbat or Koh-e-Maraan), in the north-eastern part of Srinagar. This is an 18th Century Pathan fort, constructed by Afghan ruler, Atta Mohammad Khan and is visible from every part of city. According to some literature, the fort was built by Emperor Akbar in 1592 -98 AD to provide employment to the people and overcome the drought occurring during his time. Akbar also built the town of Nagar Nagar round it; Muslims later named it Koh-e-Maraan. According to a legend, this hill grew out of a pebble that was dropped by Parvati (Lord Shiva's consort) to destroy a demon by crushing it to death. Another legend says that Goddess Sati, the controller of nature, assumed the form of a Sarika bird (maina) and dropped a pebble on the demon. The demon was killed and water gave way to land, the pebble representing the parbat. Apart from its monumental value, it is a symbol of secularism. Shrines of all religions are located around it. A temple of Goddess Sharika and the mazaar of a Muslim saint Sheikh Hamza Makhdoom adorn the hill.
Akhund Mulla Mosque, Kalai Andar, Srinagar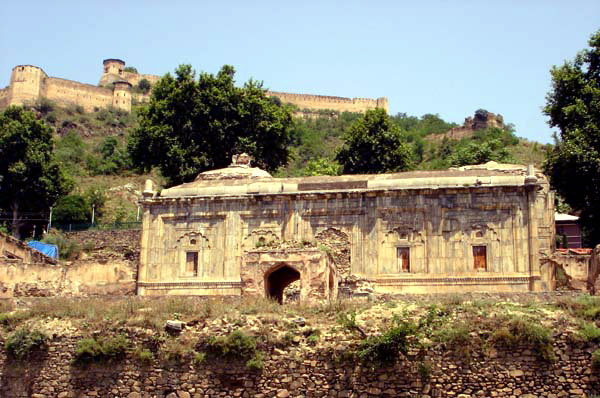 It lies near the shrine of Makhdoom Sahib and Hari Parvat Fort, on the southern side of Koh-e-Maraan. It was built in memory of the Muslim preacher, Akhund Mulla by his disciple Dara Shikoh.

Jama Masjid, Shopian, Pulwama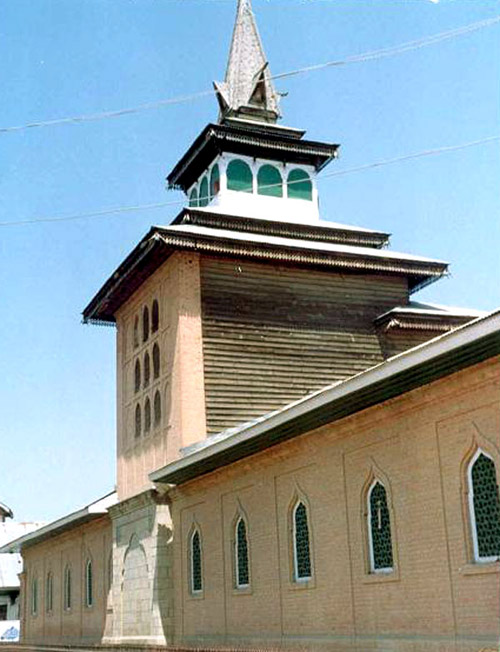 This mosque has been built during the Mughal Period. Shopian was an important stopover on the Mughal road across the Pir Panjal used by the Mughals to visit Kashmir. On Fridays, people in large number visit it for praying.
Simnani, Kulgam, Islamabad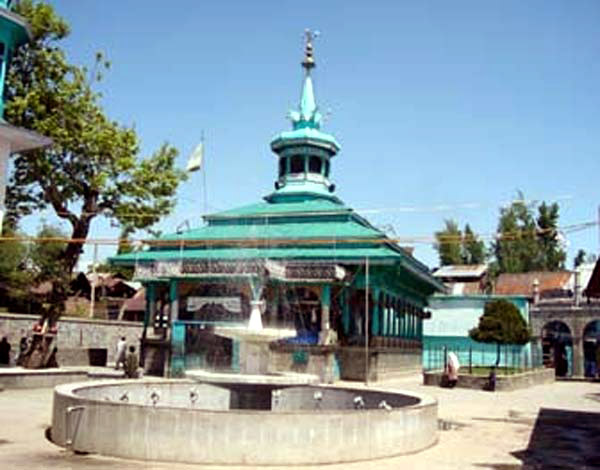 It is the shrine of Hazrat Sheikh Syed Hussain Simnani, and is situated in the Kulgam village.
Syed Hassan Mantakia Mosque, Pulwama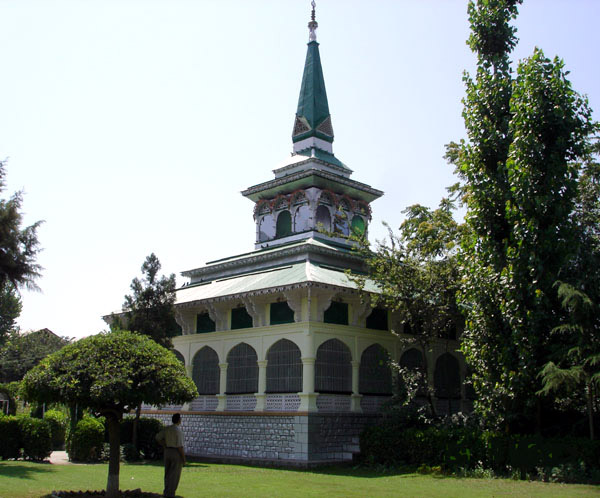 This mosque lies near River Jhelum on a height. It is built by Hassan Man, the son of the first Muslim King of Kashmir, Zain-ul-Abideen. Adjoining it is the house in which he lived as a fakir.
Khir Bhawani, Ganderbal, Srinagar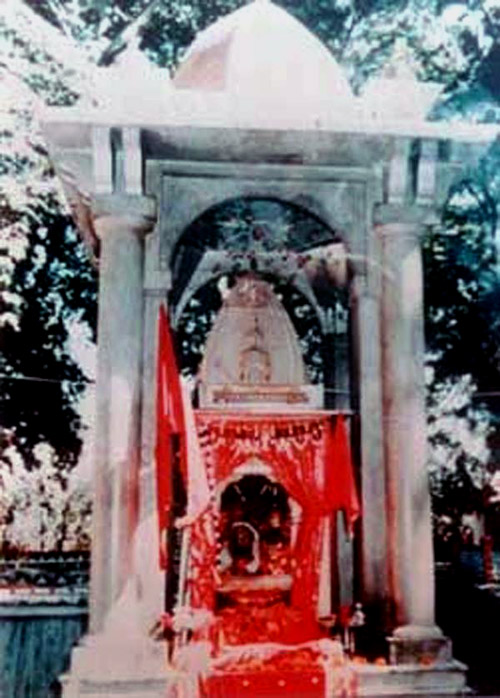 This shrine is in Tullamullah village, situated 2.5 miles from Ganderbal and 14 miles north of Srinagar. It is associated with goddess Ragyna Devi (Ragini or Khirbhavani). This historic temple was built by Maharaja Pratap Singh in 1912 and later renovated by Maharaja Hari Singh. Inside, there is a hexagonal spring wherein deity of Goddess Ragyna is decorated in a small white marbled temple. Legend goes that Lord Ram worshipped her during his exile and wished to shift her seat after his exile ended. The seat was shifted to Shadipora but was later shifted to the present site according to the wish of the Goddess herself.
References
- J&K District Profiles by Information Dept., J&K Government
- Travels in Kashmir and Punjab by Charles Hugel
- Kashmir and its monumental Glory by R.C. Agrawal
- Kashmir Encyclopedia by S.K. Sharma & S.R. Bakshi
- Ancient Monuments of Kashmir by R. C. Kak