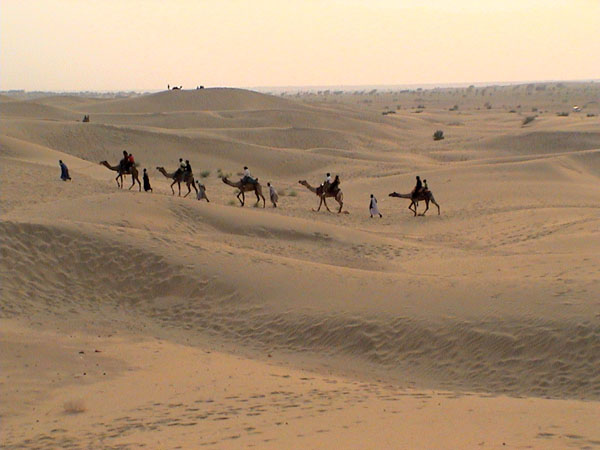 The name Sam Sand Dunes evokes a vivid picture of sheer magic, ecstasy and brilliance of the desert. About 45km from Jaisalmer, Rajasthan is the famous, exotic and breathtaking Sam Sand Dunes with miles of sun-soaked barren lands, camel and peacocks. In the midst of the desert wilderness, the sand shimmer beneath the sparkling sun; the wind ruffles the enchanting dunes, the magical sand dunes keep modifying color and shift every minute giving this panoramic sight a feel of exquisite charm. In the heart of the sandy tableau the patterns are carved out by wind by the majestic shifting of sands.
Sam is truly a photographer's ecstasy, with its sweeping dunes widening faraway and then blending with the colors of the dusk. The sunset at the desert is a sight to cherish. The entire sky sets ablaze with gold. As the blazing sky withers away the golden sun hides beneath the horizon. Dusk at Sam sand dunes leaves one with an everlasting sensation of unmatched beauty. The dunes are as treacherous as they are scenic. There is no vegetation here and the swirling winds are intense. There is a definite aura of romance about it.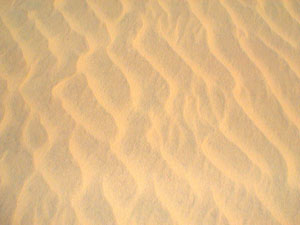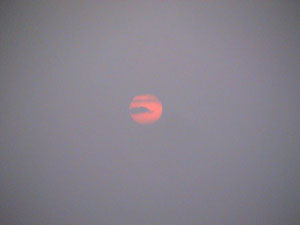 Many have fallen in love with the haunting beauty of the dunes where the wind is unceasingly carving out scenic patterns, on the unlimited rugged expanse of the sand! Steeped in a mellow honey colored mist, the picture pretty Sam sand dunes create enthralling, romantic and fascinating vistas. Truly the essence of the desert, the ripples of the wind-caressed dunes create an enchanting mirage with pictures of solitary camels against lonely dunes making the sandy scenery perfect. The winds draw patterns on the constantly shifting sand dunes as for miles golden sands join hands with clear blue skies. The panoramic and picturesque Sam Sand Dunes bring to light a truly glided mirage. The best way of exploring the thrilling sand dunes is by way of a camel safari.