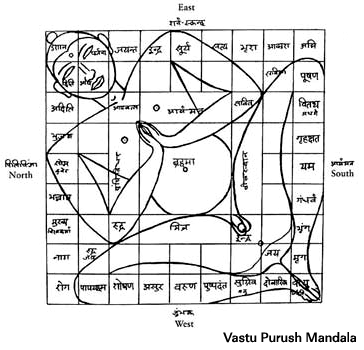 Before we go any further, it will be worthwhile to examine the principles that guided the Hindu Temple architect and mason. How was there a proliferation of high-quality work in throughout the country? Was it a spontaneous expression of creative energy or were there some basic rules to follow, some essential unity underlying the apparent diversity?
We shall examine briefly the social, religious, metaphysical and material factors that led to the production of Indian temples.
Supremacy of the Brahmins

Since the decline of the Gupta dynasty to the age of the Mughals, there was no central political authority through most of India. This political vacuum was filled by the priestly class, who gradually assumed power as the sole arbiters of almost every aspect of life - birth, death, puberty, marriage, business and personal. All these 'favors', of course, had a price and those on whose behalf they 'generously' interceded with the gods would pay the priests by cash or in kind.

Obviously the serious business of construction was too important to be overlooked either. While the basic concepts of construction and decoration had already been evolved, it was the Brahmins who began erecting a complex edifice of rules and layouts for different classes of building. These were purposely couched in hideously complicated mumbo-jumbo - the better to be well beyond the ken of the common man or even an ordinary craftsman. A lifetime was required to study the rules and more, if possible.

These rules sometimes assumed ridiculous dimensions. The most basic acts of building were no longer to be based on technical considerations but rather on mythological ones. Thus the Vastushastra was sometimes more of a hindrance than a help to the craftsmen.

It is in this situation that the genius of the Indian Craftsman came to the fore. In a situation that could easily have been stifling, the mason and stonecutters came forth and created beauty simply by the plasticity of their sculpture and the sheer brute force of their forms. A large part of this was due to the institution of Senis or guilds, about which a brief mention has been made in a previous article.

Senis - Protectors of Heritage

As early as the 7th century B.C., Indian craftsmen had organized themselves into guilds, the better to protect their special knowledge, and to gain for themselves better working conditions, and finally to ensure a minimum standard of quality of workmanship.

In the senis, heredity was the route by which traditional knowledge was passed on through the generations. As soon as a boy was old enough to hold tools, he was set to work on a rough block of stone and so commenced his long apprenticeship. This was the father's sole gift and heirloom to his sons who in turn ensured that his name and style would live on.

A temple project would often be of such magnitude that more than one generation of master cutters and masons would be required to finish it. So a clan of stonecutters would settle around the building site for years. The temple site attracted young men hoping to learn as well as find work. Thus it became the focus of activity for miles around. Over the years, regional variations introduced for the building of a particular temple led to the evolution of a new style or 'school' of temple building, much like the gharanas that exist in Indian classical music even today. Hence we find distinct schools of art and architecture even within North Indian temple construction - the Orissan, Chalukyan, Gujarati, Kashmiri, and of course, the same situation in the temples of the south, which were further divided into many regional variations and schools of construction. In all these the Vastushastra was the giver of cohesiveness, which ensured overall similarity of form and function, but also, as we have seen, was responsible for fettering the imagination of the craftsmen.

The Magic of the VastuPurushaMandala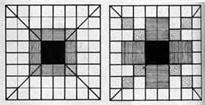 Looking at Hindu temples, it is not very easy to discern that they are composed of one repeating unit - the square. For God's own abode, the form had to be perfect and this limited the choice of shapes to the circle - a form without beginning and end, and the square - perfect for its symmetry. The circle had already been extensively used by the Buddhists in their Stupas and moreover, was perceived to be too dynamic a form for the resting place of the gods. For the Hindus, their gods had to be installed in buildings symbolizing unity, inertia and permanence. The square, thus, was chosen for these qualities.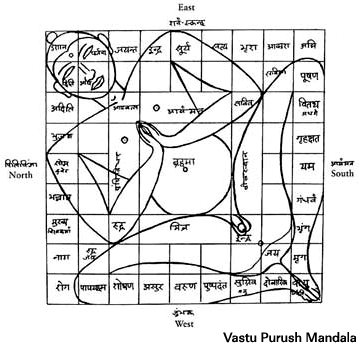 This was the origin of the square Mandala (the best translation of this in English is 'divine chart'). The mandala was further subdivided into smaller squares in a grid, those containing 64 or 81 being the most common. Each of these smaller squares was then invested with a resident deity, each with his own special attributes and powers. The distance of the deities from the center was according to their power and perceived importance.

Thus Brahma, the creator, occupied pride of place in the center and lesser gods were relegated to the edges. A humanistic façade was given to the square by showing it to be able to accommodate a figure in a convoluted yogic posture.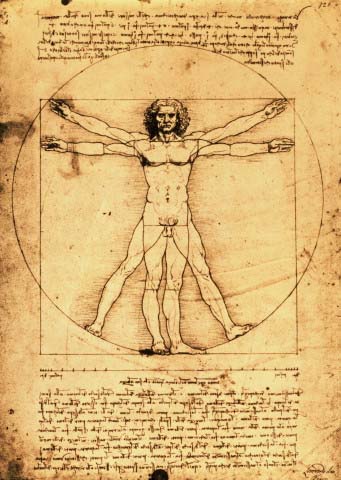 It is interesting to note that this idea, that of the human figure being the basis of a system of proportion, was also used in the European Renaissance by Leonardo de Vinci, and later by Le Corbusier, planner of Chandigarh in India, in his Modular system of measurement.

Thus, having acquired magical and theological properties, the VastuPurushaMandala was fit to be the basis of temple construction, with many permutations and combinations being used to achieve the final form.

Very simply, the central square could be used for the garba-griha, while the surrounding grid formed the pradakshina-path and outer wall, and so on

By increasing in complexity this system of proportion could spawn the most complex of forms with their basic unit remaining the square. It was by manipulation of this basic grid that the Indian architect created the greatest temples of India. The best examples, the glorious days of Hindu architecture, shall form the basis of our next article.
Comments on this Article
---
| | | |
| --- | --- | --- |
| | we are planed to construct a kalika devei temple we need vasthu guidence | |
---
I want to construct a old vinayagar temple at the banks of a water kulam
at my native village kindly advise me .I worship the temple for a long time now I am in outstation

---
Dear sir,
We want to construct Hanman temple on a small hill near a small village. Kindly guide me regarding dimensions and directions. While doing prathista in which direction Hanuman's face should be directed.
Kindly advice in this regard.
Thanking you.
Kumar
---
Hi

We are thinking of restoration of a very old temple in Ferozepur, Punjab. We need some guidance on how to go about it. Please see if you can give sometime for discussion. I can be reached on my mobile & email id.
Mobile: 9923478807
Email: nitin1211@gmail.com

Thanks
Nitin Sharma
---
We are planning to construct either srikrishna or Saibaba temple. Area is approximately 8 guntas(around 1000 sq feet).
Dimensions are north south 24'
East West 376'.
Can I construct a temple in this land?
I have heard that constructing Vishnu temple need more rules and regulations. Is it true?
Is it mandatory to ask donations to construct a temple?


---
Sir

We , sons of 3 family members of brothers ,would like to construct the GaliGopuram
for the existing old temple Lord Sree Lakshmi Chennakesava temple at Patha Devarapalli Village , Meerjapuram ,Kothacheruvu Mandal,Anantapuram District ,Andhra Pradesh . At present there is a entrance ,which is combined part of existing compound wall.

We would like to get the clear procedure , dimensions and masons information to take up this activity .And our budget is around 8 lakhs only.

Kindly guide us the availability of skilled masons, detailed drawings and cost estimation according to temple vaastu.
---
Hi swamiji.

I want to construct vinayaka temple in my village , we have 40 feet north south and 30 east west place, we have east and north roads pls send temple plan to my mail
---
Hello Sir
We have got the open plot and we trusti member is like to build new Hanuman Temple face to west side.
its new place wer we are shifting from old place to new place.
So plz let me know the what is the best size for Temple and others things like poojari room , office room etc
plz guide me for above quary
thanking you
---
| | | |
| --- | --- | --- |
| | use love! | |
---
| | | |
| --- | --- | --- |
| | sir, i am sudhakar,i am civil engineer,actually in future i am build a durga temple.so plz give a idea for construction cost | |
---
Respected Sir,

We are planning to construct a Rettai Pillaiyar temple in our village. What should be the dimensions of the vimanam, mandapam and the rajagopuram.

We plan to have a 31' tall gopuram over the sanctum sanctorum. in this case what should be the height of the Rajagopuram? Should it be taller than the vimana-gopuram?

Kindly advise us

K Jeeva
---
Sir
I want to build an arch for small village Kali temple. Please give me width and height of the arch. and also the thickness if the vertical columns and the beam
and about the sculptures to be featured vertical and horizontal column.
Thanking you sir
Janardhanan
Mobile 919884324010
---
Respected Sir,
I am a 2nd year student of B.Arch I have to design a temple in this semester.
Thus I need some more information on standards of temple design.
Kindly, provide me with some information for the same. I'd be highly grateful.

Faithfully
Pratyush
---
Respected Sir,
I am a 5th year student of B.Arch pursuing thesis. My topic is Temple Complex.
Thus I need some more information on standards of temple design.
Kindly, provide me with some information for the same. I'd be highly grateful.

faithfully,
Ekta Agrawal
27/02/2016
---
| | | |
| --- | --- | --- |
| | I am thinking of constructing a Krishna(Kaalingamardana) in 30 X 40 site. I want directions how to proceed further. | |
---
Sir,
We want to have a small prayer place in our Factory premises( Garden area) We are planning to have Ganesh murthy. What are the basic principles we need to keep in mind? Like direction of murthy, pedestal dimensions ..etc It is not going to be a public facility. It is a place for workers to pray before they start working.Pl advice
Information will be helpful.
Best regards
Parthasarathy
---
Jwalpa Devi is located in District Garhwal.The organisation looking after the puja and maintenance of this temple will be constructing a temple at the existing site which has a make shift temple building existing.
please advise us what literature, which organisations we should seek help of to get the temple constructed.
THANKS
---
Dear Sir,

Please help me, its very urgent. I am final year student of architecture. I am doing my thesis on Temple architecture. I am developing 70 acre site for temple complex. Please tell me what is the ratio of height of shikhara and garbagriha. Plese help me its very urgent.

Thankyou
---
Dear Sir,

I have plan to construct temple in my home town and with my own money. At this point of time I don't have much but I am looking forward to do it in the future that is a kind of my AIM.

I may prefer to Anjaneya swamy, but again I will have to look whether all kind of functions can be done at the temple or not like (marriages, born babies names etc..) and it should suit for any kind of functions.

I am not going for small temple I have BIG plan, do I need to get any approvals from the government or any other authorities. Please suggest.

Will my name shows any signs of construction temple in the future, My full name is

Madugundu. Thimmaraju

Madugundu is my surname.

Please let me know your valuable suggestions.

Thank You Sir.

Thimmaraju
---
I started constructing Burma dev mandir. I constructed four pillers area 7*10[rectangular] but pepole say that it should come in square shape . so suggest me.


Deshmukh S G

mob.9423347883.
---
Respected Sir,

We're 7 committee members newly elected for renovation construction of existing 270 years Lord shiva temple.

request you to pls provide us how much cost will be expenditure and when it will be started.

The land size is 55 feet X 33 Feet and temple i.e., garbagruha (outer) is 12 feet X 9 feet.

Pls advise us how construction for the same.

Regards,

Shyam
9701202288
Chityal.
---
| | | |
| --- | --- | --- |
| | swami ji pls guide me for pran pritishtha kaise karege | |
---
| | | |
| --- | --- | --- |
| | Dear sir, Iam planning for construct GANGAMMA DEVI TEMPLE . please guide us me asurements for GARBHA GUDI SIZE AND HALL SIZE with best regards b seshu cell no 9449431959 | |
---
| | | |
| --- | --- | --- |
| | they follow the ezyptain god ossaris | |
---
| | | |
| --- | --- | --- |
| | Dear sir, Our socity wish to build Dakhinakalimandir .pl guide as per bastoshastra guidlines. | |
---
| | | |
| --- | --- | --- |
| | In our palce at Chennai, we have a temple with Karpaga Vinayaka sannidhi and Anjaneyar sannidhi, separately with 4' space in between. Now we want to construct a Lord Siva sannidhi with a Linga and Ambal, in between for which we have to do Balalaya and dismantle the existing structure and construct new separate structures. In that case the Vinayaka and Anchaneya may get installed in a location slightly different from original location. Is it permissable ? The presnt structure has been existing for over 20 years and regular daily poojas are being conducted. | |
---
Dear swamiji
Our existing Selva Siddi Vinayaga Temple of (4800 sq ft.) inside the town limit in Tiruppur goes well with 7 Executive members for abour 20 years.
Recently Son of one Executive member of the temple is forcing us to create one more Gnapthi idol out side the sanctum with neem and pepal tree so as to make the women to perform water abhishka.. Further he want to have one Murugan idol also on the pillars of Sanctum of vinayaka temple.
we are confused Because creation of temple has to go more generations .....
Avilabilty of ''archaga'' become costly and difficult....in future...?
Hoe can be a two idols in one temple...?
please clear our confussion swmiki..


---
Respected Sir,

Our colony at Shantiniketan, Madambakkam, Chennai has a VINAYAKA Temple. We would like to know if any shop can be positioned in front of the Temple =directlyopposite the idol of the lord. Please enlighten us.

With warm regards,

Sadagopan
09444337251
27 Jan 2015
---
| | | |
| --- | --- | --- |
| | pl ease enlighten on construction of ANDAL & RANGAMANNAR | |
---
Dear sir,
I want to construct sri chowdeshwari temple near masti, please guide me about the rules and regulation of devi temple and to built in 9x9 sqs garbagudi in mangalore style how much it cost please send details as early as possible.

thanks
srilakshmi
---
| | | |
| --- | --- | --- |
| | Hi, please contact the author for questions/queries/designs at +91 769 680 1309. Thanks. | |
---
| | | |
| --- | --- | --- |
| | dear sir we want build a temple in our village near the church so how much distance should we have and what is the rules we need information about G.O.s | |
---
Dear Sir,

We have a plan to construct Shiva's temple in my own village located at prakasam dist. Can anybody help us on below points

1. How much cost it will be take?

2.can u able to provide any temple plans.

3. How much time it will be taken?

4. We are estimating 20 lac per temple construction is it possible or not?

Please clarify on above points and Contact to below number otherwise kindly provide the contact details.

Thanks
Devotee
9502213641
---
Dear sir,

my village muthu mariyamman temple demolished ,and new temple
constructed please basic principles and measurement give our specications
various sizes in garbhagraha,artha,maha mandapas.dravida vimana details.
my village name vadamanipakkam, like eastface temple drawing.
THANKING YOU SIR,
BY.M.UDHAYAKUMAR.
---
Wir
we are going to reconstruct our Arulmigu Sudalai Madasamy temple. Please guie us. is there any measurement for the main diet area to be marked /
Regards
Rajendramny
cell 9159369557
mail
---
respected sir,
i am doing a dissertation on Hindu temples : old and new. its based on experiential architecture. if possible can you plz contact me so that i can ask you a few questions?
regards
arkita
---
| | | |
| --- | --- | --- |
| | Clearly you're not in dialogue with the local museum. | |
---
Dear Sirs,
We are thinking of constructing a Ganesh Temple in Shillong in the remote State of Meghalaya which is a Christian predominant State inhabited by nearly 90% tribals. We have an existing double storied structure in a plot of land belonging to Rilbong Hindu Dharma Sabha having a frontage as wide as 90 feet.. The challenge is to create the proposed temple with minimal alterations of the existing building. We would be grateful if you kindly suggest how we can go about the project which will be funded through public contribution.
---
| | | |
| --- | --- | --- |
| | I would suggest you use a pentagon as your basic shape with a dimension of 16', instead of the full rectangular site. | |
---
I have a plot measuring 40/80sq feet and wish to construct a temple. Of lord Shiva in One of its corner 6/6feet dimension.it is a residential area.pl. Suggest the location, direction ,few images ,designsband architect,mason near up-mp Jhansi.
Thanks
Veena
---
| | | |
| --- | --- | --- |
| | We have a North east Site corner site measuring 70 * 62 , we want to build Shiva temple in this , kindly help | |
---
Dear sir,
In my village we are planing to construct gali gopuram(entrance arch) for exhisting east faced lord siva temple. Please suggest us for its dimensions.
Thanks with regards
Koteswararao
---
Dear Sir,
i am builder & we are going to built aLord Hanuman Ji Temple in my project ,area =9X((sq.ft).
Plz Guide us.

With Regards...
A.S Developers
09926277750


---
Dear Sir,
Me belongs to Bramhin family. me with some of my friends are going to built aLord Hanuman Ji Temple of Bigraha size 7ft.
Plz Guide us.

With Regards...
Bijay Ketan Panda.
09778046785
Dhenka,hadagarh,Dist-Keonjhar
Orissa
Pin-758023
---
Dear Sir,

i will be going to construct a temple goddess of shri santoshi maa in maharastra dist one of the village ,please give information for theories principle & vasthu,and temple,

Reg,

Manoj


---
Hi sir

I am willing to construction a shiv temple 6x6 ft and total height with Kalash may be 16 ft in my lawn boundary , need to know direction of temple opening(door) and shiv LINGA water flow direction.

Please reply sir.
---
sir,
we are planning to construct a vashno mata mandir in Jaipur-agra highway area. size for sthapna is 7*7. please suggest us some vastu techniques for the correct sthapna.
---
Sir,

We are (7 members) have formed and registered a Trust to construct Famous and Big Shivalingam along with 6 temples viz., Gayatri Devi, Lord Venkateswara, Hanuman, Suryanarayana Swamy, Shirdi Sai Baba, and in the entrance small Ganesh Temple in 10 Acres Land nearby Hyderabad

Hence, would request you to please advise and guide us how to start and construct the above temples as per vastu and other details.

Also would request you to please provide us the idols manufactures and also black stone suppliers for constructing a Shivalingam.

Awaiting your early response.

With best regards,
K.Srinivas
09949662386
Hyderabad
---
| | | |
| --- | --- | --- |
| | see the informations | |
---
Dear Sir,
We are constructing temple for Lord Ganesha. From various article / reports we understand that steel reinforcement must not used temple construction. Is it true. If it is true what should be used for roof. Please advise.
---
| | | |
| --- | --- | --- |
| | The article had written without giving any references from Sastra. Many points are made out of pure conjecture. The writer should study the subjects well, then post. | |
---
sir
iam solely constructing a lord siva temple in interior tribal village of vizianagarm dist in AP.
already 10 feet construction is cmpeleted.the grabha gudi is 7x7 square
the upa temples ganesh and parvathi are of 4w x 6L.seeing for good stone carved idols of the above gods.the shrine will be constructed up to 22 feet height.pls guide me weather dwajasstambamam can be constructed with cement. and were could i get the stone carved idols ,brass idols and approximate prices.
---
dear sir ,
i will be going to construct a temple goddess of gangadevi,in visakha dist one of the village nagaram,makavarapalem (md),so if u give any information for theories principle & vasthu,and temple agamana siddantham ,i need the information in any telugu books.
---
| | | |
| --- | --- | --- |
| | This is a basic information which is essential for any body interested in the subject.This has to go along dist. to have the full information of the subject.But I do admire the efforts and the interest in the subject.I can share some thing to you ,If you need and are interested. | |
---