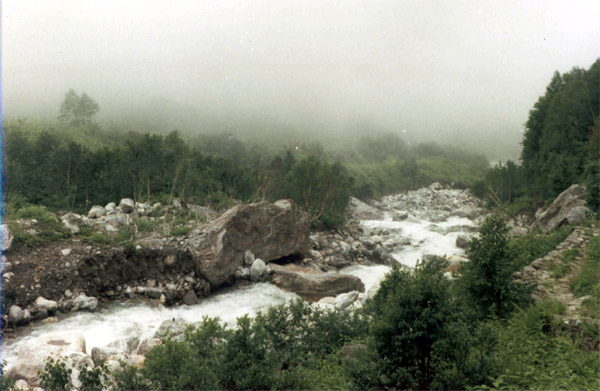 My mother Smt. Pampa Banerjee is a very brave lady. She has gone with me in many a trekking tour. It was her desire to go to the valley of Flowers and Hemkunt Sahib. My mother, cousin sister Tuti and I started on 27th July in 2005. We reached Hardwar by train, and then Govindghat by bus, a distance of 302 km from Hardwar. Our trek started from Govindghat after a night's halt at the Gurudwara. The Bhuinder Ganga River became our constant companion amidst sunshine and cloud.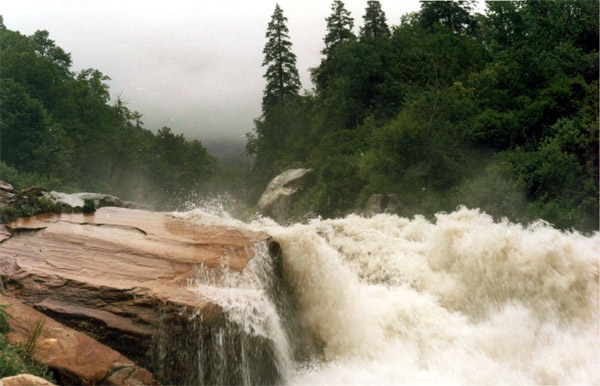 Fed by monsoon rain the Bhuinder Ganga was ecstatic with joy. Though my mother scolded me (as mother's always do!) I did not want to miss a close tryst with Bhuinder Ganga. I stood on a slippery rock in the river bed as I took the shot. The Ganga almost came rushing over me.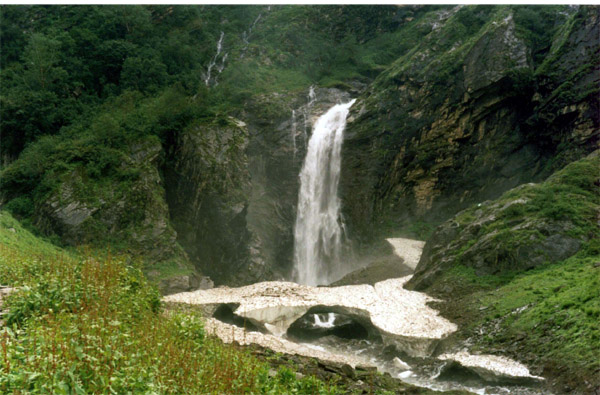 We trekked 14 km and reached Ghangharia. It was raining heavily. We stayed at Gurudwara for the night and enjoyed warm Chapati and tea. Next morning we started early for our trek to the Valley of Flowers, a distance of 4 km from Ghangharia. No sooner our trek started than this celestial waterfall greeted us with 'Good Morning.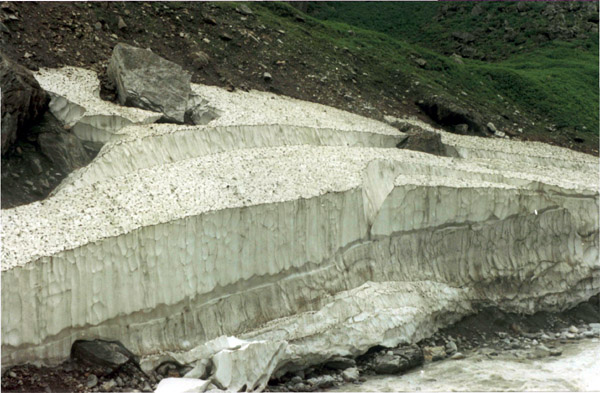 As we trekked we found this cracking glacier on our right. It was simply splendid to have been admitted in the 'Andaramahala' of the Himalayas.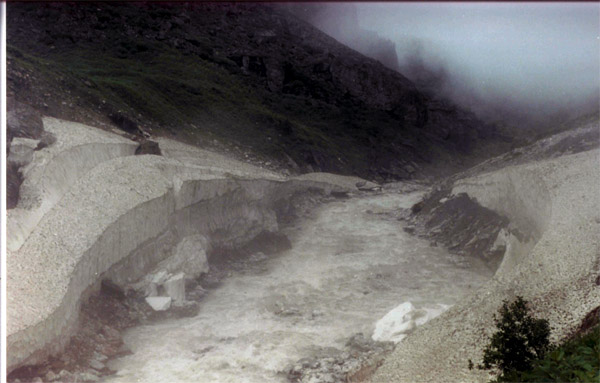 The weather suddenly became tumultuous. We had to pause for sometimes, as it was impossible to continue trek amidst the heavy rain and storm. It was risky too. At one time it even became doubtful whether we could continue at all. But as I have realized before, Himalaya loves the one, who loves the Himalaya.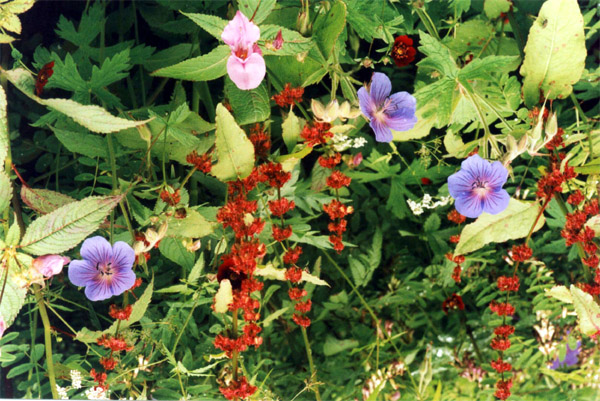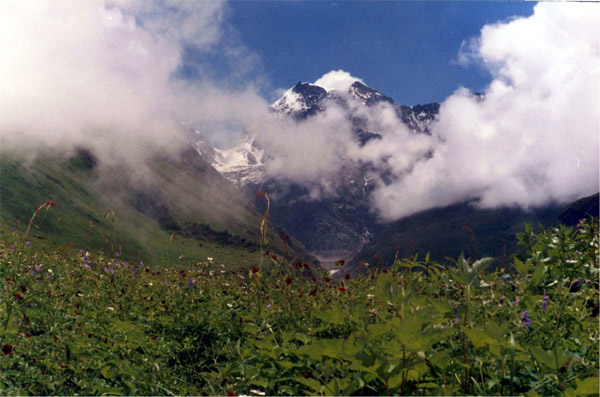 We reached the Valley of Flowers after quite an adventure. However, we were rewarded with sunshine. It was indeed Heaven. We were dumbfounded at the celebration of colors. The picture of the Valley on the right with a snow-capped peak at the backdrop. Clouds, like naughty boys disturbing their Headmaster, ran across the Valley and sometimes clouded the face of the somber and majestic snow-capped peak.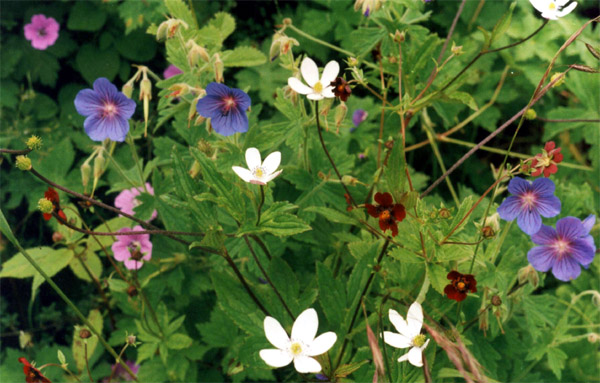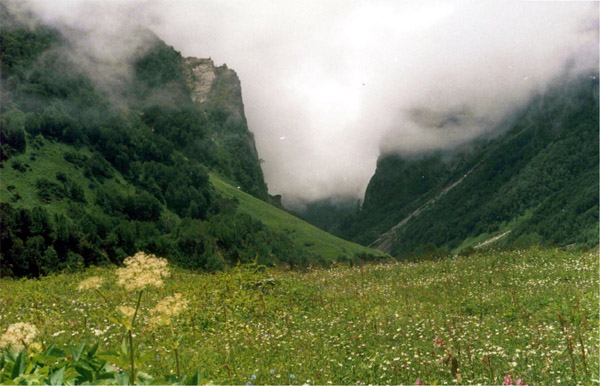 Blossoms of different hue were singing celestial songs in chorus. They also danced in the breeze that was constantly playing on the harps of ether. That we were getting almost frozen was another matter! And a negligible matter! All weariness was gone. We became like children playing in the celestial garden. There was no selfish giant here, nor could be. There was no winter here, nor could be.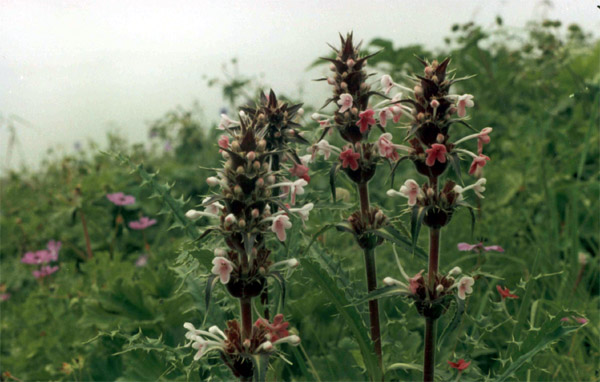 What could be uttered here? Flower Flower everywhere ... No desire to pluck!
I even could not remember any appropriate poetry! Those seemed second-hand trashes! We found many exotic flowers. Who cares about names? Professional habit wanted to remember what Shakespeare said ….!
Forget Shakespeare! I am Shakespeare now! I am even luckier than him! He had not been here!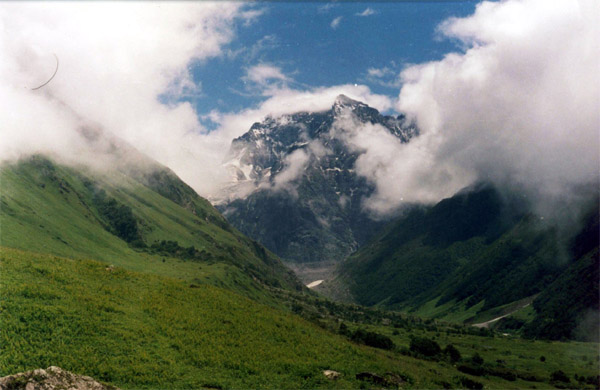 And finally the inevitable. We had to return bidding the Valley Good Bye. But with a promise, we will come back again.
Our next trek next day would be Hemkund Sahib. But that is another story!
In 2006 we trekked to Hari-ki-Doon.