The trek to Rudranath was undertaken from August 21st to August 30, 2009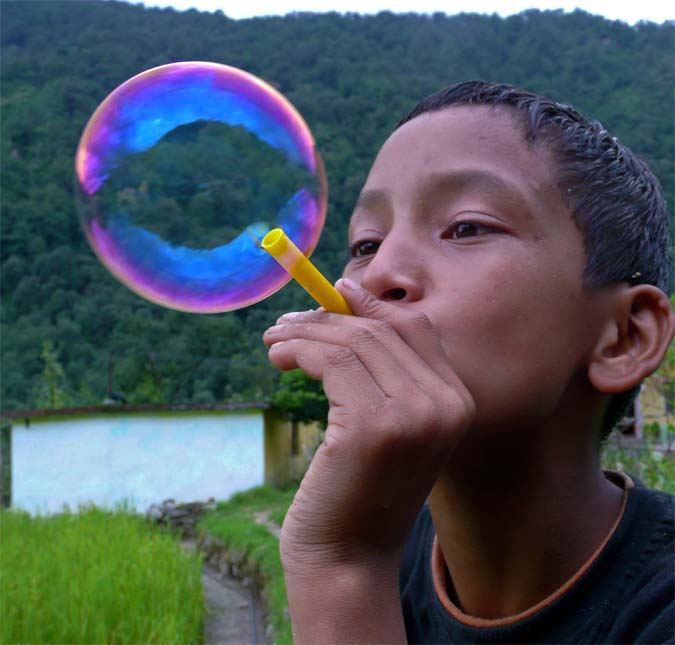 Rudranath is the toughest of the famous Panch Kedar pilgrimage treks. Even seasoned trekkers say, and locals agree, 'Rudranath ki Chadai, German ki Ladai'. Actually there are six Kedars, including Pashupatinath temple of Nepal. The Panch Kedars of India comprises of five Kedar temples - Kalpeshwar, Rudranath, Tungnath, Madhyamaheshwar, and Kedarnath.
The myth goes that after the Mahabharatha war, the Pandavas went to the Himalayas to seek the blessings from Lord Shiva. But, Shiva would not appear before them initially. He disguised as a buffalo and hid himself among other buffalos. Bhima devised a plan. He stood with legs wide open rested on two rocks, and the buffalos were made to pass under him. As one buffalo refused to pass under Bhima's legs, the Pandavas identified him as Shiva. Bhima caught hold of the buffalo and the tug of war that ensued resulted in the splitting of the buffalo into six parts. The parts falling in different regions of the Himalayas are the places where the Pandavas later erected six temples.
Thus, the five temples in India and the corresponding parts of the buffalo-Shiva are:
(a) Kalpeshwar, Shiva's hair is worshipped.
(b) Rudranath, Shiva's face is worshipped
(c) Tungnath, Shiva's arms are worshipped
(d) Madhyamaheshwar, Shiva's navel is worshipped
(e) Kedarnath, Shiva's behind is worshipped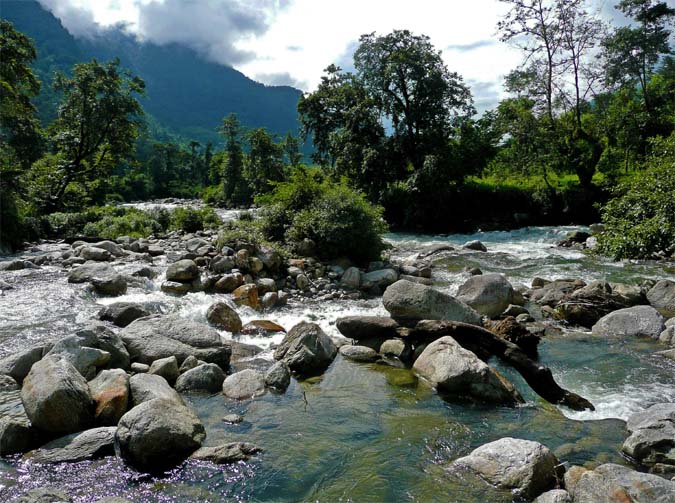 I went to Rudranath for the first time in 2000 accompanied by my brother. This time my friend Partha Pratim Ghosh accompanied me. We decided to trek in the monsoon months, a rather unusual time, to see the Himalayas in monsoon splendor. We reached Delhi by Plane on 21st Aug, then boarded train for Hardwar. Next morning, reaching Hardwar, we availed bus and reached Mandal via Chamoli and Gopeshwar. Mandal is a picturesque and peaceful village, and the confluence of Balkhilya Ganga and Atri Ganga adds to its charm.
At Mandal, we stayed at Bhagat Singh Bisht's hotel - Anusuya Lodge. It is just opposite to the "Anusuya Mata Mandir Marg". Bhagat made arrangements for a guide and porter - Anand Singh Bist and Sarvinder Singh Bist. I was glad to know that Sarvinder, our porter, was nephew of Maninder Singh Bist, our guide in 2000.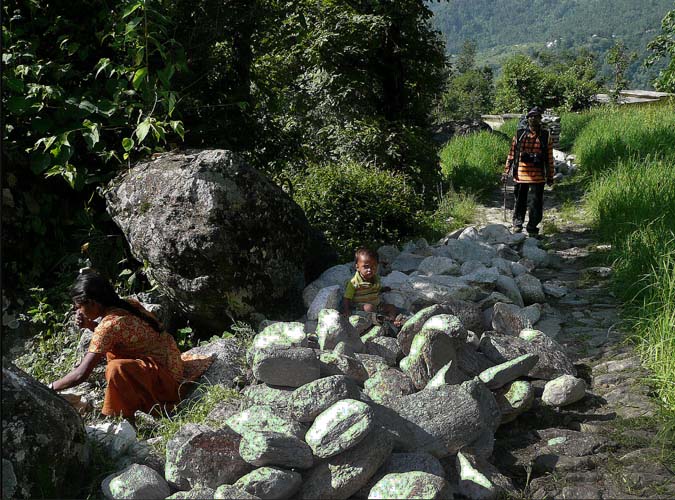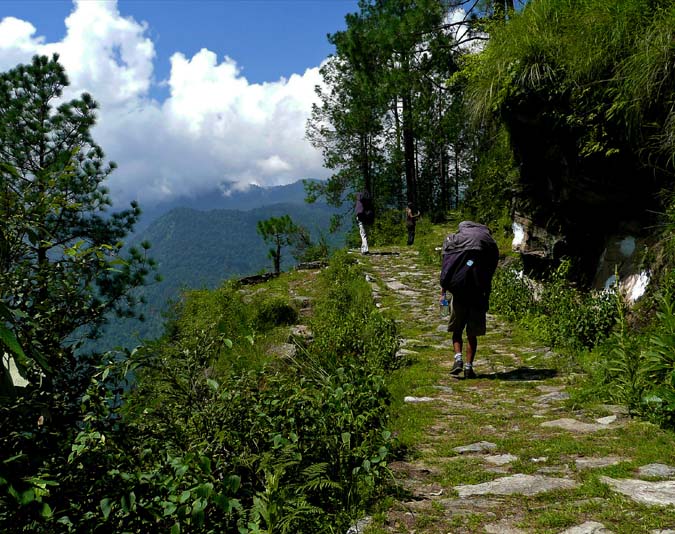 We start our trek. Today's destination is Kandiya Bugiyal. We are passing through Shirouli village. A working mother breaks stone as her child waits... Balkhillya Nadi runs along with us - as we trek a slow ascent though terraced fields. Initially the road is decent ascent on a stony path ...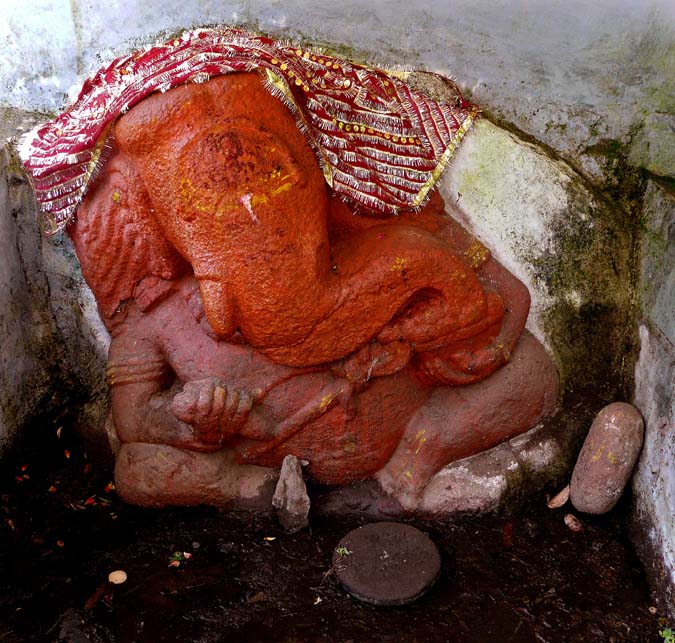 Huge rock image of Lord Ganesha ... just a quarter kilometer before the Anusuya temple. It is carved out of a single piece of rock. The altar is below our level in a tin shed.







We have reached Anusuya. This is Anusuya Devi temple(2080 m). the new structure of the temple was erected 150 years back when a devastating earthquake grounded it all. Legend has it the Sankaracharya established the previous temple. The temple is respected as the last resort of childless couples.
Idols of Pandavas and Krishna in Anusuya temple, as are the idols of Shiva and Parvati besides, Hanumanji. (Images shown below)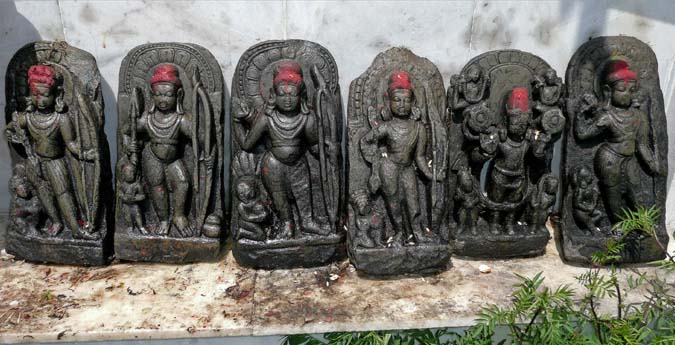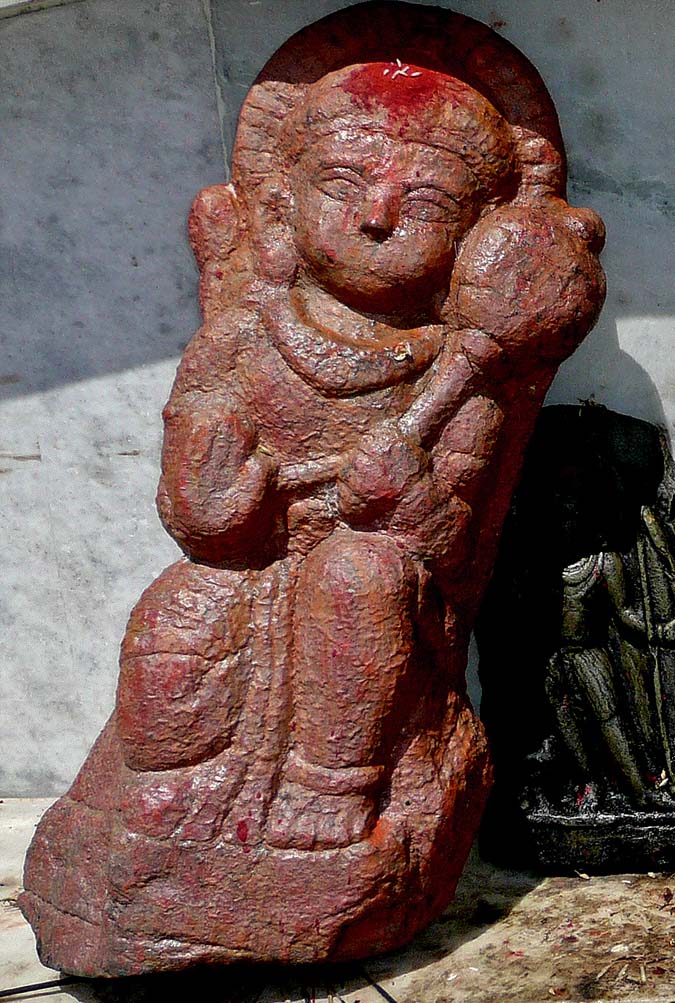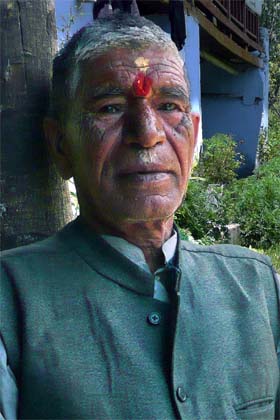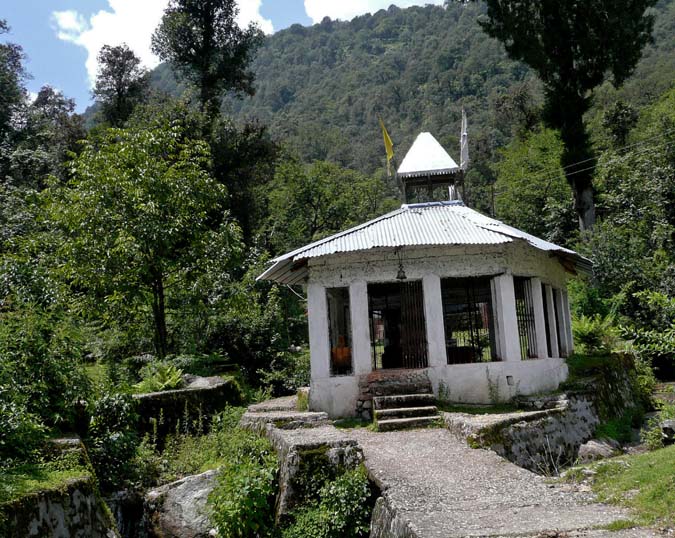 Tewariji, the priest of Dattatreya temple, and an admirer of Bengalis and Late Umaprasad Mukherjee.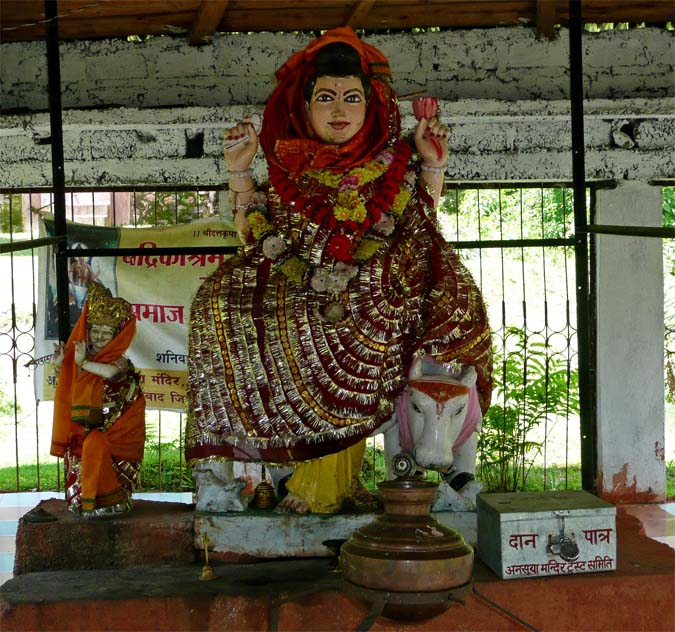 Dattatreya temple. Dattatreya was Rishi Atri's elder son, another son being the famous Durvasa. The Idol of Dattatreya is installed in the temple.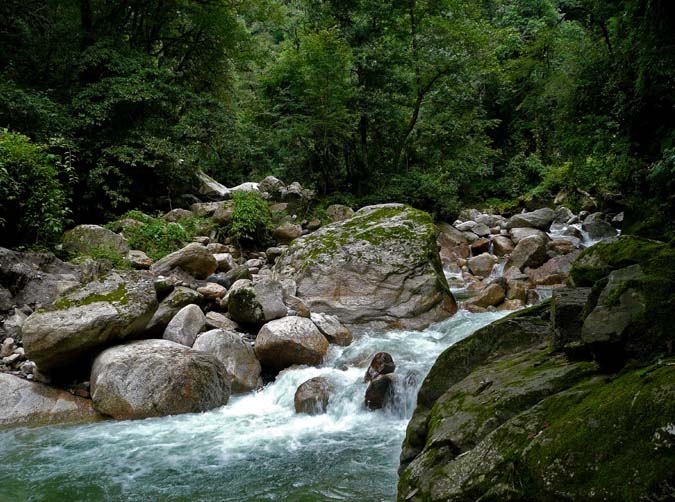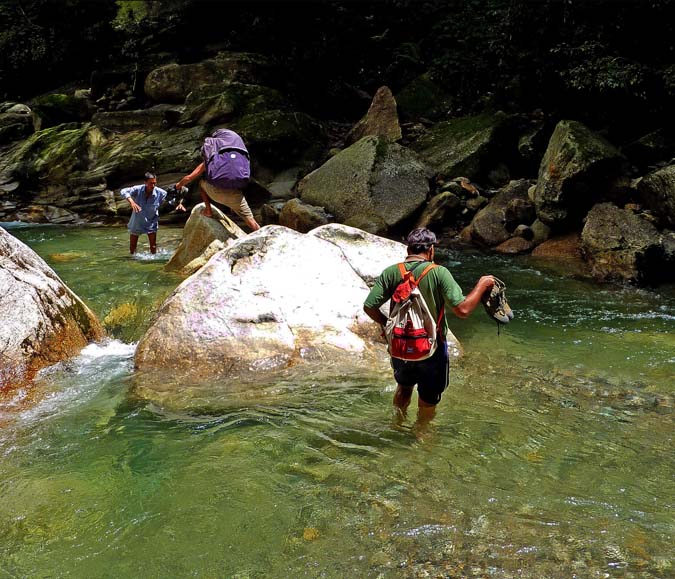 Now our trek trails through forest ... This time we could not visit Atri Guha as the log bridge across the stream has been washed away. Amrita Ganga river. We have to cross Amrita Ganga as the concrete pool has been washed away. Our guide says we are lucky to face no rainfall today. Had it rained our trek would have been halted here.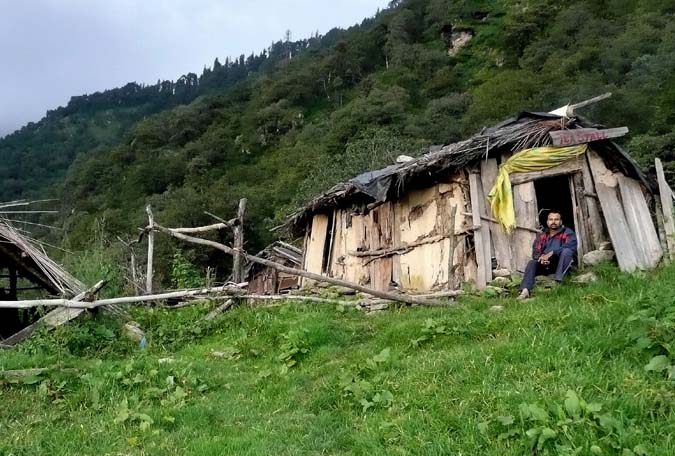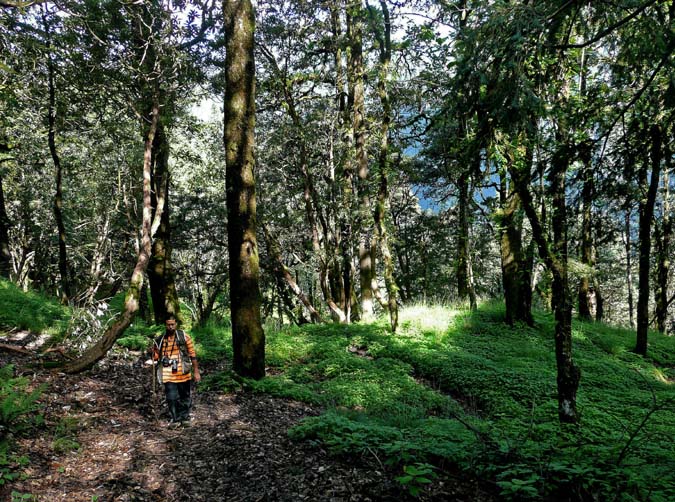 This is the shepherd hut of Vikram Singh Bist - our five-star luxury resort for tonight. Next morning ... our trek passes through dense forest ...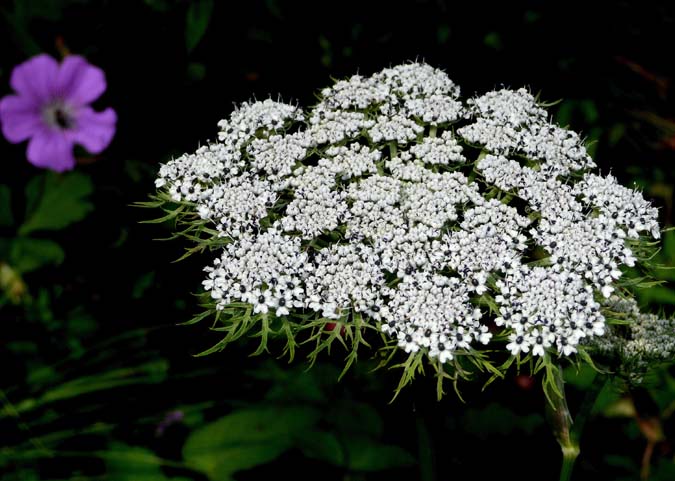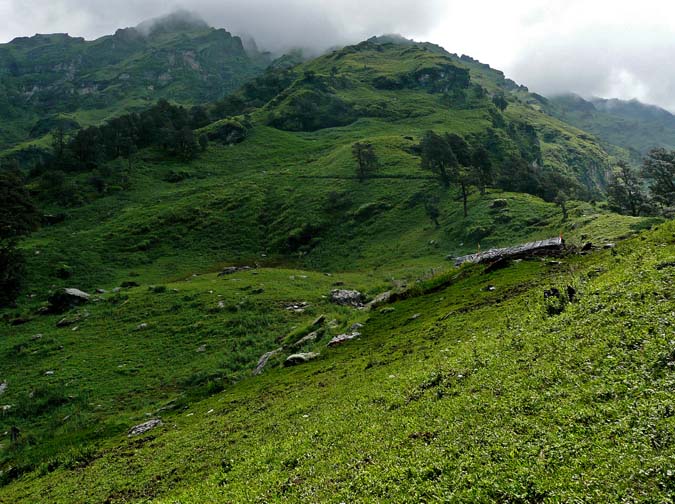 Wild flowers. This flower is used to worship Rudranath. Next image shows a 4 km trek from Kandiya Bugiyal while approaching Hamsha Bugiyal.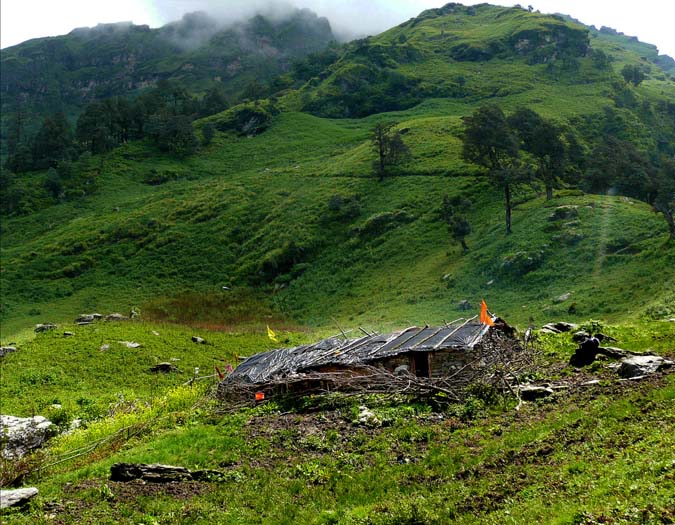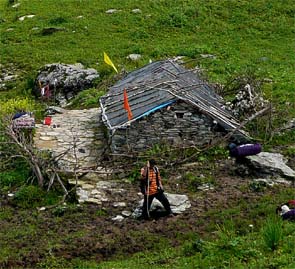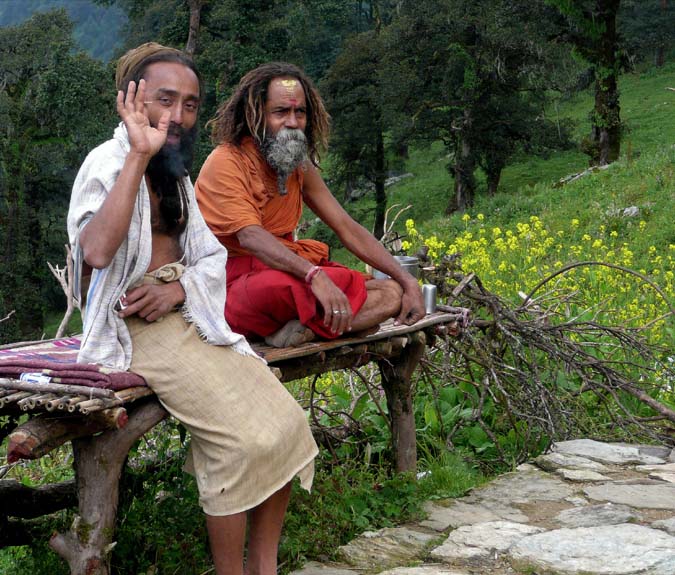 Anand tells us a Sadhu resides here nowadays. His Ashram is in Mandal village. The beauty of Hamsha Bugiyal mesmerizes us. Wild colorful flowers bloom everywhere. Wish we could halt here for a whole day. The extreme right image shows the Baba of Hamsha Bugiyal (on the left in white cloth). He is a wise man ... his wisdom evident from the structure of his forehead.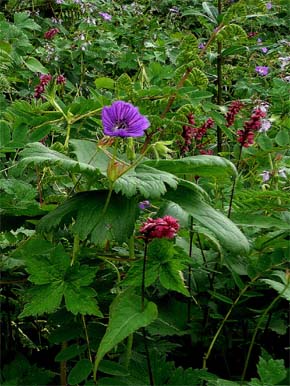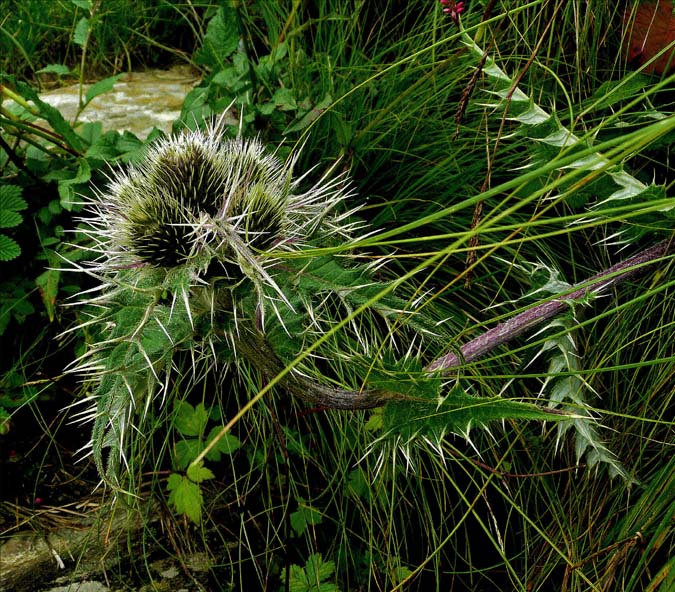 Images of various wild flowers found while trekking.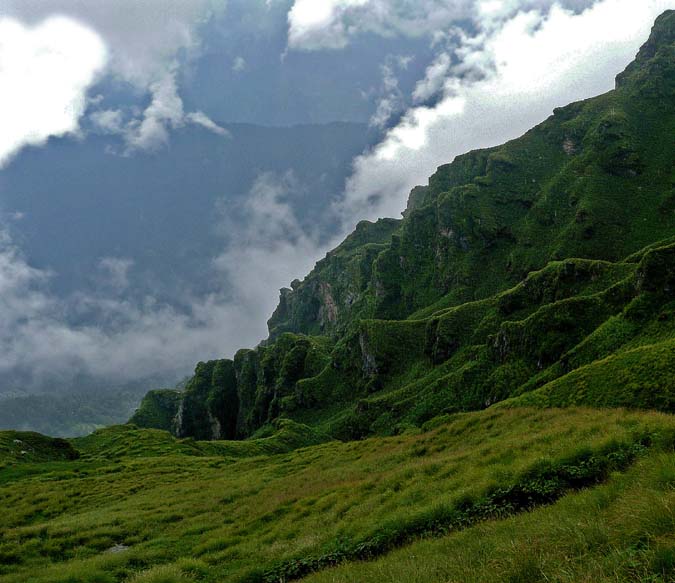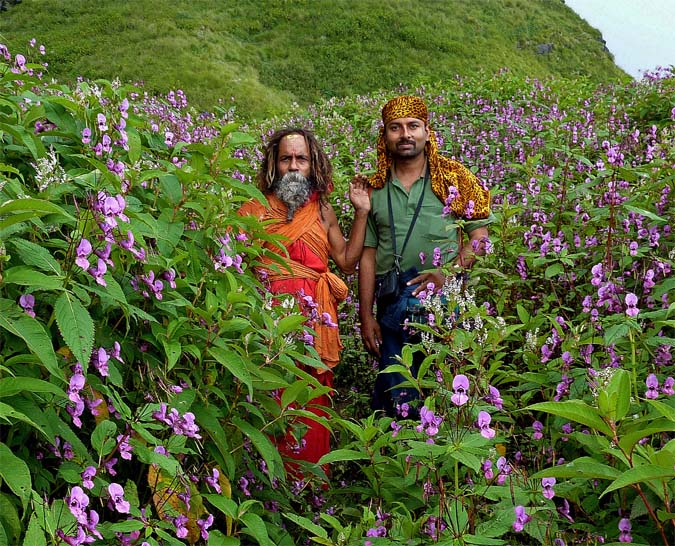 We have reached Dhanpal Bugiyal, a 1 km trek from Hamsha Bugiyal. Amidst the celestial splendor of Dhanpal Bugiyal ... The Bengali Sadhu has now joined us ... he started late and caught up with us. The image on left shows trek area above tree line.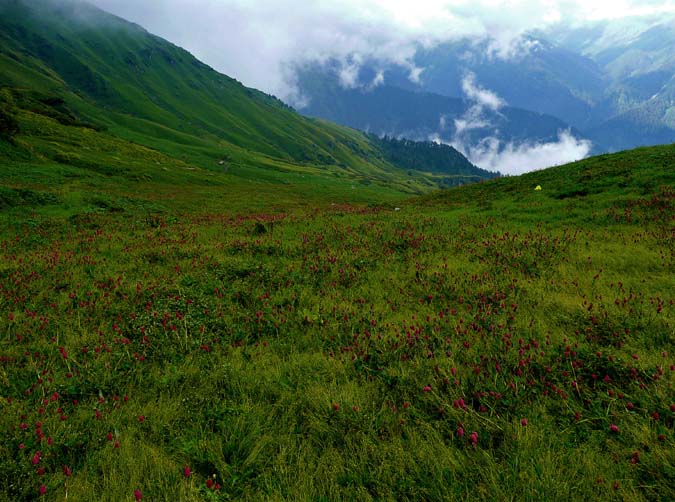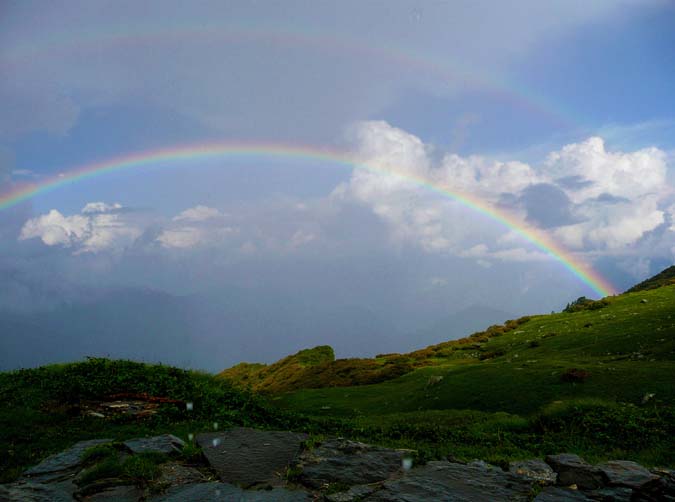 Drenched in torrential rains, we reach Naola pass. We could not take out our camera for the last kilometer. We cannot reach Rudranath temple that day because of torrential rains. We spend the night at Rajinder Singh Bhandari's Choti in Panchaganga Bugiyal, a 3 km trek from Dhanpal Bugiyal. This is a shot of Panchaganga Bugiyal as we start our trek towards Rudranath temple next morning. Next image shows rainbow, the best I have ever seen. Image after the rainbow shows the Naola Pass on our way to Rudranath temple.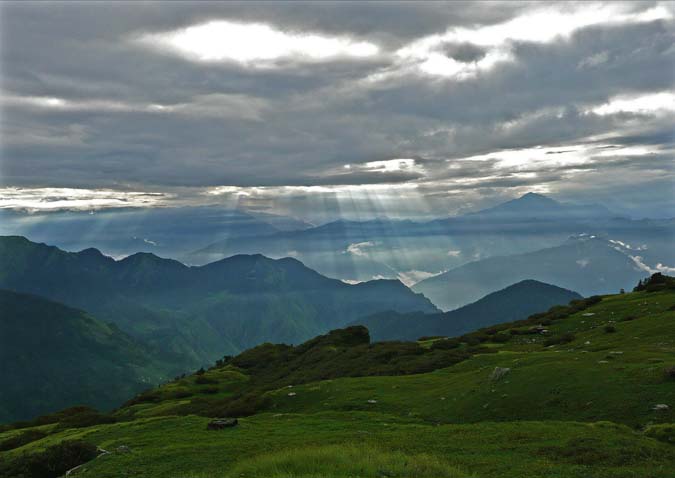 Approaching Rudranath temple, a trek of 3 km from Panchaganga Bugiyal ... the Sun blesses us through clouds ... Next image on the left shows the trek approach to Rudranath temple while the right image shows first close view of the temple.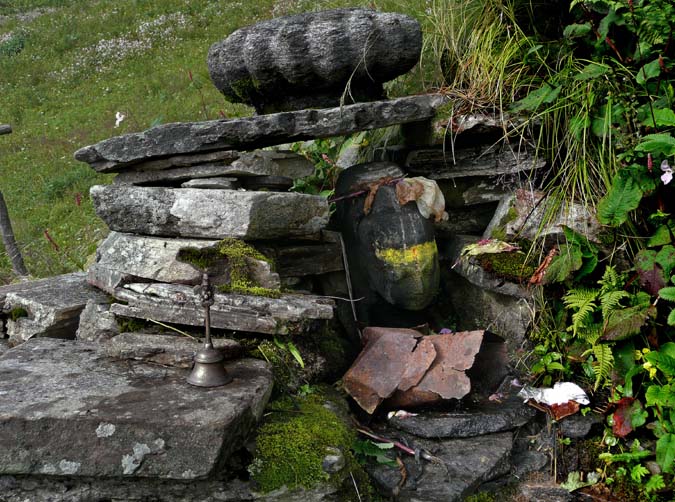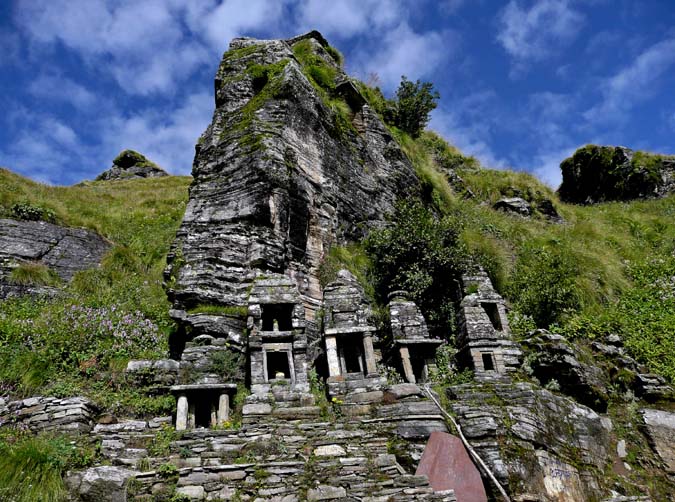 This is an idol of Narada Muni, just a hundred meter before Rudranath temple. Image on the right shows the Pandava temples adjacent to Rudranath temple.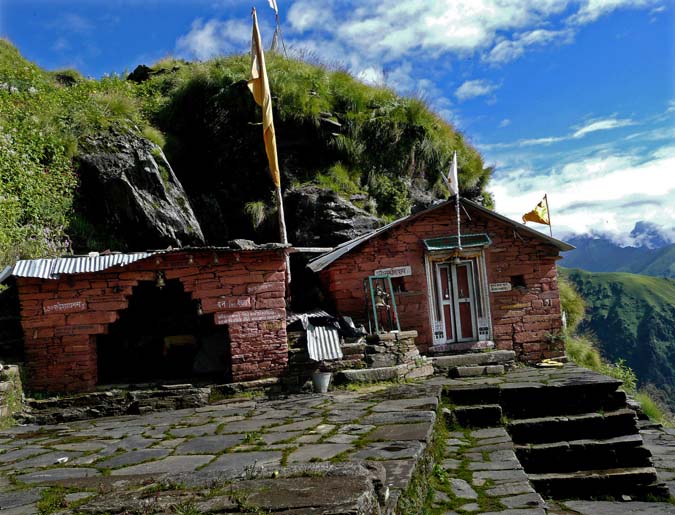 Rudranath temple (3402 mtrs). Hathi Parvat, Nandadevi, NandaGhunti, Trishuli and many others can be seen from here ... not at this time of the year. There are many holy Kunds (Tanks) near Rudranath temple namely Suryakund, Chandrakund, Tarakund etc. The Baitarini, the divine river flows pass behind the temple. We have a brief 'Nasta' at a Choti near Rudranath temple. Our next destination is Panar Bugiyal, a trek of 8 km from Rudranath. As we trek, we enjoy the Bugiyals and blooms.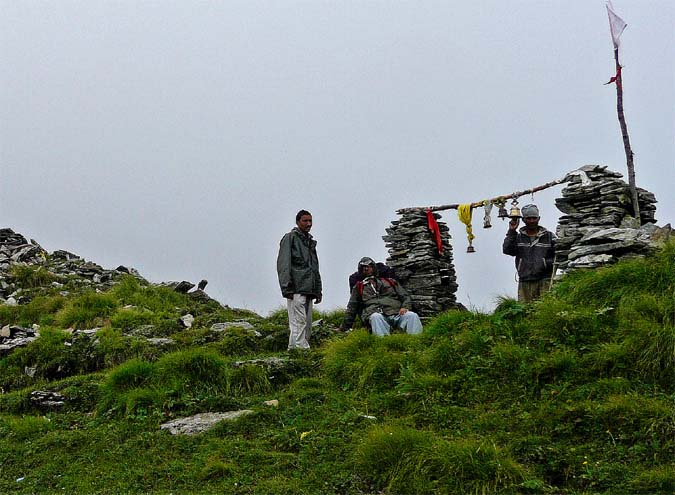 Pitridhar Top, a trek of 2 km from Panchaganga Bugiyal. Upto this is slow ascent from Rudranath. Now our path is mostly descent with an occasional spicy ascent.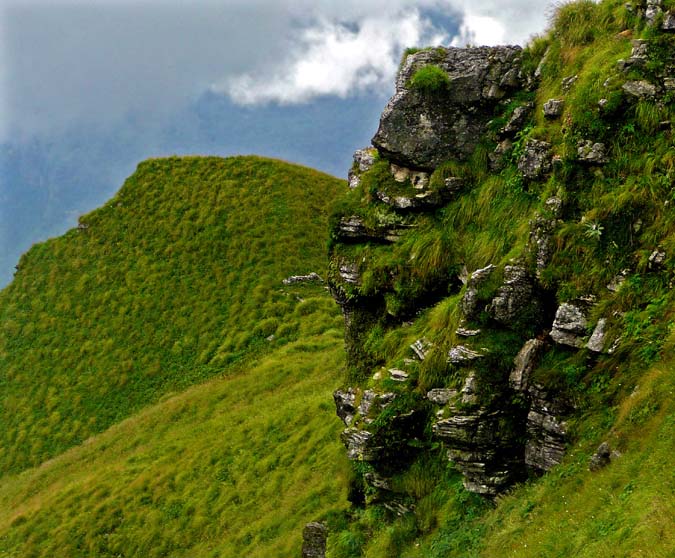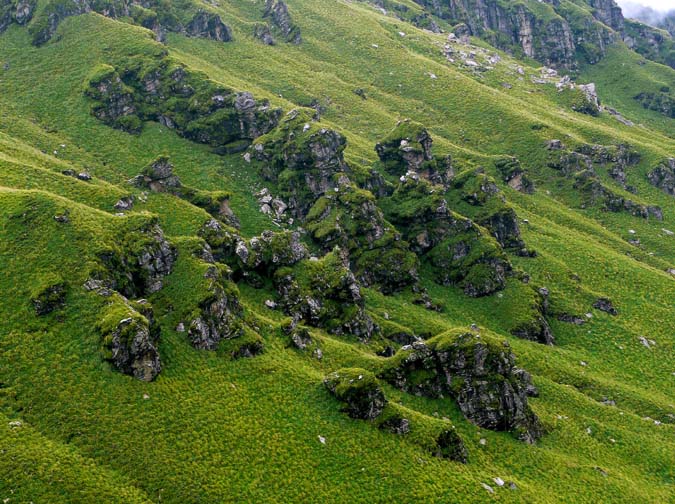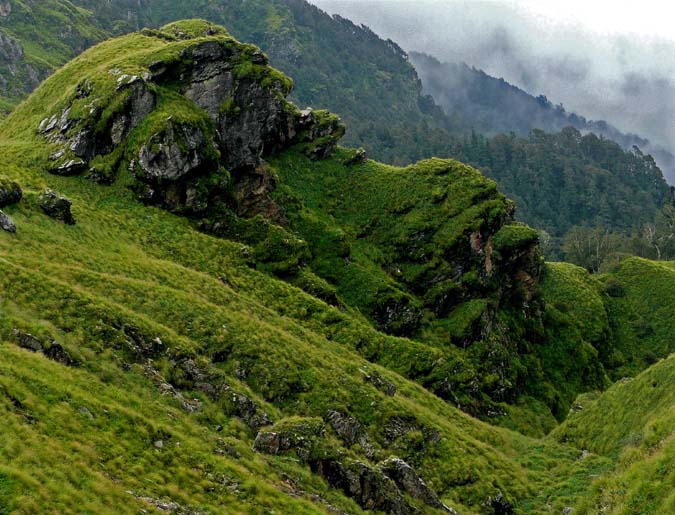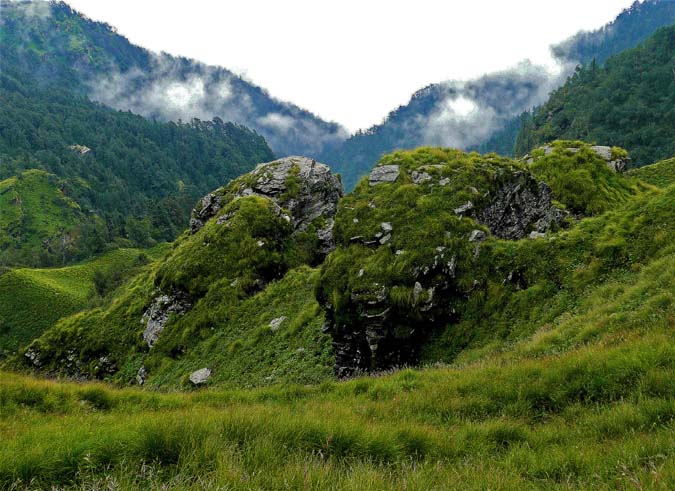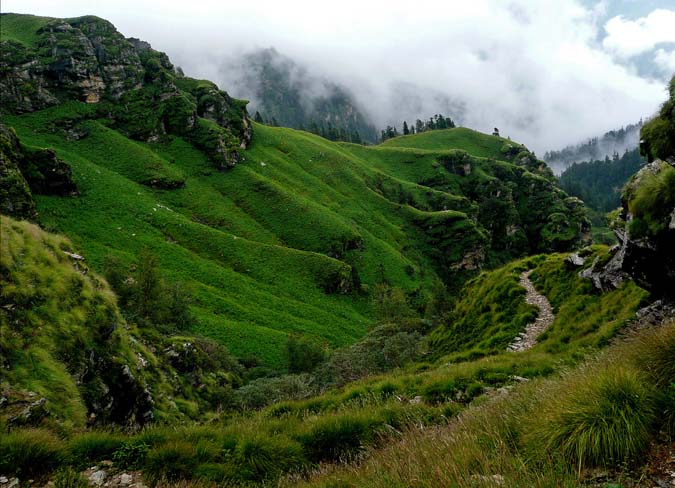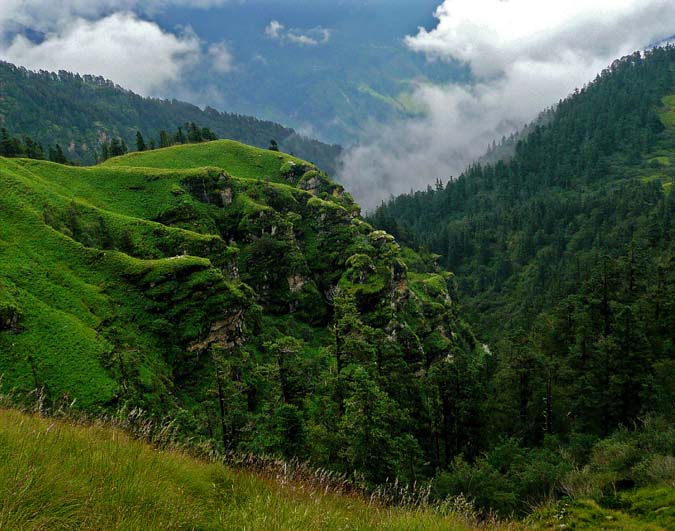 Picture above shows strange rock formations resembling human faces.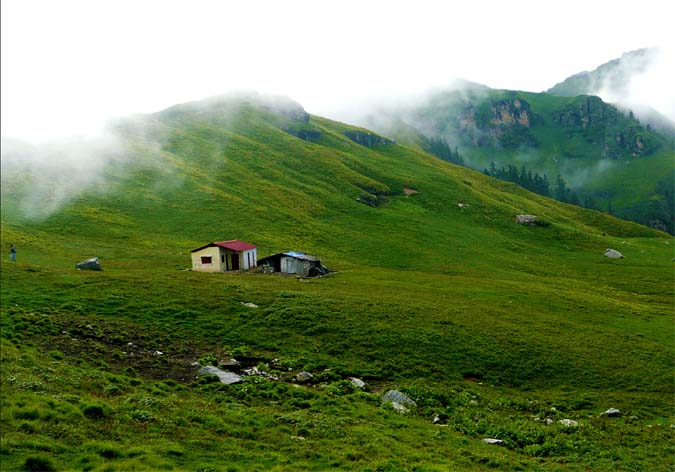 Panar Bugiyal is in view. The red roofed hut is of the Forest Department, and the adjacent blue-roofed hut is of Prakash Singh Bhandari of Dumak village, where we will stay for the night. Panar Bugiyal is 6 km from Pitridhar top.
We have to abandon our plan to go to Toli Bugiyal owing to inclement weather,
and now trek to Sagar the next morning.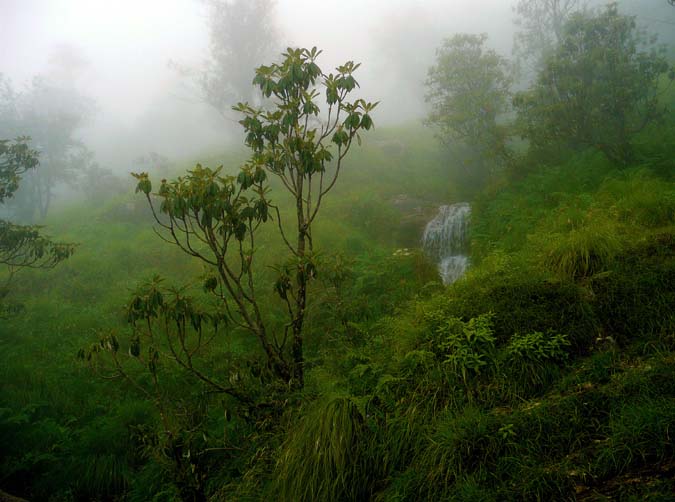 Enroute Sagar we have reached Moli Kharak with its dreamy waterfall. One might as well call it the Garden of Eden with all its serenity and calmness. Wild flowers, as we descend.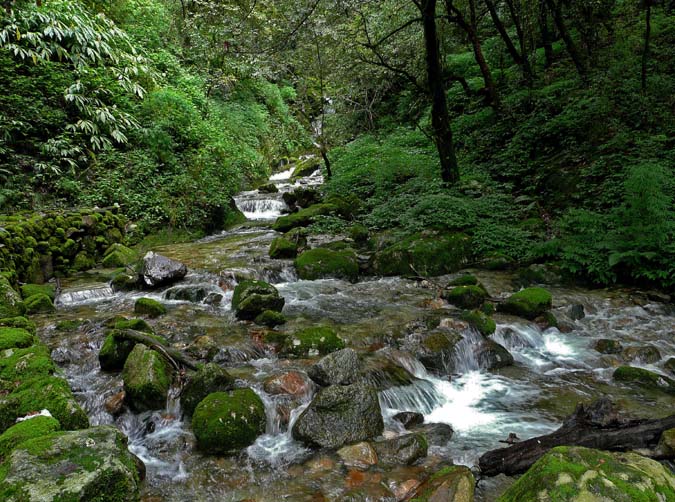 We are half-way to Sagar now. The patch of light-green visible at the centre in the left picture is our destination - Sagar village. The patch on the left is Phool Bugiyal ... our next halt at a distance of 4 km from Moli Kharak. We have to pass through dense forest. A view of our right side as we descend is in the picture on the right. Trekking along with the river on way to Sagar village.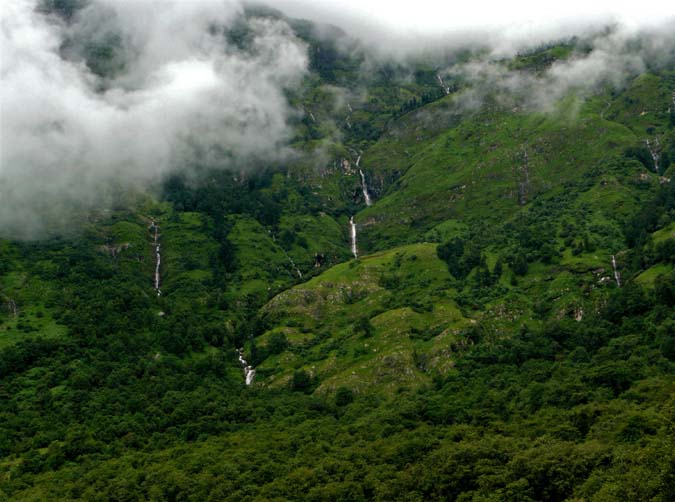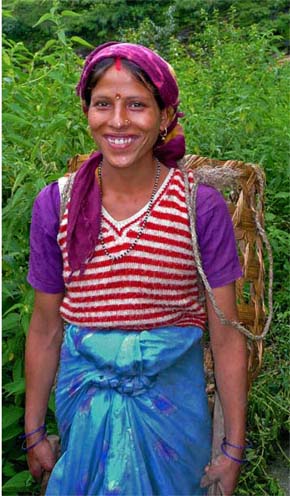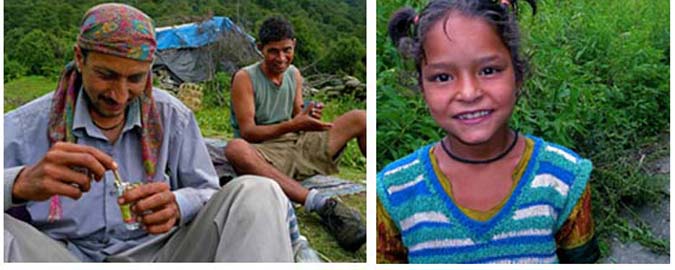 A view of the mountain and forest ... through which we have descended … tens of waterfalls are a heavenly sight ... Our trek is almost complete and our weariness is gone. Our guide Anand Singh Bist enjoying Bidi, while our porter Sarvinder Singh Bist grins. As a bonus we are greeted with locals with cheerful smiles.