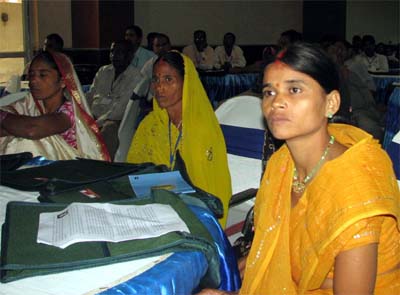 Neelam Devi, 35, and Israwati Devi, 45, from Bihar and eastern Uttar Pradesh, respectively, are women farmers struggling to make ends meet, as unpredictable rain patterns, rising temperatures and falling groundwater levels ruin crops and devastate the well-being of their families.

Far removed from the jargon of climate change these women, along with several other ordinary farmers, shared their experience of coping with climate change at a public hearing on 'Climate Change & Livelihoods in Flood Prone Areas' held in Patna, recently. The hearing is part of a nationwide series organized by Oxfam International to provide a platform for climate-affected people at the grassroots, so that they can catch the ear of policy makers and administrators.
The testimonies of Neelam and Israwati - along with those of eight other farmers, who came from places like Muzaffarnagar in Bihar and the villages of eastern Uttar Pradesh - will be taken to the Copenhagen Climate Change Conference that will be held in December this year.

"I belong to the flood-prone Raghopur village in Muzaffarpur district. In recent years, climate change has adversely affected our lives, agriculture and our cattle. We now face a changed weather system: During the monsoon there is little or no rain; then suddenly the skies open out and we have to face floods," explained Neelam in a steady voice. She pointed out that the changing weather pattern has left farmers with little option but to desert the land that had sustained them all these years and seek out new sources of income.

Neelam linked migration to climate change. She believed that "agriculture is no longer an occupation that can offer much to those who till the land." Both Neelam and her husband were on the verge of relocating themselves, much against their wishes, when help arrived. Recalls Neelam, "My husband was desperately making plans for us to migrate when this SHG stepped in and assisted us in setting up a shop so that we could earn a livelihood."

Those who stay on have to confront disturbing new realities. Upendra Choudhary, 50, from Dumri village of Muzaffarpur, has observed three trends that are increasingly making themselves felt in the region: Temperatures rising to 40 degrees Celsius - very rare in earlier days - dangerously declining groundwater levels and frequent floods. In fact, some blocks of Muzaffarpur witness floods almost every year.

"Anomalies like this are adversely impacting every single person. Falling water levels have hit farming operations considerably. The more prosperous farmers are now resorting to pumps run on diesel and electricity to squeeze out precious groundwater from the earth," explained Choudhary.

Having travelled to Patna from eastern Uttar Pradesh (UP), Hublal Chauhan, 50, from Maharajganj, also mentioned that he now missed the early winter nip in the air that had once marked the onset of the month of October. Chauhan appeared to be a keen observer of nature. According to him, "the migratory birds and the common sparrow have disappeared from our regions." Chauhan, like many other villagers, has been forced to adopt new ways of coping with the unpredictable situation. He now does mixed cropping on his fields and believes that grain banks have become essential to ensure a modicum of food security for the household.

While the urban populace finds quick relief from rising temperatures by installing air conditioners, which incidentally only contribute to the problem, marginal farmers and their families know very well that there is no device that can instantly raise groundwater levels or improve the quality of the harvest. The testimony of Israwati, a woman farmer from Sant Kabir Nagar in UP, was eloquent. "The milk yields from my cattle have declined greatly because of the unbearable heat. Even the size of fruits has decreased."

Israwati is part of a growing tribe of rural women who have been forced to become farmers and breadwinners for their families. This is largely because the men have moved out of the villages in search of better paying work, leaving the women to tend to the fields that they had once tilled. The women who are left behind now have to bear the double burden of having to farm the land as well as play their traditional roles as caregivers within the household.

As various voices - seldom heard by the city elite - threw light on the impact of extreme weather on local livelihoods and incomes, it also became apparent that it is the women, children and the elderly who are the worst affected. Not only has climate change adversely impacted on the quantity and quality of food available to them, people who are either too young or too infirm to look after themselves suddenly find themselves without adequate familial support.

Well-known Bihar-based Hindi writer Usha Kiran Khan, who was part of the five-member jury at the Patna hearing, elaborated on the tough routine of the women when the men are away from the villages for most part of the year. "In the area around the Kosi river, you can see women row boats to ferry sick family members to hospital. It also leaves them vulnerable to attacks from hoodlums," she said.

Jharkhand-based academic, Dr Ramesh Sharan believes that the time has come to perceive climate change as a part of development. He also reiterated the fact that while the men can escape to the cities in search of jobs, most women have no option but to suffer the worst consequences of climate change. And, as Professor Santosh Kumar of the National Institute of Disaster Management, observed, "when women are affected, the whole household is affected."

Khan felt that a public event, like the one that was staged in Patna, would go some way into helping city people understand the problems and experiences of those living vulnerable lives in the rural hinterland who are otherwise unseen and unheard by those who make policies.

The testimonies presented at the Patna meet will now be documented and presented at the Copenhagen Climate Change Conference, which will be attended by heads of government. Jeremy Hobb, Executive Director, Oxfam International, underlined the fact that climate change was an international problem and strongly felt that the changing circumstances on the ground called for serious policy changes.

Earlier at the hearing, participants staged a play to demonstrate how unpredictable weather patterns takes everyone by surprise and leaves ordinary people with little time to take protective action.

Madhubani's Chandrakala Devi poignantly summed up the situation, "Our lands can no longer promise us food all the year round. We hardly know the mood of the weather so our men are forced to leave us and go out to the cities to earn so that we can eat. We are left with nothing but huge responsibilities and mental agony."