In his conversation with Chinese leaders, India's Prime Minister Manmohan Singh had talked about the need to save the Himalayan eco-system in times of climate change. But the big picture on how climate change is actually impacting the lives of millions living in the Indian side of the Himalayan region really emerged at an unusual public hearing at Rishikesh in the Garhwal hills in which ordinary people from Himachal Pradesh, Jammu and Kashmir and Uttarakhand talked about their experiences. It was organized by Oxfam India along with around 30 civil society organizations and people's movements working in the area.

The worst affected are clearly the poor farmers and their families. Take the case of Kamla Devi, a 65-year-old inhabitant of Ghungoli village in Chaukutia, which lies about 90 kilometers ahead of Almora in Uttarakhand. Used to having her morning tea with milk, Kamala is now trying to acquire a taste for black tea. The reason is very simple. Her milch cattle no longer produce the quantities of milk they once did, forcing her to give up on milk in her tea.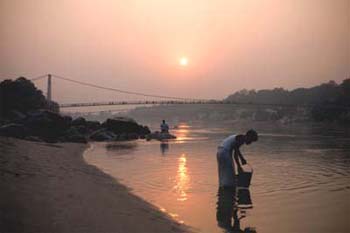 "Climate change is a real phenomenon, and we who live in the hills and till the land are having to pay a heavy price."
Unfortunately, this is only one small example of the innumerable ways in which climate change has changed Kamla's daily routine. "It is a vicious circle. Earlier, we had oak trees and the leaves provided the fodder for our livestock. Now, the oaks have been replaced with pine trees. Oak trees flourish in cold climate but due to the rise in temperatures, there are only pine trees growing where we live. Oak trees also help in recharging surface water and since oak forests are not there any longer, water sources too have begun to dry up. Earlier, we had livestock that would yield milk. Now it is difficult to keep livestock since fodder to maintain them is not available," revealed Kamla, adding, "Milk for the children now has to be acquired from commercial sources at unaffordable prices whereas earlier it came from homestead cattle."
Kamala was one of the over 250 farmers who had come to the Rishikesh hearings. Of course, this humble villager did not use scientific jargon to define climate change but she cited everyday evidence of it, "By early October, we women always wore full-sleeved blouses because of the chill in the air. Now, we can make do with half-sleeved blouses well into the month."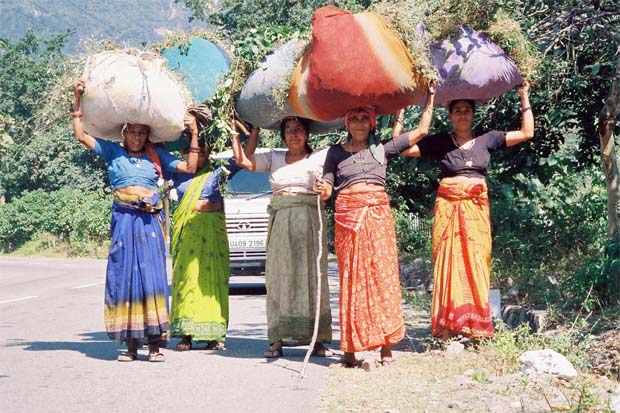 But where the changing weather patterns have really hit home are in crop yields, which have of late been erratic and at times even negligible. This in turn has forced many to give up their traditional ways of earning a livelihood from their fields and migrating in search of work.

Raghu Tewari, an activist from Aman - a voluntary organization in Almora - explained that the production of pulses such as bhat (Pahari daal), gahat, masoor, soya bean and minor millets such as mandwa, madira and kauni had declined drastically in Almora district. "Due to climate change, water resources have declined sharply and this non availability of water for irrigation has compelled a large number of persons to give up farming. The livelihood crisis arising out of unpredictable weather has left farmers with no choice but to migrate to Delhi, Dehradun, Haldwani and Mumbai, in search of jobs. They end up as drivers, conductors, factory workers or watchmen," he said.

The situation is not any different in the neighboring state of Himachal Pradesh (HP). Dulambh Singh, a farmer from Mubarakpur village in Una district of HP, informed participants at the hearing that deficient rainfall this year has left them with no choice but to irrigate their farmland six to seven times. "This upsets our entire schedule. We had rain in August instead of July. The paddy crop that we would have got in October will now be delayed by a month. Meanwhile, the water table has gone down further because of deficient rainfall," he said.

Singh, who retired as a Soil Conservation Officer from the Punjab government before taking to full time farming seven years ago, added, "I have 20 acres of land in Ambota and Mubarakpur where I grow paddy, maize and sugarcane. In the last six years, the temperature has been rising to 44 degrees during the summer months. This is a four-degree rise above average summer temperatures. Every year, there is a five per cent decline in crop yield due to a rise in temperature. This has had adverse effects on soil fertility as well."

Himla, a farmer from Matli in Uttarkashi, spoke about how this is affecting food security. Those who grow wheat and paddy have had a tough time this year since there was no rain in January-February and there has been no yield this year of mandwa, the local hill millet which is a staple of the region. In normal conditions, farmers can subsist on mandwa for seven to eight months.

According to Uma Mahajan, a Shimla-based ecological activist, "Climate change across various hill regions have had a severe impact on the traditional livelihood system of agriculture and animal husbandry, generally speaking. There has been deterioration in the quality of local crops, like lentils, kidney beans and corn that come from Chamba in Himachal Pradesh. This is due to the constraints of fitting traditional systems of farming into a market system."

According to Dr Sunesh Sharma, from the Department of Geography, Garhwal University in Srinagar, Uttarakhand is more vulnerable to the impact of climate change because of its altitude. He went on to provide an insight into how the cultivation of the valuable medicinal plants from this area has been affected.

Said Dr Sharma, "The Nanda Devi Biosphere Reserve - declared a UNESCO Heritage Site in 1988 - is witnessing an upward migration of plants, especially valuable medicinal plants. It is affecting the livelihood of people dependent on these plants as the core zone of the biosphere is prohibited for any human activity. In traditional healing systems the local people use plants such as atish (for stomach disorders), hathajadi (for cuts and wounds), balchari (to prevent hair fall) in the traditional healing system and these local medicinal products were often sold by the roadside in Joshimath. The reserve in Joshimath block in Chamoli had 10-15 kinds of crops in the 1970s, '80s and '90s. But of late there has been a discernible decline in crop yield."

The speakers at the hearing seemed to say in one voice: "Climate change is a real phenomenon, and we who live in the hills and till the land are having to pay a heavy price." The most important conclusion that emerged from this two-day hearing was this: Fundamental changes are required in the environmental governance of the Himalayas before it is too late. Now, Oxfam India, along with other civil society organizations, is in the process of compiling recommendations that they propose to submit at a conference of chief ministers of hill States in Shimla. Further, Aditi Kapoor, Lead Specialist (Economic Justice), Oxfam India, informed, "We are going to take some of these voices of poor women and men to the national hearing in Delhi (November 11 to 13, 2009) and then on to the Copenhagen conference in December."