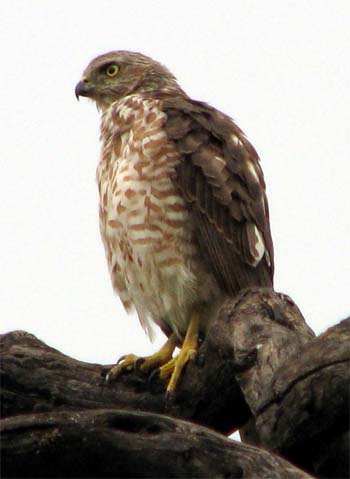 Bharatpur
A large variety of birds are converging in Rajasthan's Keoladeo National Park after a gap of almost five years, as this year's ample rainfall has led to wetlands teeming with food to last them through winter.
Cormorants, darter, black-necked storks and painted storks have set up large nesting colonies. Warblers, lesser whistling duck, grey partridge and jungle bush quail, among others, are also dotting the landscape in plenty.
The grey heron, a migrant, can be seen roosting on tree tops by water pools. More migratory birds are expected to come next month. The extensive rainfall in the region this year has helped to alleviate the water crisis that troubled the area for almost half a decade.
The vast swatches of wetlands in Keoladeo, a UNESCO heritage site about 180 km from Indian capital New Delhi, are teeming with aquatic life that attracts water birds from northern Eurasia every winter.
Some species of cormorants come here from as far as Europe and China. Qinghai Lake in China's Tibet region is a favorite place for these birds in summers.
"The months of June and July (the rainy season here) are crucial, as the amount of water received during this time is a decisive factor for the arrival of birds," said assistant conservator of forests Rajesh Gupta, who is in charge of the park.
"The birding season has just begun but we are expecting more varieties of non-resident birds," Gupta told IANS.
The biggest attraction in the park every winter is the now rare Siberian crane. These birds migrate to Keoladeo during winters from their breeding grounds in Russia's arctic region as well as a few places in China.
Keoladeo is their home in winters - the only place in the country where they congregate in large numbers. The greylag goose, ruddy shelduck and the red-crested pochard also come in large numbers.
Keoladeo was declared a Ramsar Site in 1981 and in the same year also named a national park. It was declared a UNESCO World Heritage Site in 1985.
In the recent past, recurrent water shortages threatened the park's sensitive wetland ecosystems. Many water birds stopped visiting the park when wetlands dried up and considerably damaged its reputation.
Officials said 353 species of birds, including subspecies, have been recorded, of which 120 species nest in the sprawling 29-sq km preserve.
By February, most migratory birds return to their breeding grounds, while resident woodland species start nesting at the onset of spring.
The sanctuary also has spotted deer, bluebull (nilgai), sambar, jackal, monitor lizard and otter, among others.
Keoladeo's rich diversity of birds attract tourists, ornithologists and photographers from all over the world.
About a hundred years ago, during the period of Lord Curzon, then Viceroy of India, the preserve was used as a duck hunting ground. This practice was banned later.
The park was named after Keoladeo (Lord Shiva) temple, located at the centre of the preserve.