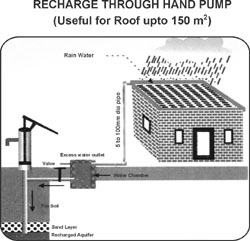 Recharge through hand pumps and dug wells
Working/abandoned hand pumps and abandoned dug wells (see figures) near the houses in alluvial areas where the aquifer is comparatively at a shallow depth are ideally suited for recharge.
Hand pumps are useful for roofs up to 150 sq m, whereas the dug wells can recharge the aquifer from roof tops larger than 1000 sq m.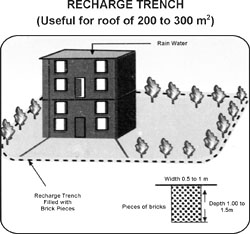 Recharge Trench
For high rise residential complexes with sufficient open space a recharge trench (see figure) is useful. This involves digging a trench 0.50 to 1m wide and 1-2 meter deep trench around the perimeter of the complex. The trench is filled with pieces of bricks and water from the roof is diverted to the trench. This technique is useful for roofs up to 200 to 300 sq m area.

Precautions

Water from first rain should not be harvested as it brings along with the atmospheric pollutants too. Many of them are injurious to life. Use of proper filters between the water outlet from the roof and the recharge structure is strongly advocated by experts. In case of rainwater storage periodic chlorination is necessary to avoid bacterial contamination.

Advantages

Rooftop rainwater harvesting augments the availability of water, checks the declining water table, it is eco-friendly, dilutes the fluorides, nitrates and salinity of groundwater and prevents soil erosion and water-logging particularly in urban areas.

Problems

Easier said than done, the most common complaint of people is lack of information regarding the availability of technical guidance, masons and technicians to do erect the structures. Applying common sense some people are lucky enough to install a structure that really harvests water. On the contrary some have lost money along with water in the process. Actually the issue needs a wider publicity and awareness.

Metros move ahead

Delhi

Countrywide though rainwater harvesting is just a mere dot in the map, the scene in localized pockets is gradually changing for better. The Residents Welfare Association (RWA) of a colony in south Delhi has been able to harvest approximately 48,000 cu m of water annually continuously for past two years. The RWA was assisted by the Centre for Science and Environment (CSE). A well laid out water collection system from the roofs and the streets takes water to recharge structures strategically located in the colony. The costs of such structures vary from Rs 8000 for a private recharge tank to Rs 30,000 for a recharge tank for the entire block.

The depleting and overstretched water table of Delhi needs hundreds of such structures. Collectively they can change the shape of the things. But the government is perhaps more interested in transporting water from the Ganga River!

Mumbai

Compared to Delhi , Mumbai is colossal. It is one of the ten mega cities of the world and most densely populated amongst the Indian metros with a population density of 36600 persons per square kilometer. Demand of water for the metro is 3900 million liters per day (MLD) against a supply of 3000 MLD. The original water supply scheme of Mumbai was commissioned in 1810 and subsequently many more schemes were added. Today the water supply meets 95% quota from sources as far as 110 to 120 km away. Obviously with this scenario and anticipated rise of population there is not going to be much change in the demand and supply ratio.

During monsoon billions of liters of water flows down to the sea in Mumbai. Rainwater harvesting is the only answer to save Mumbai from remaining thirsty on the sea shore. Taking into account the area of Mumbai and average annual rainfall, an estimate says that if roof top rainwater is religiously practiced nearly 590 MLD water can be easily harvested. This would considerably ease the problem of water logging too during the monsoon.

Mumbaikars have to take cue from the RWA of Delhi and self implement rain water harvesting in their societies. Waiting for the government to implement such schemes may not be of much use. Like anywhere it seems such 'small measures' are of not much interest to the government.

Kolkata

Unlike Mumbai, Kolkata is located on the terminal part of Ganga-Brahmputra Alluvium. Precipitation is also sufficiently high yet Kolkata faces water shortage. Indiscriminate use of tube wells is one of the root causes. In Kolkata an individual can sink a deep tube-well by paying a pittance of Rs 4000 per annum to the Kolkata Municipal Corporation.

While water levels are going down in central and south Kolkata, West Bengal Pollution Control Board has installed as an example Rainwater Harvesting structures in Loreto Convent, Sealdah and Rajbhawan. These structures will replenish 6, 00,000 liters of water and also store 10,000 liters water. The state government has to lay and implement stringent rules and clear maps of new housing projects only if rain water harvesting structures are included by the builders.

Chennai

Geohydrological condition of Chennai is worst compared to other metros. Despite a big 'water trade' through tube wells in the farms near Chennai the government has laid strict rules for water harvesting and recycling. A year ago this author was surprised to observe a 'leak-proof' network of water supply pipes in Chennai. Investigations revealed that these pipes can not leak because there is no water in them. Majority of the population gets water supplied through water tankers. A water tanker carrying 12,000 liters of water costs between Rs 7000 to Rs 10000. A family of five needs about 2,46,375 liters water per annum at an average cost of about Rs 20,530. A house plot of 2400 sq. feet can yield up to 2, 55, 500 liters water in a year. It is economical because only one time installation cost involved. Law abiding, disciplined residents of Chennai did attempt rain water harvesting seriously and succeeded to quite an extent. A little encouragement from the government like reducing the house tax of an owner who implements rainwater harvesting will go a long way to improve the situation.

Metros are the places where the richest of the rich and also the poorest of the poor live. The media also keeps a regular eye on the activities of the metros. Even the efforts made by individuals, society, NGOs and Institutions towards rain water harvesting get well publicized.

We have read something about the rain water harvesting in the metros. In the next issue we will read about some success stories from some remote places.