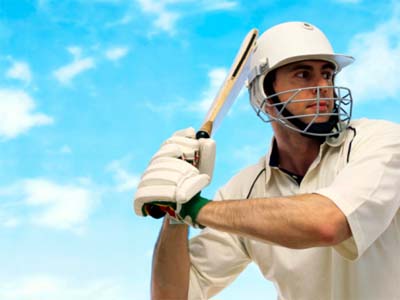 David hit the ball hard for a six. Luck was again on his side. There was a six! This sixer in the last ball of the last over turned the tables and his team won the match. David was bound to get the credit for his efforts. Popularly known as
the 'lucky star of the team', they could always count on him for delivering
tactical sixes at the critical times.

David could hardly contain himself at this moment. His name was being called to receive the - man of the match - check and award for a handsome score of 86 runs!
He thought, "I'll definitely go for a century in the next match." His team had to win the next match to enter the finals. They were counting on him to a greater extent this time. One of their finest batsmen had a knee injury and couldn't play in the rest of the matches in the series tournament.

The team rejoiced, the trophy held high in their hands. David prided himself on his performance. Looking high at the sky, he thought, "Yes! One day I'll be one of the brightest stars high up in the sky." He could hardly wait to go home to his dearest father and boast of their victory. He was about to turn to leave the field when he spotted his father's tall and smart figure approaching him. As he rushed to meet him, suddenly an unusual pain seized him. He was experiencing a terrible pain in his head. Holding his head with both his hands he fell on the ground, with an unusual sinking feeling.

David opened his eyes in the hospital. He was unable to recognize any of the faces around him and felt uncomfortable on the hard bed on which he lay. Slowly he began to remember that he had fainted in the cricket stadium. It must have been due to undue exhaustion and stress. He was absolutely healthy! Then why was he here in this depressing room?

There was some activity in the room. Then the door opened and his father stepped in. What a relief to see him, he thought. The doctor examined him for sometime and then allowed his father to speak to him.

David's father, Mr. Houston, had been a very hearty and energetic man. He was a friend to his son and a wonderful father. But here, in this room, he appeared to have aged suddenly. David could feel his father being tense and tired. Embracing his son he asked, "How are you feeling now?"

"Drained and starved!" David managed to smile weakly. He turned toward the doctor and asked,

"Tell me doctor. What's the matter with me? See, there is no point in hiding facts from me. Better to tell me the truth right now."

The doctor sat beside him and said, "Frankly speaking, some damage has been done to your brain. You have developed a tumor. You must have ignored your earlier head pains as mere headaches. I wouldn't say you have no chance to live. No! That would be extreme pessimism. What I recommend is that you should get admitted in our special ward for immediate treatment. Believe me; you have a chance of survival. We just need your consent and will power. That's very
important. What do you have to say now?"

David felt so empty inside. Though he had tried to be brave by asking such a direct question, he had not expected this. He could feel his entire whole world crashing in front of his eyes. His dream of becoming - the brightest star - in the sky seemed to be fading away. He could hardly speak as his eyes were filled with tears.

His father took him in his embrace and said, "Don't worry son! The doctor is really hopeful - you can make it. I too believe it. You'll soon be ..."

"I don't believe I can make it Dad. It's over for me now. No more cricket! I can't play this match now. The whole team depended a lot on me for this crucial match. Oh God! Why did this happen to me?" he cried as his father too broke down, hugging him tightly, wishing this were not the reality. The doctor watched them ...

David was shifted to the special ward the next day. There was not a single ray of hope in his heart. For him, life had ended. He became sadder when his team mates came to visit him. They left him, feeling disappointed with fate.

Two days passed. David found himself in more pain than before. However, the doctor was still hopeful.

"Ah! He's just giving us false hope Dad," he told his father that day. Later that day he felt a bit better. The attendant took him out into the garden. It felt so odd to face the sunlight, the trees, and the sky after three days. David looked up at the sky with a forlorn look, his mind screaming with helplessness, his eyes flooded with tears ... Suddenly, someone blocked his view. A pretty girl
stood in front of him, a smile on her face.

"Hi!" she said cheerfully. "My name is Sara! You are David, aren't you? Actually, the attendant told me about you. Don't worry, you'll be fine. I too ..."

David felt angry at her sympathy. His personal moment was stolen away from him. He didn't like this sweetness from a stranger. He cut her words, saying, "Excuse me. Do you mind leaving me alone right now?"

Sara's face fell, but she regained her cheerfulness immediately. "Not at all. I'll come to meet you later. Have a nice day David." Saying goodbye, she left him.

David realized that he had been rude but mentally he did not accept the fact that he was ill. He did not feel like being nice to people. He was about to die, that was the truth. He had nothing more to do with the world around him.

In the morning a nurse came to David with a bunch of flowers. A note attached to it read:
"Say bye to anger and despair. Live with hope in your heart.
Best wishes, Sara.

PS: I'll come to meet you in the afternoon. Bye till then."
He failed to understand why this girl was trying to talk to him. What was the use? She'd probably not see him alive after a few days or weeks! Who knew? When afternoon came, he asked his attendant to take him out for a walk. When he came back, he was astonished to find out that no one had come to visit him. He had expected Sara to visit him. Late in the evening, he felt miserable with pain. He was sure that he was about to die, not knowing that this was to be very normal now. His treatment would cause him more pain.

He needed patience. His father came to visit him.

"Dad, can't I come home? I don't like this place. I don't want to die here. I miss you, my room, and my home".

"David, I never knew you were such a pessimist. Why are you always talking about death? You'll have a long life, my son. See, the doctor suggested to send you to America for further treatment. There are better medical facilities than here. I don't care about money. I've decided that we'll fly to America in a few days. I'll make all the arrangements soon. Please, I want you to be hopeful-for my sake at least."

David had never seen his father so worried and pleading. He felt guilty as well as sad about the whole thing. His thoughts were interrupted by a knock on the door. It was Sara, smiling as usual.

"Hello! I just dropped by to see how you were. Feeling any better? I'm sure you will. You have a visitor now. I'll come to see you tomorrow." She was about to leave when Mr. Houston stopped her.

"I am David's father. Please stay and talk to him. I have to go for sometime."

Turning towards David he said, "Bye dear. I'll come soon." He started to leave. "Bye young lady."

Sara extended her hand saying, "Bye sir. By the way, my name is Sara."

"Pleased to meet you. Are you working here?"

"Oh no! I am also admitted here. I am suffering from lung cancer."

Both men were shocked to hear this. David couldn't imagine her to be so hearty in spite of such illness. He felt both ashamed and sorry. He was not the only one to suffer. There were many more! He asked Sara to sit down while Mr. Houston left the room.

Sara talked about nature, life, books, and herself. She had no complaints from anyone. This was like. She had to accept reality. She had been ill since the past eight or nine months. Still, she hoped to live.

David told her about going to America. She was happy to hear that. "Do write to me from there. You can send me postcards. I love to collect them."

David smiled at her. She was so sweet. They talked for a long time about many things till Sara's attendant took her away. They met the next day also. A bond seemed to develop between them. David wished he could live, and so could Sara. All the arrangements had been made. He had to leave the next day. He felt sad to leave while other patients were here. He told so to Sara.

"Don't worry about us. As soon as you are fine you'll come to visit us here. Won't you? We'll be here and wait for you. Who knows? Maybe I'll be out of here soon. Let's hope so."

David left the next day. His heart and mind were filled with hope and determination. He was lucky to get admitted in one of the best cancer hospitals in America. The treatment given to him there yielded positive results. He wrote regularly to Sara. She too replied regularly. A month passed by this way. He was much better. Gradually, he regained his lost health-both mental and physical. He sent beautiful postcards to Sara regularly though her replies were less frequent now. She wrote that she was okay and her treatment had been geared up and hence she couldn't write regularly. Time flew by. It had been three months now. David had not received a letter from Sara since two weeks now. Nonetheless, he was excited, as the doctor had given the permission for his discharge. He decided to give Sara a surprise and hence did not write to her.

On their return, David asked his father to go to the hospital directly from the airport. He couldn't wait to see Sara. Their car stopped in front of the hospital building. He rushed inside-everything seemed to be the same. He went inside Sara's room. Someone else occupied it. She must have been discharged, he thought. He looked for her doctor or attendant. If he could get her address, he'd visit her there. On his way down he met her attendant. He couldn't locate any of them, so he decided to ask about her from the admission block. He was informed that Sara Wilson had died a week ago. She was in miserable pain-it was better for her to die. Anyway, she had lived longer than the doctor had told her!