Congress Skeletons in Bhopal Gas Tragedy Cascading Out
India today is pulverized by Indian media reports in which Congress skeletons involved in the 25 year old Bhopal Gas Tragedy at the highest levels are not tumbling out but cascading out. India is shocked and incensed that Congress leaders at its highest levels were instrumental in releasing from police custody and facilitating escape of Warren Andersen, CEO Union Carbide in whose plant the Bhopal Gas Leaks occurred killing nearly 20,000 Indians and maiming thousands more. The Congress Party in its damage –control efforts to protect the name of then Prime Minister Rajiv Gandhi is tying itself into more knots.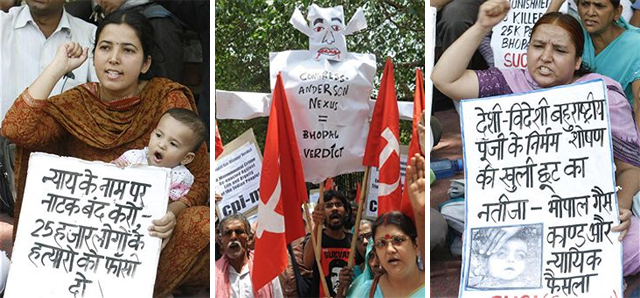 The Congress Party line is that the decision to release Anderson and fly him out from Bhopal to Delhi enroute to USA was taken by then Madhya Pradesh Chief Minister Arjun Singh The Congress Party would like the country to believe that a Congress Chief Minister could act independently and without consultation with his Congress Prime Minister on a matter of a such great national tragedy.

The Congress Party cover-up damage control has provoked a torrent of public revelations by senior bureaucrats and police officers which point that then Chief Minister Arjun Singh after ordering the placing of Andersen in police custody on non-bailable offences came under tremendous pressure from New Delhi that Andersen had to be released, flown out to Delhi enroute to USA. Reports indicate that US President Ronald Reagan had phoned the PM Rajiv Gandhi for Andersen's release.

Union Carbide assets in the aftermath of the tragedy were sold to Dow Chemicals, another US company possibly with a view to escape damages. As if the facilitating of the release of Andersen under US pressure was not enough, a follow-up storm has now engulfed the present Congress Government and the Congress Party. Leading luminaries of the Congress Government now appear to have been lobbying for Dow Chemicals not to be held responsible for cleaning-up the Carbide Plant in Bhopal and other damages. The electronic media is flashing copies of letters on their screens pertaining to Union Home Minister(then Finance Minister) Chidambaram, Minister Kamal Nath and others to Prme Minister Singh saying that if waivers could be given to Dow Chemicals then that would bring in billions of dollars investments to India.

In the same development Indian TV grilled Congress Party MP and national spokesperson Abhishek Manu Singhvi as to why he accepted being Senior Counsel for Dow Chemicals. Obviously there has been involved a serious "conflict of interests" on the part of senior Congress luminaries which should have not escaped the attention of the Congress President and the Prime Minister.

The Congress pressure is on now on Arjun Singh to speak out and as to why he is keeping silent on the issue. Presumably the Congress Party is hoping that Arjun Singh could be pressurized into giving statements that then PM Rajiv Gandhi was not involved and he alone took the decisions. That would be another travesty of the truth. The decision to put Andersen under arrest in Bhopal may have been of Arjun Singh as Chief Minister but available evidence suggests that Arjun Singh was under tremendous pressure from New Delhi to release him.

The Congress Governments of the day seems to have made trademark signature of theirs to let foreigners flee from India to escape justice and punishment. First were Andersen and then the sordid Quatrochhi escape from Indian justice. In both cases who was the Congress shielding?

Indian political leaders of all hues still have not realized that their shenanigans can no longer be kept out of public view and scrutiny by a pliant bureaucracy and police on orders from their political masters. The Indian media especially the leading English networks and the Indian public are alert and vigilant to take to task the people whom they elect for want of better choices.

The Congress Party knowing well the evidence stacked against them should have at the first instance apologized to the people of India for their failure in relation to the Bhopal Gas Tragedy. That would have pre-empted the cascading out of the skeletons from its closet.
13-Jun-2010
More by : Dr. Subhash Kapila
---