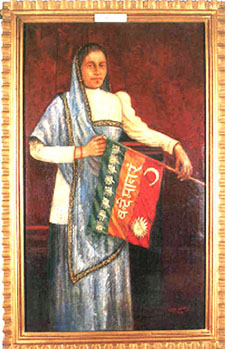 She was a fiery patriot who first unfurled India's flag at an international assembly. She turned away from a life of luxury and lived in exile abroad in Europe for 29 years to serve the cause of our country's freedom.

From the early years of the 20th century, groups of Indians established centres for revolutionary activities in Europe, America and Asia. They carried on propaganda for India's independence among Indians living abroad and mobilized them for revolutionary operations. They maintained contacts with revolutionary groups in India and supplied them with revolutionary literature and even arms. During 1907 and 1914, Paris became the most important centre of Indian revolutionaries in Europe. One of the greatest revolutionaries of this period in Europe from India was Madame Cama. She brought out the Journal Bande Mataram. She and colleague S R Rana, another great freedom fighter, were in touch with other great revolutionaries like Shyamaji Krishnavarma, Veer Savarkar, V V S Iyer, Bhai Paramanand, Ajith Singh, Chambakaraman Pillai and others.

Madame Cama was born in 1861 to a well-to-do Parsi family in Bombay. One of Madame Cama's first great opportunities for doing public work was during Bombay's great plague in 1897. Without concern for her own life, Madame Cama tirelessly nursed the ill back to health, and then, like any good missionary, converted those she helped to her cause of Indian independence. Unfortunately, in that process, Madame Cama, herself, fell sick. In response, her friends and family sent her to Europe in 1902 to enable her to recover her heath.

Madame Cama's brief but meteoric political career started in London in 1902. Eventually, Madame Cama set up base in London. There, she became Dadabhai Naoroji's private secretary. He was an important Indian dignitary. Through him, Madame Cama allied herself with many patriots and began speaking against British rule.

Madame Cama became so famous and influential, that the British Government concocted an assassination or murder plot against her! When Madame Cama caught wind of this plot, she secretly escaped across the English Channel to France! She turned her French home into a secret hideaway for revolutionaries worldwide. She made friends by sending pistols disguised as Christmas gifts to Irish and Russian nationalists. As the British saw her influence abroad increase, they begged France to send her back to India. When the French government refused, the English exiled her from her motherland and seized her inheritance.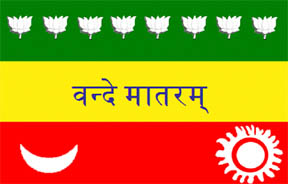 Naturally, despite all British attempts to disillusion Madame Cama, she continued championing her cause of India's freedom. In 1905, Madame Cama with other patriots, designed India's first tricolor flag. The flag had green, saffron, and red stripes. The top, green stripe had eight blooming lotuses representing India's then eight provinces. 'Bande Mataram' was written across the central, saffron stripe in Hindi. On the bottom, red stripe, a half moon was on the right and the rising sun on the left. In spite of her English education and her 35 year stay in Europe, she advocated the introduction of Hindi in the Devanagari script as an uniform language in India.

Madame Cama and other freedom fighters in Europe also established contacts with socialists in France, Germany, England and America. Madame Cama participated in the Congress of the Second International at Stuttgart in 1907. At this international socialist conference, Madame Cama unfurled the tricolor National Flag of India which she and her friends had designed in 1905 bearing the immortal words of Bankim Chandra Chaterjee - Bande Mataram. It was hence, no mean achievement of Madam Cama, when she unfurled the first National Flag at the International Socialist Conference in Stuttgart (Germany) in 1907. A thousand representatives from several countries were attending. An Indian lady in a colorful sari was a rare phenomena in those days and Madame Cama's majestic appearance and brave and clear words made everybody think that she was a Maharani or at least a princess from a native state. There, she held up the flag and declared in a bold voice, 'This flag is of Indian Independence. Behold, it is born!...I call upon you, gentle men, to rise.. .I appeal to lovers of freedom all over the world to cooperate with this flag. Hail Bande Mataram !. Hail Bande Mataram!!'

Her passionate speech against the British tyranny in India was published at the end of August in the German Socialist paper Vorwarts.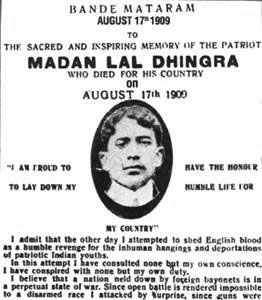 Madan Lal Dhingra (1887-1909), a 22 year old engineering student studying in England, assassinated Sir Curzan Wyllie, political Aide-de-Camp to the Secretary of State for India, Lord Morley in London in 1909. He was hanged at Pentonville Prison, London, on 17 August, 1909. Before going to the gallows on that day, Madan Lal Dhingra, spoke the following inspiring words: 'I believe that a nation held down by foreign bayonets is in a perpetual state of war. Since open battle is rendered impossible to a disarmed race, I attacked by surprise. Since guns were denied to me I drew forth my pistol and fired. Poor in health and intellect, a son like myself has nothing else to offer to the mother but his own blood. And so I have sacrificed the same on her altar. The only lesson required in India at present is to learn how to die, and the only way to teach it is by dying ourselves. My only prayer to God is that I may be re-born of the same mother and I may re-die in the same sacred cause till the cause is successful. Hail Bande Matram! Hail Bande Matram !'

When the First World War broke out in 1914, Madame Cama and S R Rana were interned in France, Indian revolutionaries like Cama, Rana and Shyamaji Krishnavarma tired to secure the help of Turkey and Germany, Britain's enemies in that war, for overthrowing the British rule from India. Berlin became their most important centre in Europe. After 1909 she published two revolutionary periodicals, Talwar and Bande Mataram from Geneva. These were smuggled into India through Pondicherry. Virendranath Chattopadhyaya, who was publishing the TALWAR, was joined by Bhupendranath Dutt, Barkatulla, Champakaraman Pillai and others. They formed what is called the Berlin Committee. In the mean time, a powerful organization of Indian revolutionaries called the Ghadar Party had been formed in North America. The Ghadar Movement in America was started by Lala Hardayal, another great Punjabi leader. This Ghadar Party and the Berlin Committee, taking advantage of the I World War, organized anti British uprisings in India during the war.

According to the History Sheet of the Criminal Intelligence Office of the Home Department (Political) of the Government of India in 1913, 'She was at that time one of the recognized leaders of the revolutionary movement in Paris, and was said to be regarded by the Hindus as a reincarnation of some deity, presumably Kali'. The truth of this assertion aside, she was sympathetic to the most radical expressions of the Indian national movement.

In 1910 the British Government requested France for her extradition. When this was refused, her property in India was confiscated. Several Parsi women came under her influence and were kept under political surveillance. With the outbreak of World War I, she was interred in a camp in France, and her political activities came to an end. Madame Cama's battle cry on her heroic march to freedom was: 'March Forward! We are for India. India is for Indians! Hail and sing Bande Mataram!'

Madame Cama was a powerful orator who traveled all over the world, including the US, speaking on behalf of India's freedom under the flag and banner of Bande Mataram. She rallied foreign support for the cause of our freedom from many nations. In my view, another great achievement was that she taught Indians to make bombs, and also sent weapons secretly to India for being deployed against the alien rulers. Whatever might be thought of her extremism it had the effect of putting across the Indian message with a force and clarity it had never had before. Conviction, courage, and integrity were her foremost characteristics which won for her the respect and admiration of a widening circle of people and beyond this the attention the Indian cause so desperately needed at that time. All who came into contact with her felt the impact of her unquenchable spirit of Independence from British rule.

Madame Cama returned to Bombay in 1931 when she was 70. She passed away in Bombay on August 13, 1936, eleven years before the birth of our freedom.

A lifetime of unparalleled adventure and influence for a woman, Madame Cama demonstrated a woman's true place in a man's world. As she, herself, declared, 'Do not forget the role of women which is also important in building a nation.'