Needs to Politically Empower Itself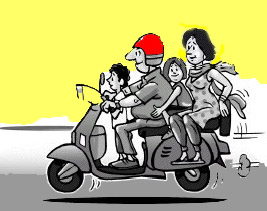 In India's ascendant trajectory towards global power status, one major strength that is attributed to it is the existence of a large English speaking, highly educated and professionally well qualified middle class. A highly educated and economically prosperous middle class provides the backbone of an advanced nation and in the case of a developing economy like India it provides the shoulders and the muscle on which the nation climbs the trajectory to power. India's rising knowledge-based economy is squarely based on the shoulders of its ever expanding middle class. The 'Great Indian Middle Class' is said to number today between 320-350 million people. This amounts to nearly 30% of India's total population. In comparative terms it amounts to much more than the entire population of the United States.

While this fact is one of which India can be proud of, what is regrettable is that this 'Great Indian Middle Class' has not politically empowered itself. This lack of political empowerment of this vital segment of the Indian nation and which generates India's rising economy can be attributed to two reasons. The first is the making of the 'Great Indian Middle Class' itself in that it does not participate in India's electoral process. The vast majority does not venture out on election day to vote out of sheer laziness of not wanting to stand in long queues to exercise their fundamental right to decide the political complexion of the Government that would come into power and hence the political destiny of India.

The second reason is political. The middle class in any country is normally rightist and politically conservative and this makes them a more natural ally of the Indian Right or the BJP. It may be too simplistic a statement but a broad assumption like this is generally not untenable. It is this which poses a political threat to the political parties like the Congress and its allies which have adopted secularism not as a conviction but a political tool to pander to minority vote-banks. In addition they try to manipulate the Dalit vote banks in their favor on grounds of casteism and manufactured threats of domination of upper classes.

In the first instance, the 'Great Indian Middle Class' is voluntarily opting out of the electoral process by their laziness; in the second instance this vital 30% of India's population is deliberately being marginalized and excluded from the electoral process by a large chunk of India's political parties who fearful of the potential political weightage that India's 'Great Indian Middle Class' could bring into play, craft their political policies to sway the Indian Muslim and Dalit vote banks ,confident that they could come into power on the strength of this combination without an outreach to the educated classes.

In broad arithmetical terms Indian Governments have come into power at the Centre with just about 33-40% of the electoral vote. If this figure is broken down, it roughly translates in terms of composition to a combination of 13-15% Indian Muslim votes and 20-25% of the Dalit etc votes. Both these segments seem to vote en-bloc as captive vote banks manipulated by their respective power brokers.

India's 'Great Indian Middle Class' should open their eyes and realize how much of a potent political force they can emerge with their 30% voting strength. It could greatly neutralize the strength of the present captive vote banks of the Indian Muslims and Dalits etc. The 'Great Indian Middle Class' by their active participation in the electoral process could counter-balance the strength of the other existing combination. In the process they could contribute to bringing into political power a better class of politicians and a higher class of political leaders with vision and integrity. It would also ensure that the weakest indicator of India's national strengths in risk forecasting by foreign investors, that is weak political governance, would be eliminated.

It is a pity that in the present political system existing, the compulsions of political survival, force even upright people like Prime Minister Manmohan Singh to resort to petty politicking like including tainted Ministers in his Cabinet; adopting patently communal policies to appease Indian Muslim vote banks; and even compromising national security by doing away Anti-Terrorism Laws impelled by the same pressures.

In view of the above, it becomes incumbent on every patriotic member of the 'Great Indian Middle Class' to actively vote in every election irrespective of the discomfort entailed in moving out of their comfortable homes. They could decisively change India's political dynamics and bring in a better class of political leadership and give greater impetus to India's ascendant curve.

The Indian NRI's could also contribute in a meaningful manner to bring about a political awareness in the 'Great Indian Middle Class' by bombarding their
relatives, friends and colleagues in India by e-mails on the eve of elections to go out and vote on election day. They have vast resources, both financial and technical, to organize sustained campaigns, towards such political awareness.

The 'Great Indian Middle Class' constantly complains that India's political parties and their leaders are corrupt and that political governance is unprincipled and relying on communal , casteist and criminal elements. They need to remember what Abraham Lincoln said, that : ' A Nation Gets the Government it Deserves'.
If the 'Great Indian Middle Class' sincerely believes that India deserves a better Government and better political governance then it is high time that they politically empower themselves.