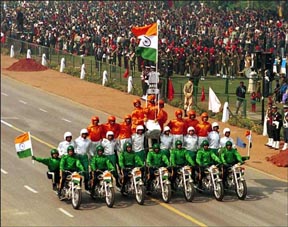 In subsequent years, despite a limited call on India's national resources for defence expenditure and yet being called to face increasing threats from both Pakistan and China, the Indian Army by its grit and dedication to the Indian Republic thwarted Pakistan in four wars. The only time it went under was against China in 1962, not because it lacked valor or leadership but because of the political leadership of Nehru who was found wanting both in terms of misreading China's intentions and not allotting adequate resources for war preparedness to the Indian Army in the preceding period.
In the last sixteen years the Indian Army has faced the onslaught of Pakistan's proxy war and terrorism and losing hundreds of lives and others maimed. In combating this threat the Indian Army has had to fight with one hand tied due to the political considerations of successive Governments, either due to electoral considerations or external pressures.
Whenever the civilian machinery fails whether it be law and order, natural calamities or disasters it is the Indian Army that steps in for relief and assistance. The recent relief assistance provided by the Indian Army during the Kashmir earthquake in October 2005 won not only the gratitude of the average Kashmiri but also of the international community. The Indian Army has also done India proud in the many UN peacekeeping operations all over the world for which it has been highly praised by the United Nations.
A glorious record of such services and sacrifices of the Indian Army surely deserves the nations gratitude not by rhetoric on every Republic Day but by more meaningful manifestations which surely every Government is aware of but does not concede. The average Indian citizen can contribute by being more aware of India's defence preparedness and monitoring the Government of the day in terms of allotment of adequate financial resources for war preparedness and that extraneous political considerations do not delay defence acquisitions. More importantly, they should ensure that the political leadership of the day provides realistic political component of national threat assessments of actual, potential or adversaries in the making so that like 1962 the Indian Army is never again has to face a military humiliation for no fault of its own.