She sat in the garden under the apple tree, in her wheelchair, reading a detective story. The back of the book summary told the story: Murders, an illicit love affair and a family in turmoil. I went out to join her in the March autumn sun, and said, "Jess, what's the book about?" "I just can't figure it out," she said and continued reading. We were in Masterton, New Zealand. Pixie, her husband, and I, her sister, took this as lack of concentration.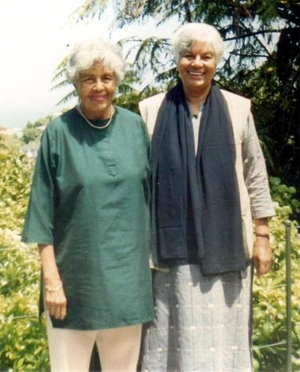 Next day was Good Friday. A plump, hearty, smiling lady came to the door. "I've brought some things for Promilla (Jess' other name) and Pixie," she said. Pixie greeted Anne warmly but didn't introduce us. I wheeled Jess in. In a rather automatic way Jess said, "Hello, how are you? How nice to see you."
Pixie chatted on while Anne gave him news from Ekatahuna, a village north of Masterton where she lived. Anne had brought Easter goodies - lemon curd (which isn't curd at all but a tangy spread like a conserve or jam), Easter eggs, and hot cross buns. How very kind of her, I thought. I whispered to Jess, "Who is she?" She replied, "I've never seen her before." Strange, I thought, Anne seemed to know everything about Jess.
Later, I asked Pixie about her. He told me the story. Jess, a doctor, and Pixie, who had left a lucrative job with a shipping company to help Jess in her country practice, had lived in Ekatahuna. Anne and her family were Jess' patients. Early one morning, Anne had gone to feed the hens. On her way back to the farmhouse she was knocked down by a reversing tractor. She had fractured her legs and arms. Jess was called. She made her comfortable and called the flying ambulance to take her to the main hospital in Wellington. Jess stayed with Anne, comforting her until the helicopter arrived. Since then, Anne has been bringing goodies at Easter, at Christmas, on Jess' and Pixie's birthdays. On a subsequent visit, she told me, "I can't tell you how grateful I am to Promilla. She saved my life."
Now, many years later, Jess said she didn't know Anne. Did we take this as an indication that something was wrong? No. We just did not guess what the problem could be. Partly, I suspect, because Pixie couldn't face the thought that something was drastically wrong.
The next day her confusion increased after a walk in her wheelchair. "This is not my house," she said on her return. "Yes it is," said Pixie and I in unison. "Look - all your lovely paintings on the walls, and look at the lovely piece of onyx on the table you had yourself bought long ago."
That evening was the turning point. It made us see a pattern in her behaviour. And we were no longer rationalising every incident. It was a tough night for Pixie. This was the beginning of the time when he would lose his much-loved wife of over-half-a-century.
When Jess - Jessie Promilla Iyengar - was young she excelled in her studies, won medals at medical college in Delhi and was the youngest Professor of Pathology in Bombay (now Mumbai). When Pixie's shipping company transferred him to New Zealand, she settled her two teenage sons in the new environment and worked in the Wellington Hospital. She later decided to do a country practice in Ekatahuna, documented her work and persuaded the government that every case did not require a doctor to see each patient, as required by law. Primary health care, she argued, whereby a nurse/midwife could deal with most patients, was relevant to a sparsely populated New Zealand as it was being practiced in most developing and other developed countries. The government changed the law. She learnt homeopathy, acupuncture and acupressure, and counselling and used these in her practice. I believe these were her happiest and fulfilled days in New Zealand.
Jess and Pixie retired to Masterton. From 2003 onwards, she began to lose her memory, very gradually at first and then with more falls and fractures, her mobility became restricted and her brain began to play games with her. I had been a few times to visit them and, in 2006, I went again to help Pixie to care for her. After these incidences, it was clear she required medical attention, and we suspected that Alzheimer's had taken control of her.
Next morning as Pixie called doctors and friends, I sat chatting with Jess at the dining table. I said, "Let's play some games." My grandson, when six years old, loved playing making words from a jumble of letters. "Let's see how many words we can make with this wheel of letters?" I said. "I don't know. I can't make any," she said. I went to my bedroom and wept. I had lost my sister. Her thoughts slipped away before she could articulate them into words like "Turn on the electric blanket" or "Give me water".
Some days she was more lucid or so it appeared. She used to complain earlier of pain in her joints. She didn't any longer. Had the pain stopped? Research suggests that pain does not decrease in people with Alzheimer's. They are just not able to express their feelings about pain. Where is the excitement of listening to a good piece of music, of seeing the rising sun, of smelling the fragrance of a jonquil flower? There is but sameness in the response. And it hurt me, made me sad to watch. Does a person exist solely in the brain and its activities, leaving behind a body, which moves and appears to be normal, but is empty? All her energy was required for survival.
By the end of March 2006, she was unable to walk and was pushed by Pixie or me in the wheelchair. She had lost the fight for mobility and her memory was rapidly going. Her universe now was the bedroom, the bathroom, the living room and the dining room, with periods in the sun if the weather was good outdoors. Fortunately, Jess and Pixie had a caring, warm circle of friends, who were proving to be helpful in this rapidly developing crisis.
After tests, Jess was diagnosed with Alzheimer's. The doctor prescribed drugs for mild to moderately severe Alzheimer's Disease. Jess took the drugs for a week. Her hands and one leg began to shake, which may have been due to the medicine. Her doctor suggested that the drug be stopped for a week. But even then the shaking did not stop. Should she go back onto the medicine? Pixie had to decide. He decided to keep her on the drug, even though the health services would not pay for this expensive medicine. Jess was deteriorating everyday. Now she was forgetting things like brushing her teeth. Day and night nurses were looking after her. Pixie still felt he should be there all the time, taking care of her at home with tremendous love and gentleness.
I had to return to India. I left. The deterioration continued through the winter months until she became bed-ridden. She died in October of 2006, five months after I was with her.
Pixie and Jess loved each other dearly and were always together in their final decades. Life without her was more than miserable for Pixie, even the pain and tiredness of the last year of caring for her was missed. He found no reason to live, and in little more than a year after her death he passed away, bereft of his much loved wife. He was buried next to her in the Masterton cemetery.
Image shows Jess (left) with her sister, Sarojini Vittachi - the author.
By arrangement with WFS