Wealth I ask not, hope nor love,
Nor a friend to know me;
All I ask, the heaven above
And the road below me.
- Robert Louis Stevenson, The Vagabond
Radha Rani 'Bairagi', as the name suggests, is someone who has forsaken all worldliness. At 39, she is "like a vagabond through the distance/looking for a song to sing/a song that lasts all night/and for the rest of our lives" (Air, music band). She is a fifth generation 'Baul', a wandering minstrel, roaming the towns and villages of Bengal, devoted only to singing as she traverses the never-ending road.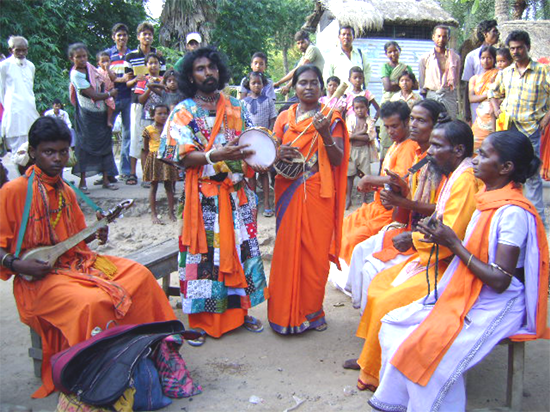 "Bauls recognise music as their only religion. They don't conform to any traditional, social, religious or even musical norms. They comprise a unique cult of free-thinkers, most of them ascetics, who have no worldly bonds holding them back. They and their ancestors have developed a genre of folk music that is known by the community's name as 'Baul music'. They are wandering poets and singers, who are in the vanguard of the struggle for social change," says Prannay Dutta, a researcher on folk music.
If their forefathers sang of freedom fighters laughingly embracing the noose for their motherland or of the need to fight the feudal landlords, today women like Radha Rani could sing of something as contemporary as how excessive fishing is destroying the ecological balance. Their themes could vary from the benefits of polio vaccination to AIDS prevention, the need to revere human values and eschew caste and communal ideologies, the importance of promoting literacy and a sense of hygiene and sanitation. Indeed, the repertoire of the women baul singer is wide.
Although the Baul sect is largely male-dominated, with about 700 Bauls in Birbhum district of Bengal and more in Bangladesh, there are at least 50-odd women Baul singers this side of the border carrying on the tradition of being the voice of social awareness, especially in the rural belt.
Hriday Bairagi, 55, a fourth generation Baul, specialises in devotional songs with a difference. "I often use body-related allegories called 'deho-sadhana' to bridge the gap between our world and the spiritual world. Love, relationships of the heart, nature, the mystique of the human body and soul, the vagaries of destiny are all seen as ways to reach the divine," she says, adding, "Our devotional songs bring people of different religions together and we worship humanity above everything else."
"The Vaishnav (worshippers of Hindu God Vishnu) influence among the Bauls is strong but the movement weaves together Hindu, Islamic, Buddhist, Sufi and Jain strains. Syncretism is the norm," explains Dutta. The most famous of Bauls, Lalon Fakir, was born into a Hindu family and raised by a Muslim. His compositions reflect a total rejection of divisionism.
"What form does caste have?
I have never seen it,
brother,
with these eyes of mine!"
was his soulful rendering. Like their male counterparts, women Bauls willingly accept the nomadic life. They travel in a group with male Bauls and live-in relationships are the norm, with either partner having total freedom to walk away. "If the soul is no longer happy, then why have forced co-habitation?" says Radha Rani, who is affiliated to a Baul 'akhra', or ashram, but wanders with partners when the fancy takes her.
The Baul lifestyle is extremely simple. "We do 'maatolgiri' - singing from door to door - and accept the alms people offer us, which is often in the form of rice and vegetables with a few rupees. We just cook and eat whatever we get at the 'akhra' where our group halts," says Rina Das Baul, 29, from Parul Danga village.
While a male Baul wears a saffron robe called 'alkhalla', the women wear saffron saris or twist a saffron scarf along their shoulders. All Bauls keep long hair, often coiled up on their head or left loose and are identifiable by their basil (tulsi) stem bead necklaces and the 'ektara' (single-stringed guitar).
"Our music is that of the road, unbridled and rustic, and the instruments we use are all hand-made, like the 'ektara', 'dotara' (multi-stringed instrument) 'dugi' (small clay drum), the 'mandira' and 'kartaal' (cymbals) and the bamboo flute. They are made from wood, leather and clay - materials available in the village - and most Bauls make their own accompaniments," says Jharna Baul, 35, from Bon Danga village.
Baul songs have been handed down orally from generation-to-generation. "We sing the songs of Lalon, Panju, Siraj, Duddu, Gagan Harkara, Bawa Pagla, Gosai Matham Chand, Rasik, Phatik Gosai, Kabir Sarkar, but we also sing newly composed songs," says Radha Rani, adding, "The NGO, Sonata Foundation, wanted our help in creating awareness on AIDS. So I sang, "I went to Delhi, went to Bombay but did not find mental peace/The taste of AIDS made me unhappy/Leaving the wife at home you went outside to hear songs/They sang songs, showed dance, but finally took your life/Those who partner many women/Fall under grasp of AIDS/Those who use condoms are the sensible ones."
According to Dutta, the Bauls have been the biggest contributors in spreading awareness about the 'Sarva Sikhsha Abhiyaan' (education for all campaign).
From the Eiffel Tower to the underground Metro railway, whatever a Baul sees, he or she immediately finds something to sing about.
"The underground train has come to golden Kolkata
the junction is in Dumdum and the train goes to Dharamtalla
The underground train has come to golden Kolkata
The train is beautiful to behold,
with motor fittings and revolving wheels on the tracks
It goes with speed, no stops,
see it reached Kalighat
The underground train has come to golden Kolkata
The train has 14 bogies, inside them sits radha-rani
Chaitanya Deb is piloting that train,"
sings Rabi Das Baul, Radha Rani's current partner.
Explaining the philosophy behind the song, Hriday Bairagi points out that in the song the train is an allegory for the human body, where the soul is being driven by a divine force along the tracks of life! "We are homeless vagabonds, wanderers. We have nothing to lose and therefore we have nothing to fear. No one can oppress us and so our voice is the free voice of the people. We sing of everything and everyone without bias and our aim is to bring joy to mankind," adds 45-year-old Maya Das Bairagi, of Melampur village.
Radha Rani and her partner Rabi Das are scheduled to sing in France about fishing nets and fish. "It's a song we sang in Goa about the need for fishing cautiously so as to preserve the delicate ecological balance. Someone from France heard it and, after understanding the translation, invited us to perform in Europe," explains Radha Rani.
When the haunting notes of the 'ektara' accompanies the untrained, rustic, but naturally beautiful Baul voice, the universal language of music casts its unique spell. It's this magic, combined with the sheer fearlessness marking Baul lyrics dedicated to the progress of humankind that has kept this traditional folk music genre going from the 15th century until the present moment.

By arrangement with WFS