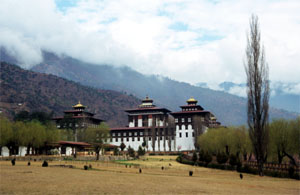 Bhutan is perhaps the last Shangri La on Earth. The mountain kingdom, now the only monarchy in South Asia has a unique concept of measuring national prosperity. While rest of the World relies on parameters such as Gross Domestic Product or GDP, Thimpu has devised Gross National Happiness (GNH) to measure the country's wealth. GNH is slowly becoming a global buzzword with the World Bank trying to popularize the model. "Bhutan has been translating this philosophy into action on the ground. It has been practicing what other countries need to do. We need to extend the concept of gross national happiness to gross international happiness," Graeme Wheeler, managing director of the World Bank, was quoted by Bhutan's national newspaper Kuensel recently. Gross International Happiness (GIH) may seem far way off but GNH is now being discussed in seminars and workshops in Bhutan and other parts of Asia spreading greater awareness.
To many people though GNH appears to be a fuzzy duddy concept as measurement of happiness is on subjective parameters. Bhutanese are also not overly aware of material prosperity which is seen as the hallmark of modern economies. This was evident with the key campaigning highpoint in the forthcoming Elections in the country being corrupt practices by political parties rather than development. So would electoral democracy bring about change in attitude in the Bhutanese people making them more conscious of the measurable benchmarks of prosperity such as freedom of choice, education, health care, water, sanitation and primary consumer goods or would it add to the overall feeling of goodness that is the characteristic feature of the present monarchy in the country? This is a question which needs some debate.
The first issue is conduct of credible elections. As the Election Commission focused on the busy schedule ahead with National Council and Assembly elections in that order, political parties continued their familiarization tours of the southern dzongkhags (districts). On their electoral strategies, the People�s Democratic Party (PDP) president, Lyonpo Sangay Ngedup, said that they did not have specific strategies for different regions. �We will apply the same strategy for all 20 dzongkhags.� The Druk Phuensum Tshokpa (DPT) president, Jigmi Y Thinley, said that the party was focused on educating and getting voters to understand how secret their ballots and responsibilities were in this historic process. �I�d like our Bhutanese people to be united with respect to their idea of their vote, why they are voting and for whom,� Jigmi Thinley said. �I�d like them to all think that they are voting for a purpose and that is the three fundamental elements that constitute the Bhutanese state, the Tsa-Wa-Sum.�
The Third party, Bhutan People�s United Party (BPUP) died a premature death with the Election Commission denying it legitimacy to participate in the process. Given that this is the Bhutanese political parties� first exposure to electoral politics numerous allegations of wrong choice of candidates or corruption are also coming up. However ground rules have been well established and there is reason to believe that the election commission should be able to resolve such allegations promptly.
While the Election Commission (EC) is focusing on the National Council Elections, the political parties are keener on the National Assembly elections being held on party lines. The EC even had to request parties to stop their, �familiarisation� visits as people were not taking much interest in the National Council elections, based on credibility of a candidate within his district rather than political affiliation.
Technically there is no doubt that the EC will be able to conduct free and fair polls with the pace of issue of voter photo identity cards to citizens gathering momentum as long queues for collection in the capital Thimphu indicated. With just over 300,000 plus voters participating, this exercise may have taken a few days in other places, but given the harsh terrain of Bhutan and limited road communications, it could be time consuming. What about freedom and dissent?
While the election process goes on full speed the issue of resettlement of over 100,000 people of Bhutanese origin in Nepal is also likely to be resolved amicably. The process for third country resettlement of Bhutanese refugees in camps in eastern Nepal began on 6 November with mass information campaign to assist refugees to make an informed decision by providing them with accurate information. Given the long outstanding issue and reluctance of the Bhutanese government to absorb the refugees in Nepal for an extended period, third country resettlement was the way out. This will provide some relief to them and give them greater choice and hope particularly to the younger generation who may have lost their cultural moorings in Bhutan. Hopefully over 60,000 refugees will be absorbed in the United States, New Zealand and Denmark. This will create better scope for absorption of others either in their country of origin, Bhutan or in other South Asian countries. Thimpu is extremely sensitive to this issue, given the population dynamics of the kingdom. Yet after almost two decades of neglect some hope lies ahead for the homeless.
This leaves not many issues of internal concern for Bhutan and it could then focus on the gradual path of increasing happiness quotient of citizens. The people�s representatives will have a major role to play in this as they would be able to represent the aspirations from the grass roots. But conversion of the people�s demands into tangible development initiatives may take time despite a more efficient delivery system in the country. This process when completed will lead to further accretion to the GNH, which with dissent reasonably controlled may denote the success of this concept as a model in Bhutan, thus replication may be more credible in other states. But there is a long way before GNH can become GIH.