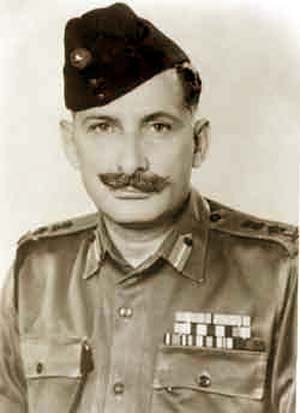 New Delhi
His handlebar moustache and his ramrod stiff gait gave Field Marshal Sam Hormusji Framji Jamshedji Manekshaw a commanding presence on the battlefield, but to the troops that served under him he was their beloved "Sam Bahadur", a soldier's general who put their well- being before his own.

Manekshaw, 94, who died in a military hospital in Wellington in Tamil Nadu early Friday after battling a series of age-related illnesses, will be best remembered for the decisive campaign he crafted during the 1971 India-Pakistan war that saw the emergence of Bangladesh as an independent nation after the surrender of over 90,000 Pakistani troops in what was then the eastern wing of the country.

That campaign was the defining moment of his tenure as the Indian Army chief 1969-73 and led to his elevation as India's first field marshal, a largely ceremonial post but which ensured he maintained close links with the 1.1 million-strong force till the very end.

Ever the one to speak his mind out on matters military, Manekshaw, a highly decorated officer who was awarded the Military Cross for gallantry during the Burma campaign of the Second World War, often found himself in a minority of one - but firmly stood his ground.

Three instances stand out vividly.

The first was when he famously refused to address then prime minister Indira Gandhi as "Madam", saying the sobriquet was reserved for occupants of a "certain kind of house".

"I shall stick to prime minister", he maintained.

The second was during the 1971 war when he had signboards reading "Hands in your pockets, You are entering Pakistani territory, Indian girls are prettier" erected at various spots as Indian troops advanced along the western frontier.

Manekshaw was panned as being sexist and accused of insulting Indian womanhood but he stood his ground.

"It's the best way of telling the troops to behave and to concentrate on the job at hand," he contended.

The third happened at the very end of his career, days after he had retired from the army.

A young reporter from a tabloid, at the fag end of an interview, asked a seemingly innocuous question: "What would have happened had you opted for Pakistan at the time of independence (in 1947)?"

With a twinkle in his eye, Manekshaw replied: "I guess Pakistan would have won (the 1971 war)."

All hell broke loose when this was reproduced in print and there were demands he be stripped of his field marshal's rank but he stood his ground.

"The question was asked in jest, the reply was in jest and I never dreamed it would get into print. Now that it has, I do not deny saying so," Manekshaw maintained.

Anyone else in his place would have taken the "I've been misquoted route" - and this is what differentiated Sam Bahadur from the others.

Twenty-five years ago, at the golden jubilee passing out parade of the Indian Military Academy at Dehradun, a newly commissioned second lieutenant picked up the courage to ask Manekshaw: "Sir, where do you get the strength of your character from?"

"From my school, son," he replied indulgently, but there was a deeper meaning to that because he is known to have told at least one close confidante that it was his years at Nainital's Sherwood College more than anything else that prepared him for his future life
Born in Amritsar on April 3, Manekshaw belonged to the first batch of 40 cadets to be selected for the Indian Military Academy and was commissioned into the 12 Frontier Force Rifles (later the Gurkha Rifles) on Feb 4, 1934.

During the first Burma campaign, he took part in several actions against the Japanese and was wounded on one occasion but continued to lead his company with courage and tenacity, an action for which he was awarded the Military Cross for gallantry.

A graduate of London's Imperial Defence College, Manekshaw served in a series of senior positions during his career.

After commanding a division in Jammu and Kashmir for a short duration, he took over command of a corps on the eastern frontier in November 1962. He thereafter headed the Eastern Command before being appointed the army chief on June 8, 1969. He retired on January 15, 1973.