The fear of scorching sun during May at the sandy beaches of Vizag prod us towards the Himalayas every year. Usually we plan to complete the itinerary in shoe string budget every year, but this year was an exception. Why? It was no other place than Ladakh.
Even though the peak season to visit Ladakh is June to August, we had to start in mid May because my summer vacation is only till 1st June. I work as a teacher in a school in Vizag. We were a group of six, my husband and two children and a family friend. Their daughter is studying in Australia. As we had very limited number of holidays we decided to travel by air.
Day 1: 14th May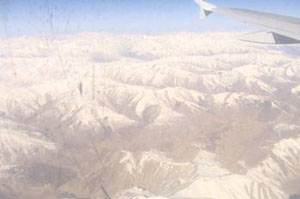 We started on 14th May from Delhi by Indian Airlines flight at 0645hrs. IA and Jet Airways operate 6 days a week between Leh and Delhi. The flight to Leh is a breathtaking experience, flying over the mighty mountain ranges of Himalayas and Zanskar to reach the world's highest airfield at an altitude of 11500 ft. We were all overwhelmed by the spectacular panoramic view of snow capped ranges. We wished the flight was longer….!!
The first thought that stuck me on stepping out of the aircraft on to the steps, viewing around Leh was of vastness and brightness. It was 0820 hrs. As Leh is a mountainous desert the sun sparkles and startles here.
As we stepped out from the airport gate we found the taxi driver waiting for us from Hotel Lasermo, where we had booking. On the way we were trying to identify the trees we could see. We were told by the driver that those trees were local species. We could see very little vegetation.
Julley! (which means hello, namaste, good bye…) was the first word by which we were welcomed by the hotel manager Yasin. He presented each of us the traditional silk scarf. Then we had a hot cup of tea (the welcome tea). I must mention that the staff of the hotel is very hospitable and makes you feel at home. The hotel Lasermo opens throughout the year with central heating. It is on Chulung Old Road. The rooms are well furnished with running hot and cold water in the morning and the evening. It costs Rs.2000 in peak season.
Ladakh is a high altitude cold desert with a low level of atmospheric oxygen. It is therefore absolutely necessary that visitors reaching Leh from plain by air and give themselves sufficient time for acclimatization before engaging any physical activity. Any movement on first day might result in headache or nausea or short of breath. While climbing the hotel stairs my 7 year old son complained of breathlessness. His lips turned white and we had to carry him to the room at 2nd floor. Both the children slept till noon. We took complete rest on the first day and stepped out only in the evening for a visit to the local market. In spite of taking rest for the whole day I had reeling sensation at night. It is advisable to take Paracetamol on the first day and as and when required.
Day 2: 15th May: Leh and around
We started at around 0830 hrs after having light breakfast with biscuits and cake bought from the oldest bakery of Leh –Golden Bakery.
Nestled deep inside the Himalayas about 25 km from the town of Leh on the Leh-Srinagar road is a Gurudwara called Sri Pather Sahib. The Gurudwara Sahib was built in the year 1517 to commemorate the visit of Sri Guru Nanak Devji. Legend says that Sri Gurunanak Devji reached Leh via Sikkim, Nepal, Tibet and Yarkhand. The place is revered by both the local lamas and Sikh sangat.
A drive of another 4 km took us to Magnetic Hill which defies the law of gravity. It has been noticed that when a vehicle is parked on neutral gear on this metallic road the vehicle slides up.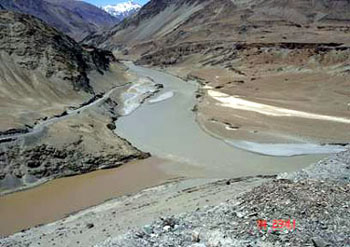 Driving through a picturesque landscape we reached the confluence of the Indus and Zanskar river 4 km before Nimmu village. One can have the magnificent view of two rivers in wed lock. In season they have different colors, flow and beauty. It is at an altitude of 10,823 ft.
After leaving behind Saspol, while leaving the main Leh-Srinagar highway on the right bank of the Indus and crossing the steel bridge across the river, we reached Alchi village which is 67 km west of Leh. Passing down through the narrow crooked path along the tiny stream flowing by side and sandwiched between narrow clay walls we find the Alchi Chhoskhor (religious enclave). It is the only one in Ladakh on flat ground, so no knee breaking climb is involved. It is at an altitude of 10,928 ft. There are five temple structures and few stupas. It was founded in the 11th century and is abandoned as a place of active worship.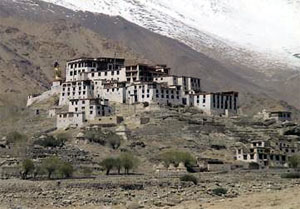 The nearest functioning monastery is Likir known as the Klu-Kkhyil (Klu-kkhyil means water spirits) Likir monastery is 5 km from Alchi, it was founded in the 14th century. To stay at Alchi, there are a few guest houses, which are open only from June to September. For the rest of the year they do not even serve food. We had to drive back to Nimmu for lunch. On the way back to Nimmu we saw the mud brick gompa at Basgo. Listed as one of the top 100 most endangered world heritage sites, the 400 year old mud brick gompa is up winding steep track.
Nearing towards Leh we saw the Spitok Gompa and, 8 km from Leh and the Phyang gompa.
Hall of Fame near Leh is worth a visit for every citizen. It is a glorious museum constructed by Indian army. You can see the memorabilia, eminent defence personalities with biographies, images and weapons used during Kargil war and belongings of enemy soldiers found at war site. Another section of this building is entirely dedicated to Siachen and its heroes. On display are attires, multi layered shoes to keep their feet from frost bites, their daily instruments, their day to day food mainly frozen and packed, which is heated by lighting small balls of Hexamycin tablets, as fire is difficult to ignite at a temperature dipping -30 deg to -50 deg centigrade. It is mentioned on a board that 97% of the casualties in Siachen are due to cold and terrain. With heavy heart we came out of Hall of Fame and headed for Shanti Stupa.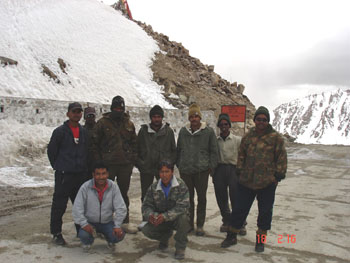 The road towards Nubra Valley crosses over the Khardungla (K-top), 39 km from Leh, at an altitude of 18481 ft. It is the highest motorable road in the world. It is officially open round the year. The pass is almost permanently covered in snow and fog and bitterly cold. There is a grubby military camp, the highest temple in the world, a tea stall and a souvenir shop. The road between Leh and Khalsar is reasonable except the road between South Pollu and North Pollu just before and after K-top. Beyond the pass is Khardung village.
The Nubra Valley starts at the village of Khalsar (10,652ft) where there are several tea houses and huge amounts of discarded army equipment. The road then divides just before the village of Lughzen- the left fork going to Hundar and beyond following the Shyok river. The right fork heads north to Panamik and beyond, following the Nubra river.
Nubra means green. The valley is a wonderful area to visit. The main village is Diskit in the southern valley at 10,751 ft and 120 km from Leh. One of the best accommodations available is Olthang Guest House. There is a comfortable lounge area, a sun room and a large garden with car parking and it is open in winter also.
Day 4: 17th May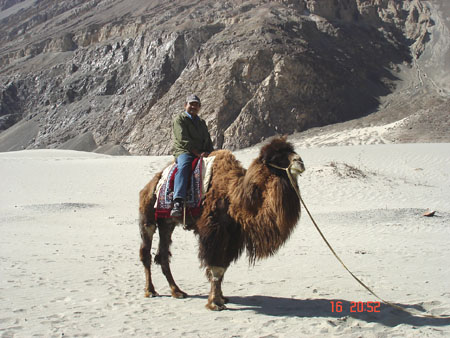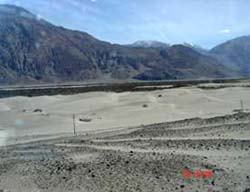 After having breakfast we headed towards the desert. Between Diskit and Hunder is an area of sand dunes not unlike the Sahara if you ignore the snow capped mountains in the back ground. Here we saw the shaggy double hump Bactrian camel and we enjoyed camel safari (for the first time in my life '.!)
About 7 km from Diskit is Hunder, a pretty village, set among lots of trees and gurgling streams. It is the farthest point where civilians are allowed. We went near a bridge from where Turtuk the border village of India and Pakistan is 50 km. We met two Sikh soldiers who told us that during firing shells drop there. Next we visited the 500 year old Diskit Gompa on a hill above the village. The main village of Diskit has a bazaar comprising of single line of shops, post office and bank.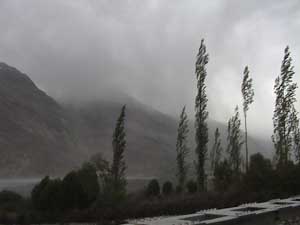 After lunch at Olthang we started towards the Northern valley of Nubra. Our permit allows us till Panamik. Here I must mention that for visiting Khardungla, Nubra Valley, Pangong Tso, Tso moriri and Dha Hanu areas of Ladakh it is mandatory to obtain Protected Area Permit from the Deputy Commissioner's office at Leh. On the way there is a pretty village Sumur (3096m) three Km from where is the village Tegar. There an excellent accommodation in this picturesque and isolated village Hotel Yarab Tso. We were flabbergasted to find such a pretty accommodation. The hotel is set inside a farm house. After having the welcome tea and lunch with Maggi we visited the last village on this circuit Panamik (3183m). It is a small village famous for its hot springs. It is the first or the last stop along the ancient trade route between Ladakh and Central Asia. Siachen base is 50 km from this village. Do come to this place to appreciate the virgin beauty of this isolated spot. We had to rush back from there as it started drizzling. It is the greenest part of Ladakh.

Day 5: 18th May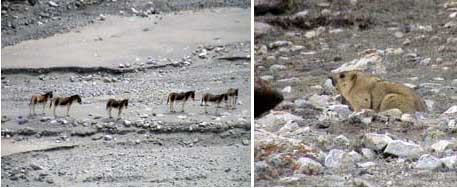 We checked out from Hotel Yarab Tso after breakfast and visited Samstemling Gompa at Sumur. Inaugurated by Dalai Lama in 1962, it is a busy, friendly place. It is a colourful Gompa and has impressive collection of thangkas and excellently restored frescos.
Despite its barrenness, the Ladakh plateau support a sparse population of wild life. On the way back to Leh via Khardungla we spotted a yellow colored animal called Marmat and later on the very next day while going to Pangong Tso we spotted the wild ass called Kyang.
Our last point was Leh Palace and Namgyl Semo Gompa. Leh palace is a nine storey deserted building. It was built in 17th century. There are many low roofed small rooms inside the palace. Restoration work is going on.
Day 6: 19th May: Pangong Tso
On the way to Pangong lake from Leh the first halt was at Sindhu Ghat the place where Sindhu Darshan festival is held in the month of June every year. This festival is a symbol of India's unity and communal harmony.
A few kilometers up the Indus is Shey Palace at 11204 ft, the most ancient capital of ladakh.
We drove up stream along the right bank of the Indus River via Thikse and Karu and continued along the steep road towards Changla (17800 ft) the third highest motor able road in the world. There is a temple at the top of the Changla and lots of prayer flags.
The road on the descent is in extremely bad condition till Tsolthang. The first village is Durbuk followed by Tangse (13800 ft) both with army stations. There is dearth of decent accommodation in this small village. We had to struggle a lot to get accommodation in the PWD bungalow. It was bitterly cold at night. We found snow fall in the evening.
Day 7: 20th May: Pangong to Leh
From Tangsey to Lukung is 32 km drive along a rough dirt track through spectacular barren mountain scenery. We spotted Pashmina goats and wondered what these goats feed on!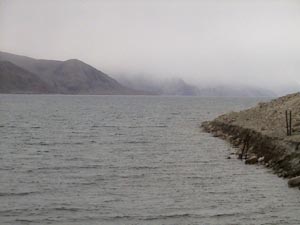 The lake is situated at an altitude of 14500 ft. We enjoyed the beauty of the lake on banks of the lake while appreciating the changing colours of fascinating high altitude lake. We saw army personnel patrolling on a boat. There is a notice for tourists requesting them not to embarrass the authorities by asking them for a boat ride. The lake was frozen one month before we went and army soldiers were walking on it, one of our acquaintances who went that time told us. The lake is 130 km long and 5-6 km wide, straddling across the border between India and China. It is 30 km in India. We could not go till Spagmik, as the road is narrow and atrocious. Spangmik is the farthest point up to which foreigners are permitted. It is about 7 km along the southern shore from the head of the lake.
After spending about an hour on the banks of the lake and enjoying the awesome beauty of the high altitude lake we started back towards Leh. We had lunch in a dhaba at karu.
45 Km from Leh we visited Hemis the biggest monastery of Ladakh and saw Stakna and Matho Gompa on the way back to Leh.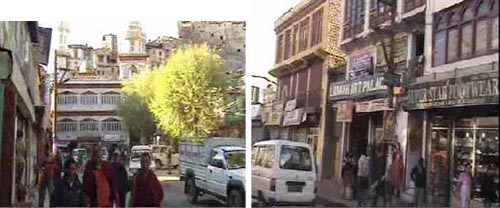 We spent the evening at Leh Bazaar. Strolling along its lanes and by lanes observing the crowd and looking into the curio shops is an engaging experience. A particularly attractive sight is the line of women from nearly villages sitting along the edge of the footpath with baskets of fresh vegetables brought for sale. We observed in the villages of Ladakh houses are made of bricks cemented with a yellow colored clay. The roofs of the houses are supported by wooden beams.
Day 8: 21st May
We had to bid good bye to Leh, even though we wished we could stay longer and headed towards the airport to board the Leh to Jammu flight at 0840 hrs.