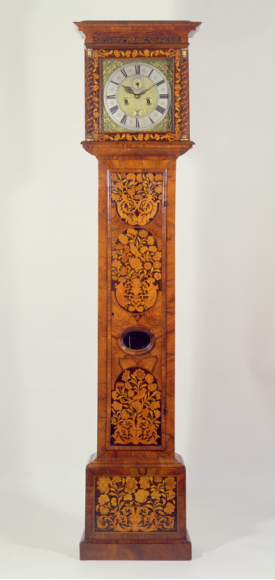 It had a huge pendulum going tick - tock with a loud bell and an almost pregnant belly. The miniature gears were concealed in its polished wooden frame. The brass dial had numerals engraved on a silver ring. Grandfather's clock was the life line of grandpa's house in Jamshedpur. It was a symbol of discipline, working with utmost clock precision. It was Grandpa's Big Ben, striking by the hour.
Grandpa's house was a big double story mansion. It had many rooms and relatives, living as joint families. It was also the den for my summer vacations. The day would begin with a gong at five in the morning. The clock hand, would traffic the days chores. Evenings were the most pleasant; the house was in full quorum. At twelve in the night the house would be in deep slumber. Grandpa had the license to snore and the clock had the license to ding - dong through the night.
Clocks and watches have always puzzled me with their age old secret. They stay ahead of time and keep the world ticking. My first watch was gifted by my father; it was bigger than my wrist. It was a HMT with bruises on its glass and a strap that had lost its color. It stayed with me for long, like a school bell, spelling the times. It was a legacy, a treasure, I wished to pass on to my brother. He said, "It did not go with time". Times had changed.
Abdul the watch smith was as antique as the watches and clocks he repaired. His bald pate had a monkey cap and he sported a goat beard. With an eye loupe magnifier in his right eye, he looked like a failed scientist at work. Mini tweezers, pliers and screw drivers were his tentacles. He worked with them in a radius not more than a coin. He would key the crown; take it to his ears and see if it was ticking. His hands were as safe as a surgeon. On a good day he would have repaired five to seven watches, taking home a meager five US dollars. He was a lonely man, his work kept him to himself. His tiny shop could just hold his weak frame. Mumtaz watch shop was the town lifeline.
Dead watches were a bad omen hence always repaired in haste. Watches had their sentimental value, the older they went, more priceless they would get. Every house had a corner for discarded watches, a ticking museum. Watches are now worn for its ornamental value and status symbol. They also show time. I blew my first salary, in a Mumbai watch store. The watch had a stainless steel body with radium hands and roman numbers. It served me well through my bachelor hood. Marriage brings new fortunes. My wife gifted me with a Timex sports. Who wants to jump the sea, to see if it were water proof?
I sure had a pampered wrist. After a good year it was time to go digital with a Casio watch. I must confess it was a ticking bomb, with too many buttons. I wanted to keep life simple. I again broke my budget shackles, and brought home a SEIKO kinetic watch. It had a titanium body with no battery hassles. You move and the time moves. I have now lost count, on how many watches I brought home. They all had one thing in common – the time. Time is precious so are the watches.
In the gulf our life pendulums between office, home and shopping malls. These malls can smell deep into your pockets. My longing eyes keep hovering on those dazzling displays. The RADO watch is still a dream. The "scratch and win" coupons are not helping either. My lust for watches stays; there is still a lot of time that needs to be conquered. The irony is, with all these watches, I still fail to keep my time. Time has lost its essence.
The old order changes, yielding place to new. At grandpa's home, grandpa's clock had begun to loose time. It has been replaced by a huge cuckoo clock shopped from the black forests of Germany. The pine cone cast iron weights stay ceremoniously crucified on chains. The cuckoo bird is trapped with time. Its wings are clipped. Like a slave it calls from the black forest window of the clock. Grandpa is not around to keep a watch. The double storey mansion is now snoring and the cuckoo sound goes to deaf ears. The house only gets up by the rumble of the traffic and takes it easy. We have gone lazy; riddled by good times and bad times. We pass the buck between today and tomorrow. The tomorrow never comes. Times have changed.
Grandpa's clock needs a look. Abdul the town watch smith dusted the cobwebs from the face of Grandpa's discarded clock. It does not tick any more. It is a priceless, treasured time piece – reminding us of good times. Good omen.The new machine on my wrist is racing through its seconds, minutes and hours, with a promise to keep with time.
Image (c) Gettyimages.com