Chabungbam Pushpa's mission in life is to become like world boxing champion Mangte Chungneijang Mary Kom, who has been crowned world women's boxing champion five years in a row and whom she reverentially refers to as "Madam."
Pushpa, 18, a farmer's daughter, has come all the way from Wangjing Awang Leikai, in Manipur's Thoubal district, to stay at the MC Mary Kom Boxing Academy in the picturesque Langol foothills in Imphal West district. She is one of nine girls among the 27 youth currently enroled in the academy - all eager to learn the finer nuances of boxing from the world renowned boxing legend dubbed "Magnificent Mary" by the International Boxing Association (AIBA). "I want to follow in Madam's footsteps and become a world class champion like her," says Pushpa.
Like Pushpa, scores of young girls are increasingly entering the boxing ring in this frontier northeastern state, inspired by the fairy tale story of Mary Kom - a farmer's daughter who dared to punch her way into international limelight and remain there as the undisputed Mistress of the Ring.
It has been raining awards for Mary...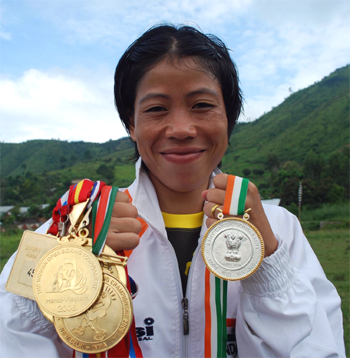 Mary Kom has received many awards for her achievements and contributions to women's boxing, the most prominent being the Arjuna Award (2003), the Padma Shri (2005) and the Rajiv Gandhi Khel Ratna Award (2009). Other awards include the People of the Year (2007) by the Limca Book of Records; India's Real Heroes Awards (2007) given by CNN-IBN and Reliance Industries Limited, Mumbai; the Pepsi MTV Youth Icon (2008); the Param Poojaniya Shri Guruji Puruskar (2009) given by the RSS Jankalyan of Maharastra Prant; the North East Excellence Award (2009); the Sports Woman of the Year (2008-2009) given by Sahara India Parivar, and the YFLO Women Achiever (2009-2010) given by the FCCI Ladies Organization.
The reason why Mary Kom's story is particularly compelling for young admirers like Pushpa is that she too, like them, started her sports career with just a dream. Recalls Mary Kom, "I really liked the sports activities in school, and often won prizes, especially in the athletics events. I was 13 when I confided my dream to my mother."
But such an ambition meant that she would have to move from her home in Kangathei Kom village in Churachandpur district, to Imphal, the capital of Manipur, where the coaching facilities were located. Her parents were initially reluctant to allow this. "But I persisted and persuaded them that sports is also a field where I can do well. Finally, they gave in," she says.
At that point Mary Kom was training in athletics - the 400 metres race being her forte. She also did pole vault and javelin throw. The victory of boxer Dingko Singh at the 1998 Asian Games in Bangkok, and the Fifth National Games, held in Imphal in 1999, proved to be turning points. "There were demonstration matches in women's boxing during the National Games. I was inspired to take up boxing," she says.
Seeing Mary's potential and determination, Manipur state coaches Narjit Singh and Laishram Kishan Singh took her under their wing. "Mary was quick to pick up. She was also innovative and would put in certain moves of her own, going beyond what we taught. She had no fear and had great will power," Laishram Kishan recalls.
A little later, Mary joined the Sports Authority of India (SAI) at Khuman Lampak and underwent an intensive period of training under her coach and mentor, Leishangthem Ibomcha Singh.
Despite her hard work in the ring, there was trouble at home. Mary had to handle differences with her father Mangte Tonpa Kom. "My father was okay with athletics. When he came to know that I box, he wasn't too happy. He thought that I would end up with a broken face and that would end my marriage prospects," she smiles.
The first tournament Mary took part in was the 1st State Level Boxing Championship organised by the Imphal District Amateur Boxing Association and Manipur Amateur Boxing Association in May 2000. She won a gold medal there in the Light Flyweight Category, as well as the Best Boxer title. Mary describes what happened next, "Father saw my picture in the papers and asked me if it was true that I am a boxer. When I said yes, he told me to give it up and take up some other sport. It took me some time to get him to relent and let me continue. Later, he told me that he came to believe that it was God who was urging me to take up this sport."
For Mary, there was no looking back after her first victory. She went on a gold-chase, punching her way to the first place at both national and international events. So far she has won seven Indian National Championships, three golds and one silver at Asian Women Boxing Championship; and five golds and a silver at World Women Boxing Championships, all within a span of a decade - between 2000 and 2010.
Says Mary's husband, Onkholer Kom, himself a retired footballer, "It was her perseverance, sympathy for all and her innocence that struck me." They got married on March 12, 2005, at Imphal's MBC church, and ever since Onkholer has been both guide and support for Mary.
Pregnancy and motherhood meant a two-year break. But around a year after their twin sons - Rechunguar Kom and Khupneivar Kom - were born, she was back on her feet. Her comeback at the ring was in the Fourth Asian Women Boxing Championship held in Guwahati, where she won a silver medal. She followed this up with a fourth successive world title in 2008 in Ningbo City, China. And now she has won the world championship gold for a record fifth time at Bridgetown, Barbados. She defeated Steluta Duta of Romania 16-6 in the 48kg weight category final.
In the nine years since she won the first medal, albeit a silver, for India at the Women's World Boxing Championship, MC Mary Kom, 27, has come a long way. Marriage, motherhood, and many gold medals later, she now has her eyes set on an Olympic medal at the London Olympics.
Mary is being helped by the Olympic Gold Quest (OGQ) programme of the Foundation for Promotion of Sports and Games, an Ahmedabad-based not-for-profit company. The programme, the brainchild of Indian sporting legends Geet Sethi and Prakash Padukone, seeks to identify and assist Indian athletes with a proven track record and who have the potential to win Olympic gold medals in the six disciplines of shooting, athletics, boxing, wrestling, archery and badminton. Mary says she is greatly encouraged by the support she is receiving from OGO.
While her golden run may appear a breeze, Mary Kom has had her share of struggle. It took applications made over three years for New Delhi to recognise her contributions and give her the Rajiv Gandhi Khel Ratna award. "It was getting a little frustrating. Even after winning four world championship Golds, I was being ignored. I was not even nominated. Then I decided the best way to deal with this was to go on playing well," she explains.
Mary Kom is a brand ambassador for the XIX Delhi Commonwealth Games, which she regards as a high honour and a mark of national recognition. She - along with Olympic bronze medalist Vijender Singh - were the first baton bearers of the Games, receiving the Queen's Baton from Pakistan at the Wagah border. She is very enthusiastic about India hosting the Games: "It is a wonderful boost to sports in the country. But it would have been still greater if the Games also included women boxing," she says. In fact, Mary was actively involved in the campaign to include women's boxing in the Olympic Games.
Despite her many achievements, Mary Kom remains grounded. "She treats us like family - eats with us, laughs with us," says her student, Pushpa. Mary herself puts it this way, "Most of the students in my academy come from poor families and from remote parts of Manipur. They are keen, but without proper guidance their talents will be wasted. God has helped me. In return, I wanted to groom as many aspiring boxers as I can."
Mary Kom has tried to be true to the motto she set for her academy, taken from the Bible: "Train a child in the way he should go".

By arrangement with WFS